BIG-D CONSTRUCTION - Trademark Details
Status: 710 - Cancelled - Section 8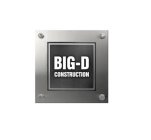 Registration Number
4402676
Word Mark
BIG-D CONSTRUCTION
Status
710 - Cancelled - Section 8
Registration Number
4402676
Registration Date
2013-09-17
Mark Drawing
3000 - Illustration: Drawing or design which also includes word(s)/ letter(s)/number(s) Typeset
Design Searches
140302, 260920, 260921 - Nails, screws, nuts, bolts, washers, eyelets, rivets, dowel pins, thumb tacks, railroad spikes. Squares inside one another. Squares that are completely or partially shaded.
Published for Opposition Date
2013-07-02
Law Office Assigned Location Code
L80
Employee Name
SHARPER JR, SAMUEL E
Statements
Indication of Colors claimed
The color(s) white, black, and metallic gray is/are claimed as a feature of the mark.
Disclaimer with Predetermined Text
"CONSTRUCTION"
Description of Mark
The mark consists of white lettering of "BIG-D CONSTRUCTION" on a black shaded square area, surrounded by 1) A thin square metallic gray border 2) Surrounded by a thin square black border, 3) Surrounded by a larger gray metallic border that has metallic gray bolts and accompanying washers on each of its four corners.
Goods and Services
Construction services, namely, general building contractor services and building construction services for residential, commercial, and/or industrial buildings or complexes; Pre-construction services, namely, construction planning, and laying out of residential, commercial and/or industrial buildings or complexes; Construction management; Custom build-out, and/or renovation of residential homes, commercial and industrial buildings, airports, medical establishments, factories, or complexes
Classification Information
International Class
037
- Building construction; repair; installation services. - Building construction; repair; installation services.
US Class Codes
100, 103, 106
Class Status Code
2 - Sec. 8 - Entire Registration
Class Status Date
2020-06-05
First Use Anywhere Date
2010-04-01
First Use In Commerce Date
2010-04-01
Correspondences
Address
Please log in with your Justia account to see this address.
Prior Registrations
| | |
| --- | --- |
| Relationship Type | Reel Number |
| Prior Registration | 2137459 |
| Prior Registration | 2758071 |
Trademark Events
| | |
| --- | --- |
| Event Date | Event Description |
| 2012-10-15 | NEW APPLICATION ENTERED IN TRAM |
| 2012-10-16 | NEW APPLICATION OFFICE SUPPLIED DATA ENTERED IN TRAM |
| 2012-10-17 | NOTICE OF DESIGN SEARCH CODE MAILED |
| 2012-12-05 | ASSIGNED TO EXAMINER |
| 2012-12-05 | NON-FINAL ACTION WRITTEN |
| 2012-12-05 | NON-FINAL ACTION E-MAILED |
| 2012-12-05 | NOTIFICATION OF NON-FINAL ACTION E-MAILED |
| 2013-05-09 | TEAS RESPONSE TO OFFICE ACTION RECEIVED |
| 2013-05-09 | CORRESPONDENCE RECEIVED IN LAW OFFICE |
| 2013-05-09 | TEAS/EMAIL CORRESPONDENCE ENTERED |
| 2013-05-10 | EXAMINERS AMENDMENT -WRITTEN |
| 2013-05-10 | EXAMINERS AMENDMENT E-MAILED |
| 2013-05-10 | NOTIFICATION OF EXAMINERS AMENDMENT E-MAILED |
| 2013-05-10 | EXAMINER'S AMENDMENT ENTERED |
| 2013-05-10 | APPROVED FOR PUB - PRINCIPAL REGISTER |
| 2013-05-20 | ASSIGNED TO LIE |
| 2013-05-24 | LAW OFFICE PUBLICATION REVIEW COMPLETED |
| 2013-06-12 | NOTIFICATION OF NOTICE OF PUBLICATION E-MAILED |
| 2013-07-02 | PUBLISHED FOR OPPOSITION |
| 2013-07-02 | OFFICIAL GAZETTE PUBLICATION CONFIRMATION E-MAILED |
| 2013-09-17 | REGISTERED-PRINCIPAL REGISTER |
| 2018-09-17 | COURTESY REMINDER - SEC. 8 (6-YR) E-MAILED |
| 2020-06-05 | CANCELLED SEC. 8 (6-YR) |