POMODORO EXPRESS - Trademark Details
Status: 601 - Abandoned - Express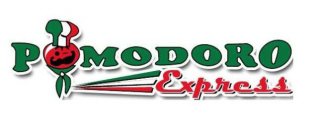 Word Mark
POMODORO EXPRESS
Status
601 - Abandoned - Express
Mark Drawing
3000 - Illustration: Drawing or design which also includes word(s)/ letter(s)/number(s) Typeset
Design Searches
020134, 021106, 040701, 090315, 090506, 240902, 261706, 270304 - Other grotesque men including men formed by plants or objects. Hair, locks of hair, wigs, beards, mustaches. Plants, parts of plants, or combinations of plants representing a person. Neckties and bow ties. Chef's hat. Pennants (flags in the form of a triangle), flags with forked sides. Diagonal line(s), band(s) or bar(s). Representations of plants or parts of plants forming letters or numerals, including punctuation.
Law Office Assigned Location Code
L50
Statements
Indication of Colors claimed
The color(s) green, red, black and white is/are claimed as a feature of the mark.
Description of Mark
The mark consists of the literal elements POMODORO EXPRESS written in stylized form wherein POMODORO is written in green color with white outline in which a letter O after the first letter P is made of a tomato of red color having human face with mustache of black color, one eye blinking, wearing green neck tie and a chef hat in Italian flag of green, white and red color. The word EXPRESS is written below the word POMODORO in red color with white outline along with three horizontal lines of green, white and red color with white outline begin at a single point, ending at the word EXPRESS as shown in the mark.
Goods and Services
Restaurant services
Classification Information
International Class
043
- Services for providing food and drink; temporary accommodation. - Services for providing food and drink; temporary accommodation.
Class Status Code
6 - Active
Class Status Date
2012-09-14
First Use Anywhere Date
2002-03-25
First Use In Commerce Date
2005-06-14
Correspondences
Address
Please log in with your Justia account to see this address.
Trademark Events
| | |
| --- | --- |
| Event Date | Event Description |
| 2012-09-12 | NEW APPLICATION ENTERED IN TRAM |
| 2012-09-14 | NEW APPLICATION OFFICE SUPPLIED DATA ENTERED IN TRAM |
| 2012-09-15 | NOTICE OF DESIGN SEARCH CODE MAILED |
| 2012-12-28 | ASSIGNED TO EXAMINER |
| 2012-12-28 | NON-FINAL ACTION WRITTEN |
| 2012-12-28 | NON-FINAL ACTION E-MAILED |
| 2012-12-28 | NOTIFICATION OF NON-FINAL ACTION E-MAILED |
| 2013-01-04 | TEAS EXPRESS ABANDONMENT RECEIVED |
| 2013-01-07 | ABANDONMENT - EXPRESS MAILED |
| 2013-01-07 | ABANDONMENT NOTICE MAILED - EXPRESS ABANDONMENT |
| 2017-08-19 | TEAS CHANGE OF CORRESPONDENCE RECEIVED |