HANSI DOWNWEAR - Trademark Details
Status: 602 - Abandoned-Failure To Respond Or Late Response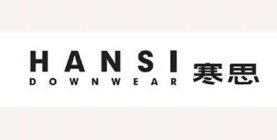 Status
602 - Abandoned-Failure To Respond Or Late Response
Mark Drawing
3000 - Illustration: Drawing or design which also includes word(s)/ letter(s)/number(s) Typeset
Design Searches
280103 - Inscriptions in Chinese, Japanese, Korean, Vietnamese or other Asian characters.
Law Office Assigned Location Code
M10
Employee Name
DIXON, JENNIFER HAZARD
Statements
Indication of Colors claimed
Color is not claimed as a feature of the mark.
Disclaimer with Predetermined Text
"DOWN WEAR"
Description of Mark
The mark consists of the word "DOWNWEAR" and two Chinese characters "HAN SI" to the right of the wording.
Goods and Services
Clothing, namely, down jackets, down trousers, down jackets of leather, down coats of leather, down trousers of leather, down suits, jackets made in significant part of down, down skirts, down shirts; down shoes; down headwear
Pseudo Mark
HANSI DOWN WEAR
Transliteration Statement
The non-Latin characters in the mark transliterate to HAN SI and this means cold thoughts in English.
Classification Information
International Class
025
- Clothing, footwear, headgear. - Clothing, footwear, headgear.
Class Status Code
6 - Active
Class Status Date
2012-09-05
First Use Anywhere Date
2010-11-11
First Use In Commerce Date
2011-11-01
Correspondences
Address
Please log in with your Justia account to see this address.
Trademark Events
| | |
| --- | --- |
| Event Date | Event Description |
| 2012-08-31 | NEW APPLICATION ENTERED IN TRAM |
| 2012-09-05 | NEW APPLICATION OFFICE SUPPLIED DATA ENTERED IN TRAM |
| 2012-09-06 | NOTICE OF DESIGN SEARCH CODE AND PSEUDO MARK MAILED |
| 2012-12-20 | ASSIGNED TO EXAMINER |
| 2012-12-26 | NON-FINAL ACTION WRITTEN |
| 2012-12-26 | NON-FINAL ACTION E-MAILED |
| 2012-12-26 | NOTIFICATION OF NON-FINAL ACTION E-MAILED |
| 2012-12-26 | NON-FINAL ACTION WRITTEN |
| 2012-12-26 | NON-FINAL ACTION E-MAILED |
| 2012-12-26 | NOTIFICATION OF NON-FINAL ACTION E-MAILED |
| 2013-02-07 | TEAS RESPONSE TO OFFICE ACTION RECEIVED |
| 2013-02-07 | CORRESPONDENCE RECEIVED IN LAW OFFICE |
| 2013-02-07 | TEAS/EMAIL CORRESPONDENCE ENTERED |
| 2013-02-25 | REPORT UNRESPONSIVE AMENDMENT - COMPLETED |
| 2013-02-25 | NOTICE OF UNRESPONSIVE AMENDMENT - E-MAILED |
| 2013-02-25 | NOTIFICATION OF NOTICE OF UNRESPONSIVE AMENDMENT - E-MAILED |
| 2013-08-01 | TEAS RESPONSE TO OFFICE ACTION RECEIVED |
| 2013-08-02 | ASSIGNED TO LIE |
| 2013-08-06 | CORRESPONDENCE RECEIVED IN LAW OFFICE |
| 2013-08-06 | TEAS/EMAIL CORRESPONDENCE ENTERED |
| 2013-08-15 | ABANDONMENT - FAILURE TO RESPOND OR LATE RESPONSE |