HDI LEARNING TO INSPIRE - Trademark Details
Status: 710 - Cancelled - Section 8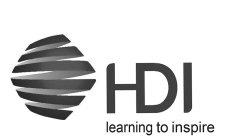 Registration Number
4331316
Word Mark
HDI LEARNING TO INSPIRE
Status
710 - Cancelled - Section 8
Registration Number
4331316
Registration Date
2013-05-07
Mark Drawing
3000 - Illustration: Drawing or design which also includes word(s)/ letter(s)/number(s) Typeset
Design Searches
032307, 260126 - Beehives, honeycombs. Spirals, coils and swirls.
Published for Opposition Date
2013-02-19
Law Office Assigned Location Code
M70
Employee Name
BURNS, ELLEN FERRER
Statements
Indication of Colors claimed
Color is not claimed as a feature of the mark.
Description of Mark
The mark consists of a symbolic beehive with "HDI" next to it and "LEARNING TO INSPIRE" below the word - "HDI".
Goods and Services
Non-medicated preparations all for the care of skin, hair and scalp
Goods and Services
Dietary and nutritional supplements
Goods and Services
Water purification and filtration apparatus
Goods and Services
Publications, namely, brochures, booklets, and teaching materials in the field of natural dietary supplements, body and hair care products and aromatherapy products
Goods and Services
Developing training systems and learning methodologies for others
Classification Information
Correspondences
Address
Please log in with your Justia account to see this address.
Prior Registrations
| | |
| --- | --- |
| Relationship Type | Reel Number |
| Prior Registration | 3040874 |
| Prior Registration | 3477245 |
| Prior Registration | 3490630 |
| Prior Registration | 3802174 |
Trademark Events
| | |
| --- | --- |
| Event Date | Event Description |
| 2012-08-25 | NEW APPLICATION ENTERED IN TRAM |
| 2012-08-30 | NEW APPLICATION OFFICE SUPPLIED DATA ENTERED IN TRAM |
| 2012-08-31 | NOTICE OF DESIGN SEARCH CODE MAILED |
| 2012-12-16 | ASSIGNED TO EXAMINER |
| 2012-12-24 | EXAMINERS AMENDMENT -WRITTEN |
| 2012-12-24 | EXAMINERS AMENDMENT E-MAILED |
| 2012-12-24 | NOTIFICATION OF EXAMINERS AMENDMENT E-MAILED |
| 2012-12-24 | EXAMINER'S AMENDMENT ENTERED |
| 2012-12-24 | APPROVED FOR PUB - PRINCIPAL REGISTER |
| 2013-01-11 | ASSIGNED TO LIE |
| 2013-01-12 | LAW OFFICE PUBLICATION REVIEW COMPLETED |
| 2013-01-30 | NOTIFICATION OF NOTICE OF PUBLICATION E-MAILED |
| 2013-02-19 | PUBLISHED FOR OPPOSITION |
| 2013-02-19 | OFFICIAL GAZETTE PUBLICATION CONFIRMATION E-MAILED |
| 2013-05-07 | REGISTERED-PRINCIPAL REGISTER |
| 2014-03-12 | TEAS CHANGE OF OWNER ADDRESS RECEIVED |
| 2014-03-12 | APPLICANT/CORRESPONDENCE CHANGES (NON-RESPONSIVE) ENTERED |
| 2018-05-07 | COURTESY REMINDER - SEC. 8 (6-YR) E-MAILED |
| 2019-12-13 | CANCELLED SEC. 8 (6-YR) |