HANALEI SURF CO. - Trademark Details
Status: 602 - Abandoned-Failure To Respond Or Late Response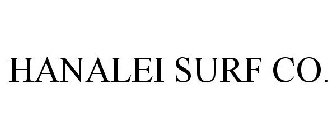 Word Mark
HANALEI SURF CO.
Status
602 - Abandoned-Failure To Respond Or Late Response
Mark Drawing
4000 - Standard character mark Typeset
Law Office Assigned Location Code
L50
Employee Name
JENKINS JR, CHARLES L
Statements
Goods and Services
A-shirts; Ankle boots; Ankle socks; Apparel for dancers, namely, tee shirts, sweatshirts, pants, leggings, shorts and jackets; Aqua shoes; Artificial flower headdresses; Athletic apparel, namely, shirts, pants, jackets, footwear, hats and caps, athletic uniforms; Athletic footwear; Athletic shoes; Athletic tights; Babies' pants; Baby bodysuits; Baby bottoms; Baby tops; Bandanas; Bandeau tops; Bandeaux; Baseball caps; Baseball caps and hats; Baselayer bottoms; Baselayer tops; Bath slippers; Bathing caps; Bathing costumes; Bathing costumes for women; Bathing suits; Bathing suits for men; Bathing trunks; Bathrobes; Beach cover-ups; Beach coverups; Beach footwear; Beach shoes; Beachwear; Beanies; Belts; Belts for clothing; Belts made from imitation leather; Belts made of leather; Belts made out of cloth; Belts of textile; Berets; Bermuda shorts; Bikinis; Board shorts; Boat shoes; Body linen; Body shapers; Body shirts; Body stockings; Body suits; Bomber jackets; Bonnets; Boot accessories, namely, fitted decorative covers for boots; Booties; Boots; Boots for sport; Bottoms; Boxer briefs; Boxer shorts; Boxing shorts; Bridesmaid dresses; Briefs; Briefs; Button down shirts; Button-front aloha shirts; Canvas shoes; Cap visors; Capes; Capri pants; Capris; Caps; Caps with visors; Cardigans; Cargo pants; Cat suits; Catsuits; Children's and infant's apparel, namely, jumpers, overall sleepwear, pajamas, rompers and one-piece garments; Climbing footwear; Climbing shoes; Clogs; Clothing for athletic use, namely, padded elbow compression sleeves being part of an athletic garment; Clothing for athletic use, namely, padded pants; Clothing for athletic use, namely, padded shirts; Clothing for athletic use, namely, padded shorts; Clothing, namely, khakis; Clothing, namely, thobes; Clothing, namely, wrap-arounds; Coats; Coats for men and women; Coats made of cotton; Coats of denim; Collared shirts; Compression garments for athletic or other non-medical use, namely, Rashguard; Coveralls; Crew neck sweaters; Dance costumes; Dance shoes; Dance slippers; Deck-shoes; Denim jackets; Denims; Down jackets; Down suits; Dress pants; Dress shirts; Dress suits; Dresses; Dresses made from skins; Dresses that may also be used as towels; Dressing gowns; Dressing gowns and bath robes; Dry suits; Ear muffs; Evening dresses; Evening gowns; Fabric belts; Fishermen's jackets; Fishing shirts; Fishing vests; Fishing waders; Fitted shoe or boot covering to protect the shoes or boot from water or other damage; Fitted swimming costumes with bra cups; Fleece bottoms; Fleece pullovers; Fleece shorts; Fleece tops; Fleece vests; Footwear; Footwear; Footwear for men; Footwear for men and women; Footwear for women; Footwear made of wood; Footwear not for sports; Footwear, namely, pumps; Footwear, namely, rubbers; Foundation garments worn around the midsection or thighs to keep the stomach in and create a slimming effect; Fur coats; Fur coats and jackets; Fur hats; Fur jackets; Fur muffs; G-strings; Girdles; Gloves; Gloves as clothing; Gloves for apparel; Gloves including those made of skin, hide or fur; Golf caps; Golf pants, shirts and skirts; Golf shirts; Golf trousers; Gowns; Gym pants; Gym shorts; Gym suits; Halter tops; Hatbands; Hats; Hats for infants, babies, toddlers and children; Head scarves; Head sweatbands; Head wear; Headbands; Headbands against sweating; Headbands for clothing; Headgear, namely, Helmets for Skating and Surfing; Headwear; Heavy coats; Heavy jackets; Heels; Hooded pullovers; Hooded sweat shirts; Hooded sweatshirts; Hooded sweatshirts for Casualwear; Hoods; Hoods; Hosiery; Infant wear; Infant wearable blankets; Infants' shoes and boots; Infants' trousers; Infantwear; Jackets; Jackets and socks; Japanese split-toed work footwear (jikatabi); Japanese style clogs and sandals; Japanese style sandals (zori); Japanese style sandals of felt; Japanese style sandals of leather; Japanese style socks (tabi covers); Japanese style socks (tabi); Japanese style wooden clogs (geta); Japanese toe-strap sandals (asaura-zori); Jeans; Jeggings, namely, pants that are partially jeans and partially leggings; Jerseys; Jogging outfits; Jogging pants; Jogging suits; Jump suits; Jumper dresses; Jumpers; Jumpsuits; Knee highs; Knee-high stockings; Knit bottoms; Knit dresses; Knit jackets; Knit shirts; Knit skirts; Knit tops; Knitted caps; Knitted gloves; Knitted underwear; Lace boots; Ladies' boots; Ladies' suits; Ladies' underwear; Leather belts; Leather boots; Leather coats; Leather hats; Leather headwear; Leather jackets; Leather pants; Leather shirts; Leather shoes; Leather skirts; Leather slippers; Leather vests; Leg warmers; Leg-warmers; Leggings; Leggins; Leisure shoes; Leisure suits; Leotards; Leotards and tights for women, men and children of nylon, cotton or other textile fibers; Lingerie; Lingerie accessories, namely, removable silicone breast enhancer pads used in a bra; Loafers; Long jackets; Long johns; Long sleeve pullovers; Long sleeved vests; Long underwear; Long-sleeved shirts; Lounge pants; Loungewear; Low wooden clogs (hiyori-geta); Low wooden clogs (koma-geta); Men's and women's jackets, coats, trousers, vests; Men's dress socks; Men's socks; Men's suits; Men's suits, women's suits; Men's underwear; Miniskirts; Mittens; Mittens modified to cover the hand and an animal leash handle or other loop; Moccasins; Mock turtle-neck sweaters; Moisture-wicking sports bras; Moisture-wicking sports pants; Moisture-wicking sports shirts; Money belts; Morning coats; Motorcycle gloves; Motorcycle jackets; Motorcycle rain suits; Motorcyclist boots; Mountaineering boot liners; Mufflers; Muscle tops; Neckwear; Night gowns; Night shirts; Nightcaps; Nightdresses; Nightgowns; Nighties; Nightshirts; Nightwear; Non-slip socks; Non-slip soles for footwear; Non-slip soles for footwear, namely, for Surfing, Skateboarding; One piece garment for infants and toddlers; One-piece garments for children; One-piece play suits; Open-necked shirts; Outer jackets; Over coats; Pajama bottoms; Pajamas; Panties; Panties, shorts and briefs; Pants; Pantsuits; Play suits; Polo knit tops; Polo shirts; Pullovers; Pumps; Quilted vests; Rain boots; Rain coats; Rain hats; Rain jackets; Rain suits; Rain trousers; Rain wear; Raincoats; Rainproof jackets; Rainwear; Rash guards; Reversible jackets; Robes; Rubbers; Rugby shirts; Rugby shorts; Rugby tops; Running shoes; Running suits; Sandal-clogs; Sandals; Sandals and beach shoes; Saris; Sarongs; Scarfs; Scarves; Shapewear, namely, Bras, Girdles; Shell jackets; Shirts; Shirts and short-sleeved shirts; Shirts and slips; Shirts for infants, babies, toddlers and children; Shirts for suits; Shoe accessories, namely, fitted decorative covers for shoes; Shoes; Short sets; Short trousers; Short-sleeved or long-sleeved t-shirts; Short-sleeved shirts; Shorts; Skirts; Skirts and dresses; Skiwear; Skooters; Skorts; Skull caps; Slacks; Sleep pants; Sleep shirts; Sleeping garments; Slippers; Slips; Small hats; Sneakers; Socks; Socks and stockings; Sport coats; Sport shirts; Sport stockings; Sports bra; Sports bras; Sports caps and hats; Sports jackets; Sports pants; Sports shirts; Sports shirts with short sleeves; Stockings; Stockings; Stretch pants; Suede jackets; Suit coats; Suits; Suits of leather; Sun leggings; Sun sleeves; Sun visors; Sundresses; Sunsuits; Surf wear; Sweat bands; Sweat jackets; Sweat pants; Sweat shirts; Sweat shorts; Sweat suits; Sweatbands; Sweaters; Sweatpants; Sweatshirts; Sweatshirts for Casualwear; Sweatsocks; Sweatsuits; Swim caps; Swim suits; Swim trunks; Swim wear; Swim wear for gentlemen and ladies; Swimming caps; Swimming caps; Swimming costumes; Swimming trunks; Swimsuits; Swimwear; T-shirts; T-shirts for Casualwear; Tank tops; Tank-tops; Tee shirts; Tennis dresses; Tennis shoes; Tennis wear; Thermal socks; Thermal underwear; Thongs; Thongs; Ties; Tights; Top coats; Topcoats; Tops; Track jackets; Track pants; Track suits; Tracksuits; Training shoes; Training suits; Trekking boots; Trench coats; Triathlon clothing, namely, triathlon tights, triathlon shorts, triathlon singlets, triathlon shirts, triathlon suits; Trousers; Trousers for sweating; Trousers of leather; Trunks; Tube tops; Tunics; Turtle neck shirts; Turtleneck pullovers; Turtleneck sweaters; Turtlenecks; Underclothes; Undergarment accessories, namely, removable silicone buttock enhancer pads; Undergarments; Underpants; Undershirts; Underskirts; Underwear; Underwear, namely, boy shorts; Uppers for Japanese style sandals; Uppers of woven rattan for Japanese style sandals; V-neck sweaters; Vested suits; Vests; Visors; Volleyball jerseys; Volleyball shoes; Waist bands; Waistbands; Walking shorts; Warm up outfits; Warm up suits; Warm-up suits; Water proof boots; Water repelling boots; Water repelling footwear; Water repelling leather boots; Water repelling leather shoes and boots; Water socks; Waterproof footwear; Waterproof jackets and pants; Waterproof leather boots; Waterproof leather shoes; Waterproof leather shoes and boots; Wearable blankets in the nature of blankets with sleeves; Wet suit gloves; Wet suits; Wet suits for water-skiing and sub-aqua; Wetsuits; Wetsuits for water-skiing; Wind coats; Wind pants; Wind resistant jackets; Wind shirts; Wind suits; Wind vests; Wind-jackets; Windshirts; Women's ceremonial dresses; Women's clothing, namely, shirts, dresses, skirts, blouses; Women's foldable slippers; Women's hats and hoods; Women's shoes; Women's tops, namely, camis; Women's underwear; Wooden clogs; Woollen socks; Woollen tights; Woven bottoms; Woven dresses; Woven or knitted underwear; Woven skirts; Woven tops; Wraps; Wrist bands; Wristbands
Classification Information
International Class
025
- Clothing, footwear, headgear. - Clothing, footwear, headgear.
Class Status Code
6 - Active
Class Status Date
2012-08-27
Correspondences
Address
Please log in with your Justia account to see this address.
Trademark Events
| | |
| --- | --- |
| Event Date | Event Description |
| 2012-08-22 | NEW APPLICATION ENTERED IN TRAM |
| 2012-08-27 | NEW APPLICATION OFFICE SUPPLIED DATA ENTERED IN TRAM |
| 2012-12-13 | ASSIGNED TO EXAMINER |
| 2012-12-20 | NON-FINAL ACTION WRITTEN |
| 2012-12-20 | NON-FINAL ACTION E-MAILED |
| 2012-12-20 | NOTIFICATION OF NON-FINAL ACTION E-MAILED |
| 2013-07-18 | ABANDONMENT - FAILURE TO RESPOND OR LATE RESPONSE |
| 2013-07-18 | ABANDONMENT NOTICE MAILED - FAILURE TO RESPOND |