BLUNT.SCOOTERS - Trademark Details
Status: 602 - Abandoned-Failure To Respond Or Late Response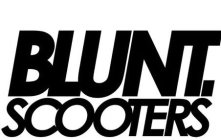 Status
602 - Abandoned-Failure To Respond Or Late Response
Mark Drawing
3000 - Illustration: Drawing or design which also includes word(s)/ letter(s)/number(s) Typeset
Design Searches
260921 - Squares that are completely or partially shaded.
Published for Opposition Date
2013-08-20
Law Office Assigned Location Code
M10
Employee Name
MILTON, PRISCILLA W
Statements
Indication of Colors claimed
Color is not claimed as a feature of the mark.
Description of Mark
The mark consists of the stylized wording "BLUNT. SCOOTER" in a stacked block design with a period after the word "BLUNT" in the form of a square.
Goods and Services
Shirts; Sports Jumpers; Headwear, Namely, Caps; Socks; Sports socks; Shorts
Classification Information
International Class
025
- Clothing, footwear, headgear. - Clothing, footwear, headgear.
Class Status Code
6 - Active
Class Status Date
2012-08-15
First Use Anywhere Date
2011-01-01
First Use In Commerce Date
2011-03-01
Correspondences
Address
Please log in with your Justia account to see this address.
Trademark Events
| | |
| --- | --- |
| Event Date | Event Description |
| 2012-08-10 | NEW APPLICATION ENTERED IN TRAM |
| 2012-08-15 | NEW APPLICATION OFFICE SUPPLIED DATA ENTERED IN TRAM |
| 2012-08-23 | ASSIGNED TO EXAMINER |
| 2012-08-29 | NON-FINAL ACTION WRITTEN |
| 2012-08-29 | NON-FINAL ACTION E-MAILED |
| 2012-08-29 | NOTIFICATION OF NON-FINAL ACTION E-MAILED |
| 2013-02-28 | TEAS RESPONSE TO OFFICE ACTION RECEIVED |
| 2013-02-28 | CORRESPONDENCE RECEIVED IN LAW OFFICE |
| 2013-03-01 | TEAS/EMAIL CORRESPONDENCE ENTERED |
| 2013-03-31 | NON-FINAL ACTION WRITTEN |
| 2013-03-31 | NON-FINAL ACTION E-MAILED |
| 2013-03-31 | NOTIFICATION OF NON-FINAL ACTION E-MAILED |
| 2013-06-24 | TEAS RESPONSE TO OFFICE ACTION RECEIVED |
| 2013-06-24 | CORRESPONDENCE RECEIVED IN LAW OFFICE |
| 2013-06-25 | TEAS/EMAIL CORRESPONDENCE ENTERED |
| 2013-06-26 | APPROVED FOR PUB - PRINCIPAL REGISTER |
| 2013-07-15 | ASSIGNED TO LIE |
| 2013-07-15 | LAW OFFICE PUBLICATION REVIEW COMPLETED |
| 2013-07-25 | WITHDRAWN FROM PUB - SENIOR ATTORNEY REQUEST |
| 2013-08-05 | PREVIOUS ALLOWANCE COUNT WITHDRAWN |
| 2013-08-05 | NON-FINAL ACTION WRITTEN |
| 2013-08-05 | NON-FINAL ACTION E-MAILED |
| 2013-08-05 | NOTIFICATION OF NON-FINAL ACTION E-MAILED |
| 2014-03-04 | ABANDONMENT - FAILURE TO RESPOND OR LATE RESPONSE |
| 2014-03-04 | ABANDONMENT NOTICE MAILED - FAILURE TO RESPOND |