KWEEJIBO CLOTHING CO. - Trademark Details
Status: 710 - Cancelled - Section 8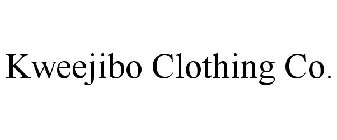 Registration Number
4398741
Word Mark
KWEEJIBO CLOTHING CO.
Status
710 - Cancelled - Section 8
Registration Number
4398741
Registration Date
2013-09-10
Mark Drawing
4000 - Standard character mark Typeset
Published for Opposition Date
2013-06-25
Law Office Assigned Location Code
L50
Employee Name
CARLSON, KRISTIN ELIZA
Statements
Disclaimer with Predetermined Text
"CLOTHING CO."
Goods and Services
Wearable garments and clothing, namely, shirts
Translation of Words in Mark
The wording "KWEEJIBO" has no meaning in a foreign language.
Classification Information
International Class
025
- Clothing, footwear, headgear. - Clothing, footwear, headgear.
Class Status Code
2 - Sec. 8 - Entire Registration
Class Status Date
2020-06-05
First Use Anywhere Date
1992-08-02
First Use In Commerce Date
1992-08-02
Correspondences
Address
Please log in with your Justia account to see this address.
Trademark Events
| | |
| --- | --- |
| Event Date | Event Description |
| 2012-08-01 | NEW APPLICATION ENTERED IN TRAM |
| 2012-08-06 | NEW APPLICATION OFFICE SUPPLIED DATA ENTERED IN TRAM |
| 2012-11-26 | ASSIGNED TO EXAMINER |
| 2012-11-27 | NON-FINAL ACTION WRITTEN |
| 2012-11-27 | NON-FINAL ACTION E-MAILED |
| 2012-11-27 | NOTIFICATION OF NON-FINAL ACTION E-MAILED |
| 2013-05-10 | TEAS RESPONSE TO OFFICE ACTION RECEIVED |
| 2013-05-10 | CORRESPONDENCE RECEIVED IN LAW OFFICE |
| 2013-05-11 | TEAS/EMAIL CORRESPONDENCE ENTERED |
| 2013-05-13 | APPROVED FOR PUB - PRINCIPAL REGISTER |
| 2013-05-21 | ASSIGNED TO LIE |
| 2013-05-21 | LAW OFFICE PUBLICATION REVIEW COMPLETED |
| 2013-06-05 | NOTIFICATION OF NOTICE OF PUBLICATION E-MAILED |
| 2013-06-25 | PUBLISHED FOR OPPOSITION |
| 2013-06-25 | OFFICIAL GAZETTE PUBLICATION CONFIRMATION E-MAILED |
| 2013-09-10 | REGISTERED-PRINCIPAL REGISTER |
| 2018-09-10 | COURTESY REMINDER - SEC. 8 (6-YR) E-MAILED |
| 2020-06-05 | CANCELLED SEC. 8 (6-YR) |