BUY ONE. TRY ONE. BOTO 11 - Trademark Details
Status: 710 - Cancelled - Section 8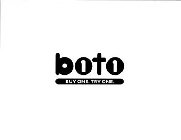 Registration Number
4452142
Word Mark
BUY ONE. TRY ONE. BOTO 11
Status
710 - Cancelled - Section 8
Registration Number
4452142
Registration Date
2013-12-17
Mark Drawing
3000 - Illustration: Drawing or design which also includes word(s)/ letter(s)/number(s) Typeset
Design Searches
261126 - Oblongs as carriers for words, letters or designs.
Published for Opposition Date
2013-06-11
Law Office Assigned Location Code
L10
Employee Name
ABRAMS, JACQUELINE WIL
Statements
Indication of Colors claimed
Color is not claimed as a feature of the mark.
Description of Mark
The mark consists of the letters "boto" with the number "1" inside of each "o" and the words "BUY ONE. TRY ONE." below the letters "boto".
Goods and Services
Advertising and marketing services, namely, dissemination and placement of advertising matter and media, namely, print, commercial, electronic, digital and multimedia ads or communications for promoting goods and services via radio, TV, web/Internet, broadcast, social media, wireless device, direct mail, delivery, on-screen advertising; outdoor advertising, national print ads, in-store point of sale, shelf banners and coupon machines; advertising, marketing and promotion services; providing incentive award programs for customers through the issuance, distribution and processing of loyalty points, discounts, bonuses, purchase vouchers, gift certificates and discount coupons for the purpose of promoting and rewarding loyalty, for frequent use of participating businesses, for purchase of company's goods and services
Classification Information
International Class
035
- Advertising; business management; business administration; office functions. - Advertising; business management; business administration; office functions.
US Class Codes
100, 101, 102
Class Status Code
2 - Sec. 8 - Entire Registration
Class Status Date
2020-07-24
First Use Anywhere Date
2012-09-30
First Use In Commerce Date
2012-09-30
Correspondences
Name
Christine A. Filarski
Address
Please log in with your Justia account to see this address.
Trademark Events
| | |
| --- | --- |
| Event Date | Event Description |
| 2012-07-28 | NEW APPLICATION OFFICE SUPPLIED DATA ENTERED IN TRAM |
| 2012-07-31 | NOTICE OF DESIGN SEARCH CODE MAILED |
| 2012-10-17 | ASSIGNED TO EXAMINER |
| 2012-10-22 | NON-FINAL ACTION WRITTEN |
| 2012-10-22 | NON-FINAL ACTION E-MAILED |
| 2012-10-22 | NOTIFICATION OF NON-FINAL ACTION E-MAILED |
| 2013-04-16 | TEAS RESPONSE TO OFFICE ACTION RECEIVED |
| 2013-04-16 | CORRESPONDENCE RECEIVED IN LAW OFFICE |
| 2013-04-16 | TEAS/EMAIL CORRESPONDENCE ENTERED |
| 2013-04-22 | APPROVED FOR PUB - PRINCIPAL REGISTER |
| 2013-05-01 | ASSIGNED TO LIE |
| 2013-05-09 | LAW OFFICE PUBLICATION REVIEW COMPLETED |
| 2013-05-22 | NOTIFICATION OF NOTICE OF PUBLICATION E-MAILED |
| 2013-06-11 | PUBLISHED FOR OPPOSITION |
| 2013-06-11 | OFFICIAL GAZETTE PUBLICATION CONFIRMATION E-MAILED |
| 2013-08-06 | NOA E-MAILED - SOU REQUIRED FROM APPLICANT |
| 2013-09-26 | TEAS STATEMENT OF USE RECEIVED |
| 2013-10-25 | CASE ASSIGNED TO INTENT TO USE PARALEGAL |
| 2013-09-26 | USE AMENDMENT FILED |
| 2013-10-31 | STATEMENT OF USE PROCESSING COMPLETE |
| 2013-11-04 | ALLOWED PRINCIPAL REGISTER - SOU ACCEPTED |
| 2013-11-12 | LAW OFFICE REGISTRATION REVIEW COMPLETED |
| 2013-11-13 | NOTICE OF ACCEPTANCE OF STATEMENT OF USE E-MAILED |
| 2013-12-17 | REGISTERED-PRINCIPAL REGISTER |
| 2018-12-17 | COURTESY REMINDER - SEC. 8 (6-YR) E-MAILED |
| 2019-12-23 | TEAS REVOKE/APP/CHANGE ADDR OF ATTY/DOM REP RECEIVED |
| 2019-12-23 | ATTORNEY/DOM.REP.REVOKED AND/OR APPOINTED |
| 2020-07-24 | CANCELLED SEC. 8 (6-YR) |