KAYAK FISHING CLASSIC AT JAMAICA BAY - Trademark Details
Status: 606 - Abandoned - No Statement Of Use Filed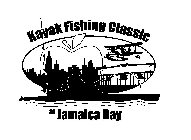 Word Mark
KAYAK FISHING CLASSIC AT JAMAICA BAY
Status
606 - Abandoned - No Statement Of Use Filed
Mark Drawing
3000 - Illustration: Drawing or design which also includes word(s)/ letter(s)/number(s) Typeset
Design Searches
020102, 020122, 050905, 060303, 060701, 070325, 090501, 180701, 180901, 210308, 260302 - Shadows or silhouettes of men. Sailors, fishermen, navigators, men in boats. Apples. Open sea, stretches of water without shore, multiple waves. Cities from a distant perspective, skylines. Other buildings, including schools, hospitals and libraries. Caps, including visors, military caps and baseball caps. Row boats, canoes, kayaks, inflatable boats and the like. Airplanes, including gliders, propeller and jet-powered planes, ultra lights. Fishing rods, tackle, nets, hooks and lures. Plain single line ovals.
Published for Opposition Date
2012-08-14
Law Office Assigned Location Code
M30
Employee Name
KIDWELL WALKER, JACLYN
Statements
Indication of Colors claimed
Color is not claimed as a feature of the mark.
Disclaimer with Predetermined Text
"KAYAK FISHING CLASSIC" AND "JAMAICA BAY"
Description of Mark
The mark consists of an oval containing a bi-plane flying over a hanger to the right of a city skyline. In the background of the skyline is a large apple. Arching above the oval is the stylized text "Kayak Fishing Classic". Below the oval, and partially overlapping it, is a man in a kayak angler holding a fishing pole. Another fishing pole can be seen sticking out of the back of the kayak. Below the kayak are two waved lines representing water, above the stylized text "at Jamaica Bay".
Goods and Services
Entertainment in the nature of kayak fishing tournaments
Classification Information
International Class
041
- Education; providing of training; entertainment; sporting and cultural activities. - Education; providing of training; entertainment; sporting and cultural activities.
US Class Codes
100, 101, 107
Class Status Code
6 - Active
Class Status Date
2012-03-02
Correspondences
Address
Please log in with your Justia account to see this address.
Trademark Events
| | |
| --- | --- |
| Event Date | Event Description |
| 2012-02-28 | NEW APPLICATION ENTERED IN TRAM |
| 2012-03-02 | NEW APPLICATION OFFICE SUPPLIED DATA ENTERED IN TRAM |
| 2012-03-03 | NOTICE OF DESIGN SEARCH CODE MAILED |
| 2012-06-05 | ASSIGNED TO EXAMINER |
| 2012-06-05 | APPROVED FOR PUB - PRINCIPAL REGISTER |
| 2012-06-05 | PREVIOUS ALLOWANCE COUNT WITHDRAWN |
| 2012-06-14 | EXAMINERS AMENDMENT -WRITTEN |
| 2012-06-14 | EXAMINERS AMENDMENT E-MAILED |
| 2012-06-14 | NOTIFICATION OF EXAMINERS AMENDMENT E-MAILED |
| 2012-06-14 | EXAMINER'S AMENDMENT ENTERED |
| 2012-06-14 | APPROVED FOR PUB - PRINCIPAL REGISTER |
| 2012-07-05 | ASSIGNED TO LIE |
| 2012-07-07 | LAW OFFICE PUBLICATION REVIEW COMPLETED |
| 2012-07-25 | NOTIFICATION OF NOTICE OF PUBLICATION E-MAILED |
| 2012-08-14 | PUBLISHED FOR OPPOSITION |
| 2012-08-14 | OFFICIAL GAZETTE PUBLICATION CONFIRMATION E-MAILED |
| 2012-10-09 | NOA E-MAILED - SOU REQUIRED FROM APPLICANT |
| 2013-05-13 | ABANDONMENT - NO USE STATEMENT FILED |
| 2013-05-13 | ABANDONMENT NOTICE MAILED - NO USE STATEMENT FILED |
| 2013-07-08 | TEAS PETITION TO REVIVE RECEIVED |
| 2013-07-08 | PETITION TO REVIVE-GRANTED |
| 2013-07-08 | NOTICE OF REVIVAL - E-MAILED |
| 2013-07-12 | CASE ASSIGNED TO INTENT TO USE PARALEGAL |
| 2013-04-09 | NOTICE OF ALLOWANCE CANCELLED |
| 2013-07-18 | NEW NOA TO ISSUE |
| 2013-08-27 | NOA E-MAILED - SOU REQUIRED FROM APPLICANT |
| 2014-03-31 | ABANDONMENT - NO USE STATEMENT FILED |
| 2014-03-31 | ABANDONMENT NOTICE MAILED - NO USE STATEMENT FILED |