DR. SEUSS - Trademark Details
Status: 702 - Section 8 & 15-Accepted And Acknowledged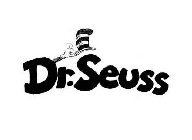 Registration Number
4087990
Status
702 - Section 8 & 15-Accepted And Acknowledged
Registration Number
4087990
Registration Date
2012-01-17
Mark Drawing
3000 - Illustration: Drawing or design which also includes word(s)/ letter(s)/number(s) Typeset
Design Searches
021107, 090502 - Hands, fingers and arms. Top hats.
Published for Opposition Date
2011-11-01
Law Office Assigned Location Code
M60
Employee Name
LOWRY, LEIGH A
Statements
Indication of Colors claimed
Color is not claimed as a feature of the mark.
Description of Mark
The mark consists of a hand holding a hat above the wording "DR. SEUSS".
Goods and Services
Computer application software for mobile phones, namely, software for creating greeting cards
Goods and Services
Clothing, namely, t-shirts; boxer shorts, boxer briefs; lounge pants; tops; pajamas; infant clothing and toddler clothing, namely, t-shirts, underclothes, tops, bottoms, rompers, sleepwear, sweatshirts, outerwear in the nature of jackets; cloth bibs; hats; gloves
Goods and Services
novelty wigs
Goods and Services
Providing on-line non-downloadable computer software applications for creating greeting cards
Classification Information
Current Trademark Owners
Party Type
30 - Original Registrant
Legal Entity Type
13 - Limited Partnership
Trademark Owner History
Party Type
30 - Original Registrant
Legal Entity Type
13 - Limited Partnership
Party Type
20 - Owner at Publication
Legal Entity Type
13 - Limited Partnership
Party Type
10 - Original Applicant
Legal Entity Type
13 - Limited Partnership
Prior Registrations
| | |
| --- | --- |
| Relationship Type | Reel Number |
| Prior Registration | 3470810 |
| Prior Registration | 3528417 |
| Prior Registration | 3919926 |
Trademark Events
| | |
| --- | --- |
| Event Date | Event Description |
| 2011-06-23 | NEW APPLICATION ENTERED IN TRAM |
| 2011-06-23 | NEW APPLICATION OFFICE SUPPLIED DATA ENTERED IN TRAM |
| 2011-06-24 | NOTICE OF DESIGN SEARCH CODE MAILED |
| 2011-09-06 | ASSIGNED TO EXAMINER |
| 2011-09-14 | EXAMINERS AMENDMENT AND/OR PRIORITY ACTION - COMPLETED |
| 2011-09-14 | EXAMINER'S AMENDMENT/PRIORITY ACTION E-MAILED |
| 2011-09-14 | NOTIFICATION OF EXAMINER'S AMENDMENT/PRIORITY ACTION E-MAILED |
| 2011-09-15 | ASSIGNED TO LIE |
| 2011-09-15 | COMBINED EXAMINER'S AMENDMENT/PRIORITY ACTION ENTERED |
| 2011-09-26 | TEAS RESPONSE TO OFFICE ACTION RECEIVED |
| 2011-09-26 | CORRESPONDENCE RECEIVED IN LAW OFFICE |
| 2011-09-27 | TEAS/EMAIL CORRESPONDENCE ENTERED |
| 2011-09-28 | APPROVED FOR PUB - PRINCIPAL REGISTER |
| 2011-09-28 | LAW OFFICE PUBLICATION REVIEW COMPLETED |
| 2011-11-01 | PUBLISHED FOR OPPOSITION |
| 2011-11-01 | OFFICIAL GAZETTE PUBLICATION CONFIRMATION E-MAILED |
| 2012-01-17 | REGISTERED-PRINCIPAL REGISTER |
| 2014-12-01 | TEAS REVOKE/APP/CHANGE ADDR OF ATTY/DOM REP RECEIVED |
| 2014-12-01 | ATTORNEY/DOM.REP.REVOKED AND/OR APPOINTED |
| 2015-10-07 | TEAS CHANGE OF OWNER ADDRESS RECEIVED |
| 2015-10-07 | APPLICANT/CORRESPONDENCE CHANGES (NON-RESPONSIVE) ENTERED |
| 2017-01-17 | COURTESY REMINDER - SEC. 8 (6-YR) E-MAILED |
| 2018-01-17 | TEAS SECTION 8 & 15 RECEIVED |
| 2018-02-02 | CASE ASSIGNED TO POST REGISTRATION PARALEGAL |
| 2018-02-07 | REGISTERED - SEC. 8 (6-YR) ACCEPTED & SEC. 15 ACK. |
| 2018-02-07 | NOTICE OF ACCEPTANCE OF SEC. 8 & 15 - E-MAILED |
| 2021-01-17 | COURTESY REMINDER - SEC. 8 (10-YR)/SEC. 9 E-MAILED |
| 2022-01-14 | TEAS SECTION 8 & 9 RECEIVED |