MAS MATERIAL ACQUISITION SERVICES - Trademark Details
Status: 710 - Cancelled - Section 8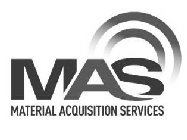 Registration Number
4258482
Word Mark
MAS MATERIAL ACQUISITION SERVICES
Status
710 - Cancelled - Section 8
Registration Number
4258482
Registration Date
2012-12-11
Mark Drawing
3000 - Illustration: Drawing or design which also includes word(s)/ letter(s)/number(s) Typeset
Design Searches
260117 - Two concentric circles.
Published for Opposition Date
2012-05-29
Law Office Assigned Location Code
L80
Employee Name
TURNER, JASON FITZGERA
Statements
Indication of Colors claimed
Color is not claimed as a feature of the mark.
Disclaimer with Predetermined Text
"MATERIAL ACQUISITION SERVICES"
Description of Mark
The mark consists of an arch and the words "MAS Material Acquisition Services".
Goods and Services
Procurement of industrial supplies, namely, industrial machinery such as small air compressors, power washers, steamers, motors, forklift and floor scrubbers to the refining, energy, and manufacturing industries; business services, namely, combined strategic goods or services sourcing and cooperative purchasing for others; procurement services, namely, procurement of contracts for others for the purchase of energy; purchasing and procurement services, namely, procuring of contracts for others for the purchase of goods and labor contracting services; procurement, namely, purchasing oil and gas, transportation, heavy machinery, industrial batteries, power generation, exercise equipment, ballistic clay, rigging and rigging gear, miscellaneous welding equipment, machine tools portable, secondary metal mach-cutting tools, secondary metalworking mach-access, blocks, tackle, rigging, and slings, liquid and gas regulator, non powered, hand tools, nonedged, nonpowered, drill bits, counterbores and sinks, taps, dies and collets-hand and machine, screws, bolts, studs, rivets, fastening devices, abrasive materials, lumber and related wood materials, circuit breakers, motors electrical, batteries nonrechargeable, electric lamps, ballasts, lampholders, and starters, nonelectrical lighting fixtures, hazard-detecting instruments and apparatus, scales and balances, pressure temp humidity instruments, gases, compressed and liquefied, office furniture, cabinets, lockers, bins and shelving, household furnishings appliance, brooms, brushes, mops, and sponges, drums and cans, bottles and jars, oil and grease-cut, lubricant and hydraulic, refractories and fire surfacing mattes, couplers, splitters, and mixers, filters, engine air and oil filters, tools attachments for woodwork machines, electric arc welding equipment, gas weld heat cut - metalizing equipment, machine tool accessories, winches hoists cranes and derricks, chain and wire rope, fire fighting equipment, safety and rescue equipment, power and hand pumps, centrifugals separators and filters, hose and flexible tubing, fittings - hose pipe and tube, liquid and gas regulator nonpowered and powered, disks and stones abrasive, pipe and conduit nonmetallic, relays and solenoids, laboratory equipment and supplies, liquid-gas-motion measuring instruments, office supplies, maps, atlases, charts, and globes, outerwear men's, outerwear women's, paper and paperboard, bars and rods; consultation in the field of business acquisitions; providing a database featuring intellectual and industrial property rights available for possible acquisition
Classification Information
International Class
035
- Advertising; business management; business administration; office functions. - Advertising; business management; business administration; office functions.
US Class Codes
100, 101, 102
Class Status Code
2 - Sec. 8 - Entire Registration
Class Status Date
2019-07-12
First Use Anywhere Date
2011-03-21
First Use In Commerce Date
2011-07-29
Correspondences
Address
Please log in with your Justia account to see this address.
Trademark Events
| | |
| --- | --- |
| Event Date | Event Description |
| 2011-05-24 | NEW APPLICATION ENTERED IN TRAM |
| 2011-05-24 | NEW APPLICATION OFFICE SUPPLIED DATA ENTERED IN TRAM |
| 2011-05-25 | NOTICE OF DESIGN SEARCH CODE MAILED |
| 2011-09-07 | ASSIGNED TO EXAMINER |
| 2011-09-15 | NON-FINAL ACTION WRITTEN |
| 2011-09-15 | NON-FINAL ACTION E-MAILED |
| 2011-09-15 | NOTIFICATION OF NON-FINAL ACTION E-MAILED |
| 2012-03-12 | TEAS RESPONSE TO OFFICE ACTION RECEIVED |
| 2012-03-12 | CORRESPONDENCE RECEIVED IN LAW OFFICE |
| 2012-03-13 | TEAS/EMAIL CORRESPONDENCE ENTERED |
| 2012-04-04 | APPROVED FOR PUB - PRINCIPAL REGISTER |
| 2012-04-24 | ASSIGNED TO LIE |
| 2012-04-25 | LAW OFFICE PUBLICATION REVIEW COMPLETED |
| 2012-05-09 | NOTIFICATION OF NOTICE OF PUBLICATION E-MAILED |
| 2012-05-29 | PUBLISHED FOR OPPOSITION |
| 2012-05-29 | OFFICIAL GAZETTE PUBLICATION CONFIRMATION E-MAILED |
| 2012-07-24 | NOA E-MAILED - SOU REQUIRED FROM APPLICANT |
| 2012-10-30 | TEAS STATEMENT OF USE RECEIVED |
| 2012-10-31 | CASE ASSIGNED TO INTENT TO USE PARALEGAL |
| 2012-10-30 | USE AMENDMENT FILED |
| 2012-11-01 | STATEMENT OF USE PROCESSING COMPLETE |
| 2012-11-01 | ALLOWED PRINCIPAL REGISTER - SOU ACCEPTED |
| 2012-11-05 | LAW OFFICE REGISTRATION REVIEW COMPLETED |
| 2012-11-06 | NOTICE OF ACCEPTANCE OF STATEMENT OF USE E-MAILED |
| 2012-12-11 | REGISTERED-PRINCIPAL REGISTER |
| 2017-12-11 | COURTESY REMINDER - SEC. 8 (6-YR) E-MAILED |
| 2019-07-12 | CANCELLED SEC. 8 (6-YR) |