S SPALDING - Trademark Details
Status: 702 - Section 8 & 15-Accepted And Acknowledged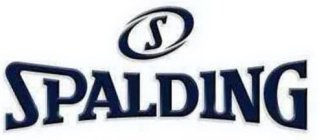 Registration Number
4238549
Status
702 - Section 8 & 15-Accepted And Acknowledged
Registration Number
4238549
Registration Date
2012-11-06
Mark Drawing
3000 - Illustration: Drawing or design which also includes word(s)/ letter(s)/number(s) Typeset
Design Searches
260321, 260328, 261709 - Ovals that are completely or partially shaded. Miscellaneous designs with overall oval shape, including amoeba-like shapes and irregular ovals. Curved line(s), band(s) or bar(s).
Published for Opposition Date
2012-01-03
Law Office Assigned Location Code
L10
Employee Name
LORENZO, GEORGE M
Statements
Indication of Colors claimed
Color is not claimed as a feature of the mark.
Description of Mark
The mark consists of the letter "S" inside two arcs with the word "SPALDING" stylized below it.
Goods and Services
Bottoms; Caps; Footwear; Jackets; Shoes; Sweat pants; Sweat shirts; Sweat suits; Tops
Classification Information
International Class
025
- Clothing, footwear, headgear. - Clothing, footwear, headgear.
Class Status Code
6 - Active
Class Status Date
2011-11-29
First Use Anywhere Date
2010-10-18
First Use In Commerce Date
2010-10-18
Current Trademark Owners
Party Type
30 - Original Registrant
Legal Entity Type
16 - Limited Liability Company
Trademark Owner History
Party Type
30 - Original Registrant
Legal Entity Type
16 - Limited Liability Company
Party Type
20 - Owner at Publication
Legal Entity Type
16 - Limited Liability Company
Party Type
10 - Original Applicant
Legal Entity Type
16 - Limited Liability Company
Prior Registrations
| | |
| --- | --- |
| Relationship Type | Reel Number |
| Prior Registration | 3280583 |
| Prior Registration | 3285057 |
| Prior Registration | 3572678 |
Trademark Events
| | |
| --- | --- |
| Event Date | Event Description |
| 2011-05-20 | NEW APPLICATION ENTERED IN TRAM |
| 2011-05-20 | NEW APPLICATION OFFICE SUPPLIED DATA ENTERED IN TRAM |
| 2011-05-21 | NOTICE OF DESIGN SEARCH CODE MAILED |
| 2011-09-01 | ASSIGNED TO EXAMINER |
| 2011-09-06 | REMOVED FROM TEAS PLUS |
| 2011-09-06 | NON-FINAL ACTION WRITTEN |
| 2011-09-06 | NON-FINAL ACTION E-MAILED |
| 2011-09-06 | NOTIFICATION OF NON-FINAL ACTION E-MAILED |
| 2011-10-31 | TEAS RESPONSE TO OFFICE ACTION RECEIVED |
| 2011-10-31 | CORRESPONDENCE RECEIVED IN LAW OFFICE |
| 2011-10-31 | TEAS/EMAIL CORRESPONDENCE ENTERED |
| 2011-11-01 | APPROVED FOR PUB - PRINCIPAL REGISTER |
| 2011-11-22 | ASSIGNED TO LIE |
| 2011-11-29 | LAW OFFICE PUBLICATION REVIEW COMPLETED |
| 2011-12-14 | NOTIFICATION OF NOTICE OF PUBLICATION E-MAILED |
| 2012-01-03 | PUBLISHED FOR OPPOSITION |
| 2012-01-03 | OFFICIAL GAZETTE PUBLICATION CONFIRMATION E-MAILED |
| 2012-02-28 | NOA E-MAILED - SOU REQUIRED FROM APPLICANT |
| 2012-08-09 | TEAS CHANGE OF CORRESPONDENCE RECEIVED |
| 2012-08-27 | TEAS STATEMENT OF USE RECEIVED |
| 2012-09-05 | CASE ASSIGNED TO INTENT TO USE PARALEGAL |
| 2012-08-27 | USE AMENDMENT FILED |
| 2012-09-06 | STATEMENT OF USE PROCESSING COMPLETE |
| 2012-09-21 | ALLOWED PRINCIPAL REGISTER - SOU ACCEPTED |
| 2012-09-28 | LAW OFFICE REGISTRATION REVIEW COMPLETED |
| 2012-09-29 | NOTICE OF ACCEPTANCE OF STATEMENT OF USE E-MAILED |
| 2012-11-06 | REGISTERED-PRINCIPAL REGISTER |
| 2017-11-06 | COURTESY REMINDER - SEC. 8 (6-YR) E-MAILED |
| 2018-02-05 | TEAS CHANGE OF CORRESPONDENCE RECEIVED |
| 2018-02-05 | TEAS SECTION 8 & 15 RECEIVED |
| 2018-02-16 | CASE ASSIGNED TO POST REGISTRATION PARALEGAL |
| 2018-02-16 | REGISTERED - SEC. 8 (6-YR) ACCEPTED & SEC. 15 ACK. |
| 2018-02-16 | NOTICE OF ACCEPTANCE OF SEC. 8 & 15 - E-MAILED |
| 2021-11-06 | COURTESY REMINDER - SEC. 8 (10-YR)/SEC. 9 E-MAILED |
| 2021-11-08 | TEAS SECTION 8 & 9 RECEIVED |