KOBE BENTO - Trademark Details
Status: 710 - Cancelled - Section 8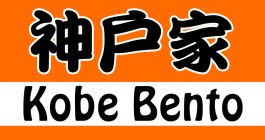 Registration Number
4076449
Status
710 - Cancelled - Section 8
Registration Number
4076449
Registration Date
2011-12-27
Mark Drawing
3000 - Illustration: Drawing or design which also includes word(s)/ letter(s)/number(s) Typeset
Design Searches
261111, 261121, 280103 - Rectangles divided twice into three sections. Rectangles that are completely or partially shaded. Inscriptions in Chinese, Japanese, Korean, Vietnamese or other Asian characters.
Published for Opposition Date
2011-10-11
Law Office Assigned Location Code
L40
Employee Name
JACKSON, KATINA SHAY
Statements
Indication of Colors claimed
The color(s) Black, White and Orange is/are claimed as a feature of the mark.
Disclaimer with Predetermined Text
"KOBE BENTO" AND NO CLAIM IS MADE TO THE EXCLUSIVE RIGHT TO USE THE NON-LATIN CHARACTERS THAT TRANSLITERATE TO SHEN HU JIA
Description of Mark
The mark consists of the words "KOBE BENTO" in black on a white background with an orange underline beneath the wording. Above the wording is an orange rectangle box with black Chinese characters outlined in white.
Goods and Services
Fast-food restaurants and snackbars
Transliteration Statement
The non-Latin characters in the mark transliterate to shen hu jia and this means "Kobe Home" in English.
Classification Information
International Class
043
- Services for providing food and drink; temporary accommodation. - Services for providing food and drink; temporary accommodation.
Class Status Code
2 - Sec. 8 - Entire Registration
Class Status Date
2018-08-03
First Use Anywhere Date
2003-10-01
First Use In Commerce Date
2003-10-01
Correspondences
Address
Please log in with your Justia account to see this address.
Trademark Events
| | |
| --- | --- |
| Event Date | Event Description |
| 2011-04-08 | NEW APPLICATION ENTERED IN TRAM |
| 2011-04-08 | NEW APPLICATION OFFICE SUPPLIED DATA ENTERED IN TRAM |
| 2011-04-09 | NOTICE OF DESIGN SEARCH CODE MAILED |
| 2011-07-05 | ASSIGNED TO EXAMINER |
| 2011-07-11 | NON-FINAL ACTION WRITTEN |
| 2011-07-11 | NON-FINAL ACTION E-MAILED |
| 2011-07-11 | NOTIFICATION OF NON-FINAL ACTION E-MAILED |
| 2011-07-13 | TEAS RESPONSE TO OFFICE ACTION RECEIVED |
| 2011-07-13 | CORRESPONDENCE RECEIVED IN LAW OFFICE |
| 2011-07-14 | TEAS/EMAIL CORRESPONDENCE ENTERED |
| 2011-07-18 | APPROVED FOR PUB - PRINCIPAL REGISTER |
| 2011-08-01 | ASSIGNED TO LIE |
| 2011-08-05 | LAW OFFICE PUBLICATION REVIEW COMPLETED |
| 2011-08-22 | WITHDRAWN FROM PUB - OG REVIEW QUERY |
| 2011-09-07 | PREVIOUS ALLOWANCE COUNT WITHDRAWN |
| 2011-09-07 | EXAMINERS AMENDMENT -WRITTEN |
| 2011-09-07 | EXAMINERS AMENDMENT E-MAILED |
| 2011-09-07 | NOTIFICATION OF EXAMINERS AMENDMENT E-MAILED |
| 2011-09-07 | EXAMINER'S AMENDMENT ENTERED |
| 2011-09-07 | APPROVED FOR PUB - PRINCIPAL REGISTER |
| 2011-09-07 | LAW OFFICE PUBLICATION REVIEW COMPLETED |
| 2011-10-11 | PUBLISHED FOR OPPOSITION |
| 2011-10-11 | OFFICIAL GAZETTE PUBLICATION CONFIRMATION E-MAILED |
| 2011-12-27 | REGISTERED-PRINCIPAL REGISTER |
| 2016-12-27 | COURTESY REMINDER - SEC. 8 (6-YR) E-MAILED |
| 2018-08-03 | CANCELLED SEC. 8 (6-YR) |