BLUE + GREEN NATURAL LIVING - Trademark Details
Status: 606 - Abandoned - No Statement Of Use Filed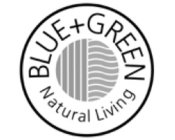 Word Mark
BLUE + GREEN NATURAL LIVING
Status
606 - Abandoned - No Statement Of Use Filed
Mark Drawing
3000 - Illustration: Drawing or design which also includes word(s)/ letter(s)/number(s) Typeset
Design Searches
260112, 260117 - Circles with bars, bands and lines. Two concentric circles.
Published for Opposition Date
2011-09-13
Law Office Assigned Location Code
L20
Employee Name
CRAWFORD, MARY E
Statements
Indication of Colors claimed
Color is not claimed as a feature of the mark.
Description of Mark
The mark consists of a circle design containing the designations "BLUE" and "GREEN", in between which is positioned a plus symbol, set forth above the designations "NATURAL" and "LIVING," with the circle having a fanciful design in its center.
Goods and Services
Apparel, namely, shirts, pants, jackets, blazers, blouses, camisoles, camouflage jackets, camouflage pants, camouflage shirts, camouflage vests, capris, cardigans, cargo pants, chemises, jumpers, sleepwear, pajamas, rompers and one-piece garments for infants and children, coats, dresses, dressing gowns, bath robes, evening dresses, fabric belts, leggings, lingerie, men's suits, women's suits, scarves, shawls, stoles, shorts, skirts, sweat suits, sweaters, swim wear, ties, and underwear; footwear; headwear
Pseudo Mark
BLUE PLUS GREEN NATURAL LIVING
Classification Information
International Class
025
- Clothing, footwear, headgear. - Clothing, footwear, headgear.
Class Status Code
6 - Active
Class Status Date
2010-08-23
Correspondences
Address
Please log in with your Justia account to see this address.
Trademark Events
| | |
| --- | --- |
| Event Date | Event Description |
| 2010-08-20 | NEW APPLICATION ENTERED IN TRAM |
| 2010-08-23 | NEW APPLICATION OFFICE SUPPLIED DATA ENTERED IN TRAM |
| 2010-08-24 | NOTICE OF DESIGN SEARCH CODE MAILED |
| 2010-12-02 | ASSIGNED TO EXAMINER |
| 2010-12-06 | NON-FINAL ACTION WRITTEN |
| 2010-12-06 | NON-FINAL ACTION E-MAILED |
| 2010-12-06 | NOTIFICATION OF NON-FINAL ACTION E-MAILED |
| 2011-06-06 | TEAS RESPONSE TO OFFICE ACTION RECEIVED |
| 2011-06-06 | CORRESPONDENCE RECEIVED IN LAW OFFICE |
| 2011-06-07 | TEAS/EMAIL CORRESPONDENCE ENTERED |
| 2011-06-22 | FINAL REFUSAL WRITTEN |
| 2011-06-22 | FINAL REFUSAL E-MAILED |
| 2011-06-22 | NOTIFICATION OF FINAL REFUSAL EMAILED |
| 2011-07-21 | EXAMINERS AMENDMENT -WRITTEN |
| 2011-07-21 | EXAMINERS AMENDMENT E-MAILED |
| 2011-07-21 | NOTIFICATION OF EXAMINERS AMENDMENT E-MAILED |
| 2011-07-21 | EXAMINER'S AMENDMENT ENTERED |
| 2011-07-21 | APPROVED FOR PUB - PRINCIPAL REGISTER |
| 2011-08-03 | ASSIGNED TO LIE |
| 2011-08-05 | LAW OFFICE PUBLICATION REVIEW COMPLETED |
| 2011-09-13 | PUBLISHED FOR OPPOSITION |
| 2011-09-13 | OFFICIAL GAZETTE PUBLICATION CONFIRMATION E-MAILED |
| 2011-11-08 | NOA E-MAILED - SOU REQUIRED FROM APPLICANT |
| 2012-05-08 | TEAS EXTENSION RECEIVED |
| 2012-05-08 | EXTENSION 1 FILED |
| 2012-05-08 | EXTENSION 1 GRANTED |
| 2012-05-10 | NOTICE OF APPROVAL OF EXTENSION REQUEST E-MAILED |
| 2012-05-14 | TEAS REVOKE/APP/CHANGE ADDR OF ATTY/DOM REP RECEIVED |
| 2012-05-14 | ATTORNEY/DOM.REP.REVOKED AND/OR APPOINTED |
| 2012-12-10 | ABANDONMENT - NO USE STATEMENT FILED |
| 2012-12-10 | ABANDONMENT NOTICE MAILED - NO USE STATEMENT FILED |
| 2017-12-19 | TEAS REVOKE/APP/CHANGE ADDR OF ATTY/DOM REP RECEIVED |
| 2017-12-19 | ATTORNEY/DOM.REP.REVOKED AND/OR APPOINTED |
| 2019-04-24 | TEAS REVOKE/APP/CHANGE ADDR OF ATTY/DOM REP RECEIVED |
| 2019-04-24 | ATTORNEY/DOM.REP.REVOKED AND/OR APPOINTED |