DISNEY JONAS L.A. - Trademark Details
Status: 606 - Abandoned - No Statement Of Use Filed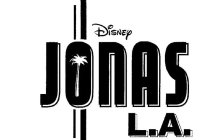 Word Mark
DISNEY JONAS L.A.
Status
606 - Abandoned - No Statement Of Use Filed
Mark Drawing
3000 - Illustration: Drawing or design which also includes word(s)/ letter(s)/number(s) Typeset
Design Searches
050103, 261701, 261704 - Palm trees. Straight line(s), band(s) or bar(s). Vertical line(s), band(s) or bar(s).
Published for Opposition Date
2011-04-12
Law Office Assigned Location Code
M10
Employee Name
HELLA, AMY E
Statements
Indication of Colors claimed
Color is not claimed as a feature of the mark.
Disclaimer with Predetermined Text
"L.A."
Description of Mark
The mark consists of the wording "DISNEY JONAS L.A." with a palm tree design inside the "O" of "JONAS and two vertical bars behind the "O".
Goods and Services
Aprons; beachwear; belts; bottoms; cloaks; cloth bibs; coats; chaps; costumes for use in role-playing games; beach cover-ups; dresses; ear muffs; footwear; gloves; gowns; Halloween costumes; headwear; hosiery; infantwear; jackets; leotards; lingerie; loungewear; mittens; overalls; pants; ponchos; rainwear; scarves; shirts; shorts; skirts; sleepwear; socks; sweaters; sweatshirts; swimwear; suits; ties; tops; underwear; wrist bands
Classification Information
International Class
25
- Clothing, footwear, headgear. - Clothing, footwear, headgear.
Class Status Code
6 - Active
Class Status Date
2010-06-02
Correspondences
Address
Please log in with your Justia account to see this address.
Prior Registrations
| | |
| --- | --- |
| Relationship Type | Reel Number |
| Prior Registration | 3354480 |
| Prior Registration | 3370283 |
| Prior Registration | 3829709 |
Trademark Events
| | |
| --- | --- |
| Event Date | Event Description |
| 2010-06-01 | NEW APPLICATION ENTERED IN TRAM |
| 2010-06-02 | NEW APPLICATION OFFICE SUPPLIED DATA ENTERED IN TRAM |
| 2010-06-03 | NOTICE OF DESIGN SEARCH CODE MAILED |
| 2010-09-09 | ASSIGNED TO EXAMINER |
| 2010-09-16 | EXAMINERS AMENDMENT AND/OR PRIORITY ACTION - COMPLETED |
| 2010-09-16 | EXAMINER'S AMENDMENT/PRIORITY ACTION E-MAILED |
| 2010-09-16 | NOTIFICATION OF EXAMINER'S AMENDMENT/PRIORITY ACTION E-MAILED |
| 2010-09-16 | ASSIGNED TO LIE |
| 2010-09-17 | COMBINED EXAMINER'S AMENDMENT/PRIORITY ACTION ENTERED |
| 2011-03-08 | TEAS RESPONSE TO OFFICE ACTION RECEIVED |
| 2011-03-08 | CORRESPONDENCE RECEIVED IN LAW OFFICE |
| 2011-03-09 | TEAS/EMAIL CORRESPONDENCE ENTERED |
| 2011-03-10 | APPROVED FOR PUB - PRINCIPAL REGISTER |
| 2011-03-10 | LAW OFFICE PUBLICATION REVIEW COMPLETED |
| 2011-04-12 | PUBLISHED FOR OPPOSITION |
| 2011-04-12 | OFFICIAL GAZETTE PUBLICATION CONFIRMATION E-MAILED |
| 2011-06-07 | NOA E-MAILED - SOU REQUIRED FROM APPLICANT |
| 2012-01-09 | ABANDONMENT - NO USE STATEMENT FILED |
| 2012-01-09 | ABANDONMENT NOTICE MAILED - NO USE STATEMENT FILED |