S SOLVAY - Trademark Details
Status: 700 - Registered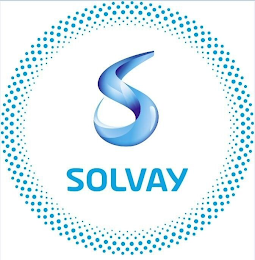 Registration Number
6578562
Registration Number
6578562
Registration Date
2021-12-07
Mark Drawing
3000 - Illustration: Drawing or design which also includes word(s)/ letter(s)/number(s) Typeset
Design Searches
260101, 260105, 260118, 260121 - Circles as carriers or as single line borders. Circles made of broken or dotted lines. Three or more concentric circles. Circles that are totally or partially shaded.
Published for Opposition Date
2021-09-21
Law Office Assigned Location Code
N70
Employee Name
BROWNE, LUCY E
Statements
Indication of Colors claimed
The color(s) blue is/are claimed as a feature of the mark.
Description of Mark
The mark consists of a blue stylized letter "S" above the blue stylized wording "SOLVAY", all of which is surrounded by a circle comprised of smaller blue circles. The color white represents background, outlining, shading, and/or transparent area and is not part of the mark.
Goods and Services
Chemicals for use in industry and science, as well as in agriculture, horticulture and forestry except fungicides, herbicides, insecticides and parasiticides, namely, solvents in the nature of degreasing solvents for use in manufacturing processes, solvents for aerosols, azeotropic non- flammable solvents and solvents for industrial and commercial use, solvents for detergents for use in manufacturing operations, solvents for use in manufacturing operations for the cleaning industry, metal processing industry, cosmetic industry, chemical industry, personal care industry, house maintenance industry, latex industry, and paper industry; Chemicals for use in industry and science, as well as in agriculture, horticulture and forestry except fungicides, herbicides, insecticides and parasiticides, namely, barium, strontium, calcium chloride, caustic soda, chlorine products, namely, chlorinated acids and chlorine; Chemicals for use in industry and science, as well as in agriculture, horticulture and forestry except fungicides, herbicides, insecticides and parasiticides, namely, peroxide products, in the nature of inorganic peroxides for use in industry, agriculture, horticulture and forestry, calcium peroxide, magnesium peroxide, hydrogen peroxides for industrial purposes, peroxides for use as a sterilizing agent in the food and beverage industry, for use in the food processing industry, and for use in the treatment of industrial refrigerating or waste water and for use in the agriculture, aquaculture, and horticulture industries, alkaline peroxides, sodium carbonate peroxyhydrate; Chemicals for use in industry and science, as well as in agriculture, horticulture and forestry except fungicides, herbicides, insecticides and parasiticides, namely, polyglycerols, precipitated calcium carbonate, sodium carbonate and bicarbonate; Chemicals for use in industry and science, as well as in agriculture, horticulture and forestry except fungicides, herbicides, insecticides and parasiticides, namely, unprocessed cellulose acetate for use in a wide variety of fields; Chemicals for use in industry and science, as well as in agriculture, horticulture and forestry except fungicides, herbicides, insecticides and parasiticides, namely, amines; Chemicals for use in industry and science, as well as in agriculture, horticulture and forestry except fungicides, herbicides, insecticides and parasiticides, namely, sulfuric acid; Chemicals for use in industry and science, as well as in agriculture, horticulture and forestry except fungicides, herbicides, insecticides and parasiticides, namely, non-ionic and cationic surfactants for use as raw materials for use in the manufacture of industrial products, consumer and household products; Chemicals for use in industry and science, as well as in agriculture, horticulture and forestry except fungicides, herbicides, insecticides and parasiticides, namely, diphenols and derivatives in the nature of guajacol, veratrole, guetol, ODEB (orthodiéthoxybenzéne), IBCH (isobornyl-cyclohexanol), PMP (Paramethoxyphenol), PDMB (paradiméthoxybenzéne), TBC (tertio butylcatechol) and diphenolic acids; Chemicals for use in industry and science, as well as in agriculture, horticulture and forestry except fungicides, herbicides, insecticides and parasiticides, namely, fluorinated compounds in the nature of fluorochemicals for use in industry and further manufacturing; Chemicals for use in industry and science, as well as in agriculture, horticulture and forestry except fungicides, herbicides, insecticides and parasiticides, namely, adipic acid, polyamide intermediates, phosphorus derivatives, silica, namely, abrasive silica, precipitated silica, pyrogenic silica, amorphous silica, silica gel and aluminium silica; Chemicals for use in industry and science, as well as in agriculture, horticulture and forestry except fungicides, herbicides, insecticides and parasiticides, namely, rare earths; Chemicals for use in industry and science, as well as in agriculture, horticulture and forestry except fungicides, herbicides, insecticides and parasiticides, namely, fine chemicals in the nature of fine chemical preparations for use in industry and for general industrial manufacturing; Chemicals for use in industry and science, as well as in agriculture, horticulture and forestry except fungicides, herbicides, insecticides and parasiticides, namely, aliphatic isocyanate, mixed oxides and alumina; biological products for industrial and scientific purposes, namely, biological preparations for use in cell cultures, other than for medical or veterinary purposes, biological preparations and substances used in the food industry, namely, enzymes used in the food industry; unprocessed artificial resins and unprocessed plastic components, namely, vinyl polymers, specialty monomers, and polyamide resins; fire extinguishing compositions; fertilizers for land use; tempering and soldering preparations; chemical substances for preserving foodstuffs; chemical additives for use in the manufacture of food; tanning agents for use in the manufacture of leather; agents for leather treatment in chemical form, namely, chemicals agents for impregnating, binding or coating of leather; chemical preparations for use in soil remediation, drinking water treatment, municipal and industrial wastewater treatment and chemicals for use in air pollution control, clean-up and treatment; adhesives for industrial purposes; luminescent chemicals for industrial use; chemicals used in industry for the manufacture of phosphors; chemicals for flame retardant treatments; polyamide; biochemical catalysts; non-ionic, cationic, and biodegradable anionic surfactants as raw materials for use in the manufacture of industrial products; flocculants; adhesives for industrial purposes, namely, adhesives for assembling industrial materials
Goods and Services
Pharmaceutical and veterinary products for use in the treatment of vascular, inflammatory, neoplasm, degenerative, infectious, congenital, autoimmune, traumatic, endocrine diseases and disorders, for use in dermatology, cardiology, oncology, hormone replacement therapy, and for use in the treatment of dysfunction of the central nervous system; Veterinary products, namely, preparations intended for fish farming, used to kill or control parasites or organisms causing illnesses or carriers of illnesses in a marine environment or a freshwater environment, namely, biocide, germicides, bactericides, virucides, pesticides, parasiticides, algaecides and fungicides; gene cell therapy products, namely, pharmaceutical preparations for use in cell therapy for treatment of cancer and genetically engineered tissues for transplant purposes; sanitary preparations for medical purposes; dietetic substances adapted for medical use for humans and animals, namely, vitamins and minerals, meal replacement bars, meal replacement powders for medical purposes and weight loss purposes, meal replacement mixes adapted for medical use and vitamin and mineral fortified meal replacement drink mixes, meal replacement drinks for medical use; food supplements for humans; dietary food supplements for animals; disinfectants; preparations for destroying vermin; fungicides, herbicides
Goods and Services
Scientific and optical apparatus and instruments for measuring, checking, and inspecting purposes, namely, light emitting diode (LED) displays, light conducting filaments, light conductors in the nature of electric light conductors, electronic light switches, light modulators, lightning conductors, lightning rods, illumination regulators, switching apparatus for lights in the nature of light switches, light emitting electronic pointers; apparatus and instruments for conducting, distributing, transforming, accumulating, regulating or controlling the distribution or use of electric current; apparatus for the recording, transmission and reproduction of sound and images; blank magnetic data carriers; blank recordable optical discs; electronic automated control and regulation apparatus and instruments for monitoring fluid flow in tanks, pipes, valves, housings, cannisters, filters and pumping modules, as well as for monitoring fluid flow during the filling, storing and feeding of fuel, gas and other fluids into installations, and electronic automated control and regulation apparatus and instruments for the automated regulation of tanks, tubing, valves, housings, boxes, filters and pumping units, as well as for regulating the filling, storing and supplying of installations with fuel, gas and other fluids; calculating machines; information processing equipment, namely, data processing equipment; computers; downloadable software for industrial use for database management; fire extinguishers; clothing for protection against fire, heat, chemical reactions and radiation; personal protective devices for personal use for the prevention of accidents, namely, gloves, dust proof masks, gas masks, welding masks; spectacles; eyewear; diagnostic devices, not for medical purposes, namely, diagnostic apparatus for testing food, diagnostic devices for the detection of pathogens for laboratory or research use; memory cards and microprocessor cards for computers
Goods and Services
raw or semi-worked rubber, gum in the nature of raw or partly processed gum and xanthum gum, and goods made from these materials, namely, rubber yarns, granulars, strips, powders, sheets, wire, pipes, bars, blocks, pellets, rods, sheets and tubes for general industrial use, rubber for use in anti-static mats, general purpose rubber sealant, rubber sealant for caulking and adhesive purposes, rubber stoppers, rubber packing materials, rubber bags, sacks, envelopes and pouches; semi-processed plastics, composed of plastics and other semi-finished products of plastics, in the form of filtering materials, namely, fluids, foams, films, sheets, membranes, plates, tubes, rolls, filaments and powder; chemical fiber threads and yarns, not for textile use; packing, stopping and insulating materials of plastics or rubber; flexible hoses, not of metal; insulating resin; insulating fluids; electrical insulating fluids; semi-processed cellulose acetate, in particular for the manufacture of filters for cigarettes; connecting hose for vehicle radiators; filtering materials in the nature of semiprocessed foam rubber or plastics for absorbing aerosols and emulsions, as well as for filtering water from organic fluids and filtering organic fluids from water; adhesive plastic film and adhesive polymer film for use in commercial or industrial manufacturing; semi-processed syntactic foams in the nature of synthetic resins, epoxy resins and polyurethane resins for use in the further manufacture of products for use in industry and science
Goods and Services
Yarn and thread for textile purposes; elastic thread and yarn for textile use; fiberglass thread for textile use; spun wool; spun silk
Goods and Services
Providing advice in the field of business organization and management, including assistance in the operation and development of industrial or commercial enterprises; administrative audit of business organizations, namely, business auditing; business consulting services, namely, providing commercial business expertise and commercial certification expertise to companies active in the fields of recycling, energy and fluid distribution, greenhouse gas emission credits and energy saving; business inquiries; compilation of statistics for business or commercial purposes; business administration services, namely, the compilation, analysis and documentation of statistics for companies active in the fields of recycling, energy and fluid distribution and credits for the emission of greenhouse gases and energy saving; business planning services, namely, preparation of business reports and business plans; market analysis and market research services and market research studies in the field of computing energy savings and evaluating consumer needs for energy, industrial fluids and greenhouse gas emission credits; cost price analysis
Goods and Services
Financial and real estate management; financial services, namely, agencies or brokerage for trading in the field of greenhouse gas emission credits; investment management and strategic financial advisory services in the field of greenhouse gas emission credits; financial advisory and consultancy services, namely, providing assistance and advice related to capital investments; business intermediary services in the nature of brokerage services relating to financial investments, in particular capital investments; Project financing and insurance brokerage, underwriting and consultation in the field of greenhouse gas emission credits; financial analysis of markets and of stock exchange quotations for securities in the field of energy markets; financial transaction services in the field of energy trading and environmental commodities, namely, assisting others with the completion of financial transactions for stocks, futures, options, and carbon dioxide, greenhouse gas emission credits, allowances or offsets and commodity brokerage; providing financial and capital investment information in the field of energy and environmental commodities
Goods and Services
Construction, installation, maintenance and repair of industrial equipment; construction, installation, maintenance and repair of facilities for recycling and the processing of materials; construction, installation, maintenance and repair of installations for the treatment of water, soil, gas and air; construction, installation, maintenance and repair of cogeneration power plants; construction, installation, maintenance and repair of installations for the production and distribution of electrical, thermal, heating and refrigerating energy; maintenance services for thermal equipment; maintenance operations on equipment and installations relating to climatic engineering; maintenance of equipment in the nature of maintenance services for electrical power, heating and cooling thermal energy equipment and the provision of technical plant installation, measurement, and condition surveys and reports therewith; installation, repair and maintenance of technical equipment in the field of electrical, thermal, calorific and refrigerating energy, and equipment for the management of such electrical, thermal, calorific and refrigerating energy equipment
Goods and Services
Recycling and processing of materials with chemicals, namely, chemical treatment of waste and plastics; treatment of materials in the nature of plastics and chemicals by means of chemicals; treatment and processing of plastic materials for recycling; treatment of chemical waste; recycling of chemicals; environmental remediation services, namely, treatment of water, soil, gas and air; surface treatment of materials with chemicals for recycling purposes; treatment of materials in the nature of metal by means of processing; waste water treatment services; recycling and waste treatment; energy treatment services, namely, treatment of waste and fuels for the production of energy; production of energy; provision of information in the field of material processing; assembly of products for others, namely, joining of components using adhesives; advisory services in relation to all the aforementioned services
Goods and Services
Scientific and technological services and research and design services relating thereto, namely, scientific research, analysis, testing, industrial research, chemical research, biological research, cosmetic research, environmental protection research, technical research, industrial design, and packaging design services in the fields of chemistry, energy, engineering, recycling and environmental sciences; surveying; engineering; materials testing services; conducting industrial tests; materials analyzing; industrial analysis and research services in the field of chemistry, energy, engineering, recycling and environmental sciences; scientific research; conducting technical project studies for research purposes in the fields of chemistry, energy, engineering, recycling and environmental sciences; computer software design and development
Classification Information
Current Trademark Owners
Trademark Owner History
Party Type
30 - Original Registrant
Party Type
20 - Owner at Publication
International Registrations
International Registration Number
1581926
International Registration Date
2020-10-08
International Publication Date
2021-03-18
International Renewal Date
2030-10-08
Auto Protection Date
2022-09-18
International Status
001 - Request for extension of protection established
International Status Date
2021-03-18
Priority Claimed Date
2020-04-28
Trademark Events
| | |
| --- | --- |
| Event Date | Event Description |
| 2021-03-18 | SN ASSIGNED FOR SECT 66A APPL FROM IB |
| 2021-03-22 | NEW APPLICATION OFFICE SUPPLIED DATA ENTERED IN TRAM |
| 2021-03-22 | ASSIGNED TO EXAMINER |
| 2021-03-25 | NON-FINAL ACTION WRITTEN |
| 2021-03-26 | APPLICATION FILING RECEIPT MAILED |
| 2021-03-26 | NON-FINAL ACTION (IB REFUSAL) PREPARED FOR REVIEW |
| 2021-03-29 | REFUSAL PROCESSED BY MPU |
| 2021-03-29 | NON-FINAL ACTION MAILED - REFUSAL SENT TO IB |
| 2021-04-19 | REFUSAL PROCESSED BY IB |
| 2021-07-09 | TEAS RESPONSE TO OFFICE ACTION RECEIVED |
| 2021-07-09 | CORRESPONDENCE RECEIVED IN LAW OFFICE |
| 2021-07-09 | TEAS/EMAIL CORRESPONDENCE ENTERED |
| 2021-08-12 | EXAMINERS AMENDMENT -WRITTEN |
| 2021-08-12 | EXAMINERS AMENDMENT E-MAILED |
| 2021-08-12 | NOTIFICATION OF EXAMINERS AMENDMENT E-MAILED |
| 2021-08-12 | EXAMINER'S AMENDMENT ENTERED |
| 2021-08-17 | APPROVED FOR PUB - PRINCIPAL REGISTER |
| 2021-09-01 | NOTIFICATION OF NOTICE OF PUBLICATION E-MAILED |
| 2021-09-21 | PUBLISHED FOR OPPOSITION |
| 2021-09-21 | OFFICIAL GAZETTE PUBLICATION CONFIRMATION E-MAILED |
| 2021-12-07 | REGISTERED-PRINCIPAL REGISTER |