GOOD NEWS - Trademark Details
Status: 602 - Abandoned-Failure To Respond Or Late Response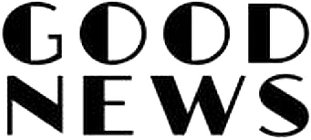 Status
602 - Abandoned-Failure To Respond Or Late Response
Mark Drawing
5000 - Illustration: Drawing with word(s)/letter(s)/number(s) in Stylized form Typeset
Law Office Assigned Location Code
N10
Employee Name
LAM, HAI-LY HUYNH
Statements
Indication of Colors claimed
Color is not claimed as a feature of the mark.
Goods and Services
Clothing; footwear; headgear; t-shirts; shoes; boots; sandals; plimsolls; wellington boots; flip-flops; athletic shoes; sneakers; basketball sneakers; basketball shoes; clogs; slippers; trainers; swimsuits; swim trunks; swimming costumes; bikinis; hats; caps; sporting caps; belts; gloves; mittens; socks; scarves; bandanas; jackets; tracksuits; shorts; trousers; skirts; dresses; bodysuits; shirts; jerseys; singlets; sweatshirts; underwear; boxer shorts; bras; vests; leggings; gilets; coats; outerclothing; cardigans; jumpers; jumpsuits; leisure wear; suits; money belts; jeans; knitwear; hosiery; tights; articles of beach wear; sarongs; headbands; earbands; earmuffs; pyjamas; dressing gowns; bath robes
Classification Information
International Class
025
- Clothing, footwear, headgear. - Clothing, footwear, headgear.
Class Status Code
6 - Active
Class Status Date
2020-09-11
Correspondences
Name
Swindell & Pearson Ltd
Address
Please log in with your Justia account to see this address.
International Registrations
International Registration Number
1549502
International Registration Date
2020-07-24
International Publication Date
2020-09-10
International Renewal Date
2030-07-24
Auto Protection Date
2022-03-10
International Status
001 - Request for extension of protection established
International Status Date
2020-09-10
Priority Claimed Date
2020-06-12
Trademark Events
| | |
| --- | --- |
| Event Date | Event Description |
| 2020-09-10 | SN ASSIGNED FOR SECT 66A APPL FROM IB |
| 2020-09-11 | NEW APPLICATION OFFICE SUPPLIED DATA ENTERED IN TRAM |
| 2020-09-15 | APPLICATION FILING RECEIPT MAILED |
| 2020-11-11 | ASSIGNED TO EXAMINER |
| 2020-11-13 | NON-FINAL ACTION WRITTEN |
| 2020-11-14 | NON-FINAL ACTION (IB REFUSAL) PREPARED FOR REVIEW |
| 2020-12-07 | REFUSAL PROCESSED BY MPU |
| 2020-12-07 | NON-FINAL ACTION MAILED - REFUSAL SENT TO IB |
| 2020-12-26 | REFUSAL PROCESSED BY IB |
| 2021-06-29 | ABANDONMENT - FAILURE TO RESPOND OR LATE RESPONSE |
| 2021-06-29 | ABANDONMENT NOTICE MAILED - FAILURE TO RESPOND |