BIBI.PET - Trademark Details
Status: 700 - Registered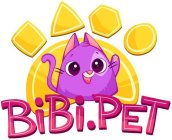 Registration Number
5993193
Registration Number
5993193
Registration Date
2020-02-25
Mark Drawing
3000 - Illustration: Drawing or design which also includes word(s)/ letter(s)/number(s) Typeset
Design Searches
030104, 030124, 030906, 030924, 260106, 260321, 260521, 260921, 261521 - Domestic cats. Stylized cats, dogs, wolves, foxes, bears, lions or tigers. Rats, mice, moles, gerbils, guinea pigs and the like. Stylized small mammals, rodents, kangaroos and wallabies. Semi-circles. Ovals that are completely or partially shaded. Triangles that are completely or partially shaded. Squares that are completely or partially shaded. Polygons that are completely or partially shaded.
Published for Opposition Date
2019-12-10
Law Office Assigned Location Code
N70
Employee Name
BATT, JAIME L
Statements
Indication of Colors claimed
The color(s) white, dark yellow, yellow, light yellow, dark pink, pink, light pink, dark purple, purple, light purple, and black is/are claimed as a feature of the mark.
Description of Mark
The mark consists of the wording "BIBI.PET" in a stylized font graduating from dark pink at the top to pink at the bottom, with an inner outline of the letters in light pink and outer outline in dark purple, under the depiction of a cartoon cat outlined in dark purple, graduating from purple at the top to dark purple at the bottom, with a pink and dark pink mouth, pink and white nose, dark purple, black and white eyes with a light purple outline of the right eye, pink and light pink inner ears, with one arm raised with a light pink paw and white toes, all in front of a stylized paw print in dark yellow graduating to yellow with inner outlines in light yellow, with each toe represented by a stylized geometric shape, from left to right a square, triangle, hexagon, and an oval, said shapes outlined in black on the bottom.
Goods and Services
Games software, downloadable; downloadable software and applications for mobile devices for interactive games for preschool children; downloadable software applications for interactive game programs for preschool children, interactive multimedia computer game programs, interactive game programs, interactive video game programs; carrying cases for cellular phones; cases for tablet computers; downloadable interactive game development software; computer game software downloadable from a global computer network; downloadable interactive entertainment software, namely, interactive game programs for preschool children, interactive multimedia computer game programs, interactive game programs, interactive video game programs; downloadable computer video game software; computer game software, downloadable; downloadable software programs for video games; downloadable interactive video game programs; downloadable interactive multimedia software for playing games; downloadable interactive entertainment software for playing video games and downloadable interactive game programs for preschool age children; downloadable software for interactive multimedia computer games, interactive games, interactive video games
Goods and Services
Postcards; adhesives for household art use; printed brochures in the field of recreation, computer games, and education for preschool age children; printed publications in the field of recreation, computer games, and education for preschool age children; adhesive note paper; calendars; diaries; adhesives for stationery purposes; transfers in the nature of decalcomanias; labels of paper or cardboard; publication paper; pencil sharpeners; pens; pencils; pen cases; rubber erasers; books in the field of recreation, computer games, and education for preschool age children; paper and cardboard; printed matter, namely, brochures, teaching materials, and game rules for preschool age children; book covers; photographs, printed; paper stationery; gums in the nature of adhesives for stationery or household purposes; artists' materials, namely, artists' pens, pencils, pastels, brushes, charcoal, crayons, erasers, markers, folders, notebooks, paper, paper clips, glue, stickers, drawing books, painting tablets, painting sets for children; paintbrushes; printed teaching materials, namely, printed materials in the field of recreation, computer games, and education for preschool age children; posters made of paper; albums, namely, photograph, event, sticker, scrapbook, and trading card albums; pictures
Goods and Services
Toys, games, playthings and novelties, namely, character toys, figurines, dolls and playsets therefor, doll accessories, paper dolls, action toys, learning toys, toy vehicles, musical toys, electronic games for the teaching of children, video gaming consoles for playing computer games, toy models, scale model kits, die-cast toy cars, stuffed and plush toys, card games, trading card games, puzzle games; mechanical action toys; water toys; squeeze toys; inflatable toys; toys made of metal, namely, die-cast toy cars, clockwork toys of metal, metal dolls, metal character toys, metal toy figurines, metal action toys; toys adapted for educational purposes, namely, children's educational toys for developing fine motor, cognitive, oral language, numbers, counting, colors, and alphabet skills; stuffed toys; musical toys; talking toys; electronic toys, namely, electronic educational game machines for children, electronic games for the teaching of children; battery operated toys, namely, battery-operated action toys, battery-powered computer game with LCD screen which features animation and sound effects, battery-operated dolls, battery-operated toy figurines ; toys made of wood, namely, wood dolls, wood character toys, wood toy figurines, wood action toys; toy figures; toy building blocks capable of interconnection; fabric toys, namely, fabric dolls, fabric character toys, fabric toy figurines, fabric action toys; push toys; toys made of rubber, namely, rubber dolls, rubber character toys, rubber toy figurines, rubber action toys, rubber toy balls; toys made of plastics, namely, plastic dolls, plastic character toys, modeled plastic toy figurines, plastic action toys, plastic toy balls; toys sold in kit form, namely, scale model kits, toy jewelry kits, character toy kits, toy figurine kits; wind-up toys; plush toys; ride-on toys; puzzles; infant development toys; sports games in the nature of miniature toy sports games, desktop toy sports games; musical games, namely, handheld toys that play music for entertaining children; mechanical games, namely, mechanical hand-held, non-electronic skill games, mechanical action skill games; toy whistles; dice; manipulative games; children's playhouses; playing cards; role playing games; parlour games; board games; skill and action games, namely, hand-held, non-electronic skill games, action skill games, electronic games for the teaching of children, hand-held video gaming consoles for playing computer games, card games, trading card games, puzzle games, fantasy games; toy environments for use with action figures; Christmas tree decorations and ornaments; costume masks; hand held units for playing video games; video game apparatus, namely, video gaming consoles for playing computer games, hand-held video gaming consoles for playing computer games, electronic education game machines for children; protective carrying cases specially adapted for video game machines; home video game machines
Goods and Services
Game services provided on-line from a computer network, namely, providing on-line non-downloadable software games for preschool age children and interactive virtual reality environments for preschool aged children; online game services provided via mobile devices, namely, non-downloadable software applications for games for preschool age children; providing online entertainment in the nature of ongoing game shows featuring animated cartoons delivered by the internet; arranging live and on-line interactive educational, recreational, and braining-training games for preschool children; educational and training services relating to educational games for preschool age children and instruction in the nature of computer games lessons for preschool age children; on-line interactive game services for preschool age children provided by means of communications by computer terminals or mobile telephone; entertainment information relating to computer gaming entertainment provided online from a computer database or a global communication network; entertainment services, namely, audio, video and multimedia production, and photography; entertainment services, namely, providing on-line information in the field of computer gaming entertainment; entertainment services, namely, providing online information in the field of computer and video games entertainment; entertainment services, namely, the provision of continuing programs featuring animated cartoons delivered by television and the internet; entertainment services, namely, providing temporary use of non-downloadable computer learning games; entertainment services, namely, providing a website featuring games and puzzles, providing a website featuring non-downloadable game software; entertainment services, namely, providing an Internet website portal in the field of entertainment for preschool age children, providing an Internet website portal in the field of computer gaming for preschool age children; entertainment services, namely, providing virtual environments in which preschool age children can interact for recreational, leisure, or entertainment purposes; educational and entertainment services, namely, provision of on-line computer games for preschool age children in the nature of providing temporary use of non-downloadable video games, computer games, electronic games, and interactive games
Classification Information
Current Trademark Owners
Party Type
30 - Original Registrant
Trademark Owner History
Party Type
30 - Original Registrant
Party Type
20 - Owner at Publication
Party Type
10 - Original Applicant
International Registrations
International Registration Number
1465210
International Registration Date
2018-12-24
International Publication Date
2019-05-09
International Renewal Date
2028-12-24
Auto Protection Date
2020-11-09
International Status
001 - Request for extension of protection established
International Status Date
2019-05-09
Trademark Events
| | |
| --- | --- |
| Event Date | Event Description |
| 2019-05-09 | SN ASSIGNED FOR SECT 66A APPL FROM IB |
| 2019-05-10 | NEW APPLICATION OFFICE SUPPLIED DATA ENTERED IN TRAM |
| 2019-05-10 | ASSIGNED TO EXAMINER |
| 2019-05-14 | APPLICATION FILING RECEIPT MAILED |
| 2019-05-20 | NON-FINAL ACTION WRITTEN |
| 2019-05-21 | NON-FINAL ACTION (IB REFUSAL) PREPARED FOR REVIEW |
| 2019-06-07 | REFUSAL PROCESSED BY MPU |
| 2019-06-07 | NON-FINAL ACTION MAILED - REFUSAL SENT TO IB |
| 2019-06-28 | REFUSAL PROCESSED BY IB |
| 2019-07-12 | TEAS REVOKE/APP/CHANGE ADDR OF ATTY/DOM REP RECEIVED |
| 2019-07-12 | ATTORNEY/DOM.REP.REVOKED AND/OR APPOINTED |
| 2019-09-17 | TEAS RESPONSE TO OFFICE ACTION RECEIVED |
| 2019-09-17 | CORRESPONDENCE RECEIVED IN LAW OFFICE |
| 2019-09-18 | TEAS/EMAIL CORRESPONDENCE ENTERED |
| 2019-10-26 | EXAMINERS AMENDMENT -WRITTEN |
| 2019-10-26 | EXAMINERS AMENDMENT E-MAILED |
| 2019-10-26 | NOTIFICATION OF EXAMINERS AMENDMENT E-MAILED |
| 2019-10-26 | EXAMINER'S AMENDMENT ENTERED |
| 2019-10-30 | APPROVED FOR PUB - PRINCIPAL REGISTER |
| 2019-11-05 | ASSIGNED TO LIE |
| 2019-11-20 | NOTIFICATION OF NOTICE OF PUBLICATION E-MAILED |
| 2019-12-10 | PUBLISHED FOR OPPOSITION |
| 2019-12-10 | OFFICIAL GAZETTE PUBLICATION CONFIRMATION E-MAILED |
| 2020-02-25 | REGISTERED-PRINCIPAL REGISTER |
| 2020-05-25 | FINAL DISPOSITION NOTICE CREATED, TO BE SENT TO IB |
| 2020-06-25 | FINAL DISPOSITION PROCESSED |
| 2020-06-25 | FINAL DISPOSITION NOTICE SENT TO IB |
| 2020-07-17 | FINAL DECISION TRANSACTION PROCESSED BY IB |
| 2021-05-21 | NEW REPRESENTATIVE AT IB RECEIVED |