WM WINNING MATCH - Trademark Details
Status: 700 - Registered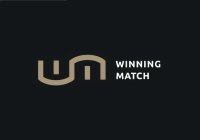 Registration Number
5854013
Word Mark
WM WINNING MATCH
Registration Number
5854013
Registration Date
2019-09-10
Mark Drawing
3000 - Illustration: Drawing or design which also includes word(s)/ letter(s)/number(s) Typeset
Design Searches
260903, 260913, 260925, 261103, 261113, 261116, 261701, 261704, 270301 - Incomplete squares. Two squares. Squares with curved sides. Incomplete rectangles. Two rectangles. Rectangles touching or intersecting. Straight line(s), band(s) or bar(s). Vertical line(s), band(s) or bar(s). Geometric figures forming letters or numerals, including punctuation.
Published for Opposition Date
2019-06-25
Law Office Assigned Location Code
N60
Employee Name
RIEPEL, CHRISTINA MAXI
Statements
Indication of Colors claimed
The color(s) white, black and gold is/are claimed as a feature of the mark.
Description of Mark
The mark consists of "WM WINNING MATCH" on a black background, "WM" stylized in gold and comprised of curved lines and rectangles to form an interlocking letter design, and "WINNING MATCH" in white.
Goods and Services
Software products, namely, downloadable computer software for developing, tracking and optimizing performance in business and sports, including leadership programs; downloadable computer game programs; game software; electronic game software for wireless devices; recorded computer software programs for developing, tracking and optimizing performance in business and sports including leadership programs
Goods and Services
Tennis wear; tennis shoes; tracksuits; tee-shirts; stockings; socks; sports socks; leisurewear, namely, leisure suits, shoes and caps; soccer bibs; triathlon clothing, namely, triathlon tights, triathlon shorts, triathlon singlets, triathlon shirts, triathlon suits; clothing for gymnastics and sports, namely, leotards, gymnastic shoes, jackets, tights, leggings, sport bras; weatherproof clothing, namely, foul weather gear; sports clothing, namely, sport jerseys, singlets, uniforms, pants, jerseys, tops and bottoms for runners, hats and caps
Goods and Services
games, namely, board games, dice games; toys, namely, collectable toy figures, dolls, stuffed and plush toys; parlor games; video game apparatus, namely consoles, game controllers, joysticks, wireless controllers; portable handheld electronic games and musical toys with integrated telecommunication functions; gymnastic and sporting articles, namely, tennis racquets, tennis balls, tennis nets, golf clubs, tennis clubs; video game machines for use with televisions
Goods and Services
providing continuing business education courses; business training; business training in the field of executive and leadership coaching; sports coaching; adult education, namely providing live and on-line continuing professional education seminars in the field of executive and leadership development; providing training and continuing professional training for personnel development, team building and organizational development; commercial training services, namely, developing customized leadership and executive development programs and coachings, providing executive coaching services, and providing business education programs to employees and executives; commercial teaching services, namely, teaching in the field of executive leadership development and coaching; training services in the field of life coaching; training services in relation to business management; personal development training; conducting training seminars in the field of executive and leadership development; preparation and hosting of educational conferences, congresses, seminars, symposiums, lecutres, lessons and training courses, all in the field of executive and leadership development and coaching; organization of educational events in the field of business, executive and leadership development and coaching
Classification Information
Current Trademark Owners
Party Type
30 - Original Registrant
Trademark Owner History
Party Type
30 - Original Registrant
Party Type
20 - Owner at Publication
Party Type
10 - Original Applicant
International Registrations
International Registration Number
1448109
International Registration Date
2018-11-13
International Publication Date
2019-02-07
International Renewal Date
2028-11-13
Auto Protection Date
2020-08-07
International Status
001 - Request for extension of protection established
International Status Date
2019-02-07
Priority Claimed Date
2018-10-30
Trademark Events
| | |
| --- | --- |
| Event Date | Event Description |
| 2019-02-07 | SN ASSIGNED FOR SECT 66A APPL FROM IB |
| 2019-02-11 | NEW APPLICATION OFFICE SUPPLIED DATA ENTERED IN TRAM |
| 2019-02-15 | APPLICATION FILING RECEIPT MAILED |
| 2019-02-15 | ASSIGNED TO EXAMINER |
| 2019-02-15 | NON-FINAL ACTION WRITTEN |
| 2019-02-16 | NON-FINAL ACTION (IB REFUSAL) PREPARED FOR REVIEW |
| 2019-02-26 | REFUSAL PROCESSED BY MPU |
| 2019-02-26 | NON-FINAL ACTION MAILED - REFUSAL SENT TO IB |
| 2019-03-16 | REFUSAL PROCESSED BY IB |
| 2019-05-03 | TEAS RESPONSE TO OFFICE ACTION RECEIVED |
| 2019-05-03 | CORRESPONDENCE RECEIVED IN LAW OFFICE |
| 2019-05-03 | TEAS/EMAIL CORRESPONDENCE ENTERED |
| 2019-05-03 | APPROVED FOR PUB - PRINCIPAL REGISTER |
| 2019-05-17 | ASSIGNED TO LIE |
| 2019-06-05 | NOTIFICATION OF NOTICE OF PUBLICATION E-MAILED |
| 2019-06-12 | NOTICE OF START OF OPPOSITION PERIOD CREATED, TO BE SENT TO IB |
| 2019-06-12 | NOTIFICATION OF POSSIBLE OPPOSITION SENT TO IB |
| 2019-06-25 | PUBLISHED FOR OPPOSITION |
| 2019-06-25 | OFFICIAL GAZETTE PUBLICATION CONFIRMATION E-MAILED |
| 2019-06-28 | NOTIFICATION PROCESSED BY IB |
| 2019-09-10 | REGISTERED-PRINCIPAL REGISTER |
| 2019-12-10 | FINAL DISPOSITION NOTICE CREATED, TO BE SENT TO IB |
| 2019-12-31 | FINAL DISPOSITION PROCESSED |
| 2019-12-31 | FINAL DISPOSITION NOTICE SENT TO IB |
| 2020-01-17 | FINAL DECISION TRANSACTION PROCESSED BY IB |