HYDRO AG+ BY FUJIFILM - Trademark Details
Status: 700 - Registered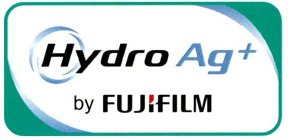 Registration Number
5706086
Word Mark
HYDRO AG+ BY FUJIFILM
Registration Number
5706086
Registration Date
2019-03-26
Mark Drawing
3000 - Illustration: Drawing or design which also includes word(s)/ letter(s)/number(s) Typeset
Design Searches
241706, 260103, 261102 - Plus symbol (+). Incomplete circles (more than semi-circles). Plain single line rectangles.
Published for Opposition Date
2019-01-08
Law Office Assigned Location Code
L50
Employee Name
WILLIAMS, KRISTIN MARI
Statements
Indication of Colors claimed
The color(s) blue, black, green, and red is/are claimed as a feature of the mark.
Disclaimer with Predetermined Text
"AG+"
Description of Mark
The mark consists of the stylized wording "HYDRO AG+" with "HYDRO" in black and "AG+" in blue, where the "H" in "HYDRO" is within a blue broken circular outline, above the stylized wording "BY FUJIFILM" in black with the "I" in "FUJI" in red and black, all within a green rectangular outline with blue and green curved insets at the top right and bottom left. The color white represents background color and is not claimed as a feature of the mark.
Goods and Services
Bacteria removing agents and antibacterial agents, namely, chemical additives for use principally as a mild antibacterial agent in the manufacture of cosmetics, and in atomizers which diffuse water and plant extracts into the air in the built environment but not for laundry purpose and not included in pharmaceutical preparations; silver-based antibacterial agent in the form of a chemical preparation spray for general industrial purposes; silver-based antibacterial agent in the form of a chemical preparation for general industrial purposes; all of the aforementioned containing charged particles of silver
Goods and Services
Antibacterial paints
Goods and Services
Antibacterial preparations, namely, antibacterial spray, antibacterial cleaners, antibacterial pharmaceuticals and antibacterial soaps, sanitizing wipes, antiseptic wipes, disposable wipes impregnated with disinfecting chemicals or compounds therefor for use in hospitals and medical settings, antibacterial hand lotions and skin creams for healthcare providers, disinfectants for medical apparatus and instruments; antibacterial gauze for dressings, adhesive plasters for medical purposes, bandages for dressings; tissues impregnated with antibacterial disinfectant preparation; antibacterial bathroom cleaners; antibacterial sprays for bathroom; all of the aforementioned containing charged particles of silver
Goods and Services
Hygienic hand towels of paper; paper towels; table napkins of paper; paper hand-towels; handkerchiefs of paper; paper and cardboard
Goods and Services
Plastic sheets coated with antibacterial properties for use in the manufacture of medical and hygienic products; plastic semi-worked products, namely, plastic in powdered form, semi-processed plastic substances
Pseudo Mark
HYDRO AG PLUS BY FUJIFILM
Classification Information
Current Trademark Owners
Party Type
30 - Original Registrant
Legal Entity Type
03 - Corporation
Trademark Owner History
Party Type
20 - Owner at Publication
Legal Entity Type
03 - Corporation
Party Type
10 - Original Applicant
Legal Entity Type
03 - Corporation
Party Type
30 - Original Registrant
Legal Entity Type
03 - Corporation
International Registrations
International Registration Number
1402898
International Registration Date
2017-11-06
International Publication Date
2018-05-24
International Renewal Date
2027-11-06
Auto Protection Date
2019-11-24
International Status
001 - Request for extension of protection established
International Status Date
2018-05-24
Trademark Events
| | |
| --- | --- |
| Event Date | Event Description |
| 2018-05-24 | SN ASSIGNED FOR SECT 66A APPL FROM IB |
| 2018-05-25 | NEW APPLICATION OFFICE SUPPLIED DATA ENTERED IN TRAM |
| 2018-05-25 | ASSIGNED TO EXAMINER |
| 2018-05-29 | APPLICATION FILING RECEIPT MAILED |
| 2018-05-30 | NON-FINAL ACTION WRITTEN |
| 2018-05-31 | NON-FINAL ACTION (IB REFUSAL) PREPARED FOR REVIEW |
| 2018-06-06 | REFUSAL PROCESSED BY MPU |
| 2018-06-06 | NON-FINAL ACTION MAILED - REFUSAL SENT TO IB |
| 2018-06-23 | REFUSAL PROCESSED BY IB |
| 2018-11-08 | TEAS REVOKE/APP/CHANGE ADDR OF ATTY/DOM REP RECEIVED |
| 2018-11-08 | ATTORNEY/DOM.REP.REVOKED AND/OR APPOINTED |
| 2018-11-20 | TEAS RESPONSE TO OFFICE ACTION RECEIVED |
| 2018-11-20 | CORRESPONDENCE RECEIVED IN LAW OFFICE |
| 2018-11-20 | TEAS/EMAIL CORRESPONDENCE ENTERED |
| 2018-11-21 | APPROVED FOR PUB - PRINCIPAL REGISTER |
| 2018-12-19 | NOTIFICATION OF NOTICE OF PUBLICATION E-MAILED |
| 2019-01-08 | PUBLISHED FOR OPPOSITION |
| 2019-01-08 | OFFICIAL GAZETTE PUBLICATION CONFIRMATION E-MAILED |
| 2019-03-26 | REGISTERED-PRINCIPAL REGISTER |
| 2019-06-26 | FINAL DISPOSITION NOTICE CREATED, TO BE SENT TO IB |
| 2019-07-30 | FINAL DISPOSITION PROCESSED |
| 2019-07-30 | FINAL DISPOSITION NOTICE SENT TO IB |
| 2019-08-16 | FINAL DECISION TRANSACTION PROCESSED BY IB |