I CAN DELIVER - Trademark Details
Status: 700 - Registered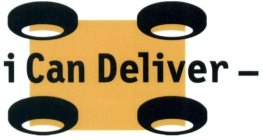 Registration Number
5609008
Registration Number
5609008
Registration Date
2018-11-20
Mark Drawing
3000 - Illustration: Drawing or design which also includes word(s)/ letter(s)/number(s) Typeset
Design Searches
150725, 180507, 190525, 260314, 261121 - Other wheels including vehicular wheels without spokes; hubcaps. Trailers, motor homes, recreational vehicles such as campers. Other large containers, including dumpsters and freight containers. Three or more ovals. Rectangles that are completely or partially shaded.
Published for Opposition Date
2018-09-04
Law Office Assigned Location Code
L20
Employee Name
SMIGA, HOWARD
Statements
Indication of Colors claimed
The color(s) black, white and yellow is/are claimed as a feature of the mark.
Description of Mark
The mark consists of a stylized image of a cargo trailer. The image features a rectangle which is yellow in color. On the corners of the rectangle are black ovals that appear as tires with yellow and white inside the ovals. The wording, "i Can Deliver" crosses right to left across the rectangular through the center of the rectangular. The wording is black in color and the letters "C" and "D" are capitalized. There is a small black rectangle located to the right of the wording.
Goods and Services
Electric monitoring apparatus, namely, global positioning systems, wireless controllers to remotely monitor and control the function and status of other electrical, electronic, and mechanical devices or systems, namely, remote metering systems, vehicle tracking devices, vehicle systems and storage facilities; Global Positioning System (GPS) apparatus; computer programs for monitoring vehicles, vehicle systems and storage facilities; computer software, recorded, for monitoring vehicles, vehicle systems and storage facilities; telecommunication transmitters; navigation apparatus for vehicles on-board computers; downloadable computer software applications for monitoring vehicles, vehicle systems and storage facilities; recorded computer operating programs
Goods and Services
Computerized file management; providing business information; commercial information and advice for consumers; business management and organization consultancy; updating and maintenance of data in computer databases; data search in computer files for others; business management assistance; business intermediary services relating to the matching of potential private investors with entrepreneurs needing funding; providing business information via a web site; provision of commercial and business contact information; provision of an on-line marketplace for buyers and sellers of goods and services; economic forecasting services; sales promotion for others; compilation of statistics; compilation of information into computer databases; systemization of information into computer databases; negotiation and conclusion of commercial transactions for third parties; administrative processing of purchase orders; public relations
Goods and Services
Information about telecommunication; providing user access to global computer networks; providing access to databases; computer aided transmission of messages and images; transmission of digital files; providing online forums for transmission of messages among computer users; communications by computer terminals; satellite transmission; streaming of data
Goods and Services
Air transport; motor coach rental; transport reservation; parcel delivery; delivery of goods; delivery of goods by mail order; traffic information; transportation information; providing information on the storage of goods; supply chain logistics and reverse logistics services, namely, storage, transportation and delivery of goods for others by air, rail, ship or truck; truck hauling; transporting furniture; lighterage services; ferry-boat transport; junk, trash and debris removal; guarded transport of valuables; bus transport; car transport; barge transport; boat transport; railway transport; marine transport; passenger transport; river transport by boat, ship or barge; shipbrokerage; transport brokerage; freight brokerage; providing driving directions for travel purposes; car rental; railway truck rental; railway coach rental; rental of storage containers; rental of navigational systems; vehicle rental; stevedoring; unloading cargo; car parking; chauffeur services; courier services; tanker transport; physical storage of electronically stored data or documents; storage of goods; refrigeration storage; freight forwarding
Classification Information
Current Trademark Owners
Party Type
30 - Original Registrant
Legal Entity Type
16 - Limited Liability Company
Trademark Owner History
Party Type
30 - Original Registrant
Legal Entity Type
16 - Limited Liability Company
Party Type
20 - Owner at Publication
Legal Entity Type
16 - Limited Liability Company
Party Type
10 - Original Applicant
Legal Entity Type
16 - Limited Liability Company
International Registrations
International Registration Number
1357721
International Registration Date
2017-03-10
International Publication Date
2017-07-27
International Renewal Date
2027-03-10
Auto Protection Date
2019-01-27
International Status
001 - Request for extension of protection established
International Status Date
2017-07-27
Trademark Events
| | |
| --- | --- |
| Event Date | Event Description |
| 2017-07-27 | SN ASSIGNED FOR SECT 66A APPL FROM IB |
| 2017-07-31 | NEW APPLICATION OFFICE SUPPLIED DATA ENTERED IN TRAM |
| 2017-07-31 | ASSIGNED TO EXAMINER |
| 2017-07-31 | NON-FINAL ACTION WRITTEN |
| 2017-08-01 | NON-FINAL ACTION (IB REFUSAL) PREPARED FOR REVIEW |
| 2017-08-02 | REFUSAL PROCESSED BY MPU |
| 2017-08-03 | NON-FINAL ACTION MAILED - REFUSAL SENT TO IB |
| 2017-08-04 | APPLICATION FILING RECEIPT MAILED |
| 2017-08-18 | REFUSAL PROCESSED BY IB |
| 2017-12-04 | UNDELIVERABLE MAIL - CORRESP. REMAILED |
| 2018-01-24 | TEAS RESPONSE TO OFFICE ACTION RECEIVED |
| 2018-01-24 | CORRESPONDENCE RECEIVED IN LAW OFFICE |
| 2018-01-24 | TEAS/EMAIL CORRESPONDENCE ENTERED |
| 2018-01-26 | EXAMINERS AMENDMENT AND/OR PRIORITY ACTION - COMPLETED |
| 2018-01-26 | COMBINED EXAMINER'S AMENDMENT/PRIORITY ACTION AUTOMATIC ENTRY |
| 2018-01-26 | EXAMINER'S AMENDMENT/PRIORITY ACTION E-MAILED |
| 2018-01-26 | NOTIFICATION OF EXAMINER'S AMENDMENT/PRIORITY ACTION E-MAILED |
| 2018-07-23 | TEAS RESPONSE TO OFFICE ACTION RECEIVED |
| 2018-07-23 | CORRESPONDENCE RECEIVED IN LAW OFFICE |
| 2018-07-23 | TEAS/EMAIL CORRESPONDENCE ENTERED |
| 2018-07-24 | APPROVED FOR PUB - PRINCIPAL REGISTER |
| 2018-08-15 | NOTIFICATION OF NOTICE OF PUBLICATION E-MAILED |
| 2018-08-15 | NOTICE OF START OF OPPOSITION PERIOD CREATED, TO BE SENT TO IB |
| 2018-08-15 | NOTIFICATION OF POSSIBLE OPPOSITION SENT TO IB |
| 2018-08-31 | NOTIFICATION PROCESSED BY IB |
| 2018-09-04 | PUBLISHED FOR OPPOSITION |
| 2018-09-04 | OFFICIAL GAZETTE PUBLICATION CONFIRMATION E-MAILED |
| 2018-11-20 | REGISTERED-PRINCIPAL REGISTER |
| 2019-02-20 | FINAL DISPOSITION NOTICE CREATED, TO BE SENT TO IB |
| 2019-03-05 | GENERIC MADRID TRANSACTION CREATED |
| 2019-03-05 | GENERIC MADRID TRANSACTION SENT TO IB |
| 2019-04-26 | FINAL DECISION TRANSACTION PROCESSED BY IB |