FAST RETAILING - Trademark Details
Status: 700 - Registered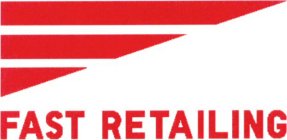 Registration Number
5225197
Registration Number
5225197
Registration Date
2017-06-20
Mark Drawing
3000 - Illustration: Drawing or design which also includes word(s)/ letter(s)/number(s) Typeset
Design Searches
260512 - Triangles with bars, bands and lines.
Published for Opposition Date
2017-04-04
Law Office Assigned Location Code
N20
Employee Name
O'BRIEN, JENNIFER LYNN
Statements
Indication of Colors claimed
The color(s) red is/are claimed as a feature of the mark.
Disclaimer with Predetermined Text
"RETAILING"
Description of Mark
The mark consists of the wording "FAST RETAILING" in stylized red font with a design of three red bands in descending order, forming the design of a triangle. The color white represents background and is not part of the mark.
Goods and Services
Cosmetics and non-medicated toiletries; bath salts; shampoos; soaps and detergents; dentifrices; perfumery, room fragrances and incenses; anti-static preparations for household purposes; de-greasing preparations for household purposes; rust removing preparations; stain remover with benzene; fabric softeners for laundry use; laundry bleach; laundry starch; shoe and boot cream; shoe black; polishing preparations; false nails; false eyelashes
Goods and Services
Sunglasses; spectacles; mobile phone straps; downloadable music files and musical ring tones via the internet and wireless devices; pre-recorded compact discs and records featuring music; pre-recorded video discs and video tapes featuring music; pre-recorded video discs, video tapes and digital media, namely, downloadable audio and video recordings featuring musical performances; downloadable image files, video files and written letters containing movies and music; electronic publications, namely, books and magazines featuring entertainment news recorded on computer media; ear plugs not for medical purposes, namely, ear plugs for divers
Goods and Services
Personal ornaments of precious metals; unwrought and semi-wrought precious stones and their imitations; purses and wallets of precious metal; powder compacts of precious metal; fancy key rings of precious metals; clocks and watches; tableware of precious metal, namely, nutcrackers, pepper pots, sugar bowls, salt shakers, egg cups, napkin holders, napkin rings, trays and toothpick holders of precious metal; boxes of precious metal for needles; candle extinguishers and candlesticks of precious metal; jewel cases of precious metal; flower vases and bowls of precious metal; shoe ornaments of precious metal; smokers' articles of precious metal, namely, ashtrays; precious metals; lucky charms used as personal jewelry
Goods and Services
Printed matter, namely, greeting cards, blank cards, postcards, paper bags, wrapping paper, cardboard containers, calendars, writing pads, envelopes, mounted and unmounted photographs, posters, pictures, fashion magazines, and fashion catalogues; photograph stands; stationery and study guides; garbage bags of paper; garbage bags of plastics; hygienic paper; towels of paper; table napkins of paper; hand towels of paper; handkerchiefs of paper; paper identification baggage tags; table cloths of paper
Goods and Services
Bags, namely, sports bags, baby carrying bags, beach bags, belt bags, book bags, Boston bags, all-purpose carrying bags, cosmetic bags sold empty, diaper bags, duffel bags, hiking bags, garment bags for travel, leather and imitation leather bags; pouches, namely, felt pouches, pouches of textile, namely, cotton, pouches of leather and drawstring pouches; unfitted vanity cases; sling bags for carrying infants; clothing for domestic pets; umbrellas; walking sticks; canes
Goods and Services
Cushions; pillows; mattresses; Japanese floor cushions; sleeping bags; furniture; fixed towel dispensers not of metal; hand-held flat fans; hand-held folding fans; beds for household pets; dog kennels
Goods and Services
Tableware, namely, dishes and plates not of precious metals; cooking pots and pans; food preserving jars of glass; cooking strainers; pepper pots, sugar bowls and salt shakers not of precious metal; egg cups not of precious metal; napkin holders and cooking graters; chopsticks; chopstick cases; chopping boards for kitchen use; toothpicks; cleaning tools and washing utensils, namely, scrubbing brushes and cleaning sponges; soap holders and boxes; toothbrush cases; cosmetic and toilet utensils, namely, cosmetic brushes and toilet brushes; bathroom soap holders and boxes; bathroom towel racks; clothing drying hangers, namely, bathroom towel hangers; brushes for pets; piggy banks not of metal; flower vases and bowls not of precious metal
Goods and Services
Towels; handkerchiefs; bedsheets; quilts; covers for cushions; unfitted futon covers not of paper; pillowcases; bed blankets; cotton bed blankets; lap rugs; woven fabrics; knitted fabrics; felt and non-woven textile fabrics; table napkins of textile; dish cloths; shower curtains; fitted toilet lid covers of textile; tissue box covers of textile; tissue case covers of textile; cushion covers, namely, seat cushion covers of textile; wall hangings of textile; curtains; table cloths not of paper; labels of cloth
Goods and Services
Clothing, namely, shirts, T-shirts, pants, jeans, jackets, coats, dresses, skirts, socks, tights, gloves, vests, underwear, anoraks, rainwear, wind resistant jackets, sweatshirts, tank tops, pullovers, sweaters, knit shirts, cardigans, belts, parkas, mufflers, fleece pullovers, headwear, caps, hats and visors; clothes for sports, namely, sports pants and sports T-shirts
Goods and Services
Hair ornaments; buttons for clothing; shoe ornaments not of precious metal; shoe eyelets; shoe laces; ribbons; knitted lace; embroidery lace fabrics
Goods and Services
Bath mats; rugs; carpets; door mats; kitchen floor mats; toilet floor mats; beach mats; leisure floor mats; tapestry-style wall hangings, not of textile; wallpaper; gymnastic mats
Goods and Services
Business management; business management analysis; business consultancy; marketing research; providing business and consumer information on commodity sales, namely, on general consumer merchandise; advertising and publicity; providing employment information
Goods and Services
Management of buildings; agencies or brokerage for renting of buildings
Goods and Services
Design printing for others on cloth or clothing; treatment and processing of cloth, clothing or fur, namely, dyeing and applying finishes to cloth, clothing and fur; embroidery; custom tailoring or dressmaking
Classification Information
Current Trademark Owners
Party Type
30 - Original Registrant
Legal Entity Type
03 - Corporation
Trademark Owner History
Party Type
30 - Original Registrant
Legal Entity Type
03 - Corporation
Party Type
20 - Owner at Publication
Legal Entity Type
03 - Corporation
Party Type
10 - Original Applicant
Legal Entity Type
03 - Corporation
International Registrations
International Registration Number
0941935
International Registration Date
2006-08-30
International Publication Date
2016-02-25
International Renewal Date
2026-08-30
Auto Protection Date
2017-08-25
International Status
001 - Request for extension of protection established
International Status Date
2016-02-25
Trademark Events
| | |
| --- | --- |
| Event Date | Event Description |
| 2016-02-25 | SN ASSIGNED FOR SECT 66A SUBSEQ DESIG FROM IB |
| 2016-02-26 | LIMITATION FROM ORIGINAL APPLICATION ENTERED |
| 2016-03-01 | NEW APPLICATION OFFICE SUPPLIED DATA ENTERED IN TRAM |
| 2016-03-05 | APPLICATION FILING RECEIPT MAILED |
| 2016-04-05 | ASSIGNED TO EXAMINER |
| 2016-04-14 | NON-FINAL ACTION WRITTEN |
| 2016-04-15 | NON-FINAL ACTION (IB REFUSAL) PREPARED FOR REVIEW |
| 2016-04-15 | REFUSAL PROCESSED BY MPU |
| 2016-04-15 | NON-FINAL ACTION MAILED - REFUSAL SENT TO IB |
| 2016-06-09 | NEW REPRESENTATIVE AT IB RECEIVED |
| 2016-06-23 | REFUSAL PROCESSED BY IB |
| 2016-08-31 | TEAS REVOKE/APP/CHANGE ADDR OF ATTY/DOM REP RECEIVED |
| 2016-08-31 | ATTORNEY/DOM.REP.REVOKED AND/OR APPOINTED |
| 2016-10-13 | TEAS RESPONSE TO OFFICE ACTION RECEIVED |
| 2016-10-13 | CORRESPONDENCE RECEIVED IN LAW OFFICE |
| 2016-10-14 | TEAS/EMAIL CORRESPONDENCE ENTERED |
| 2016-11-04 | FINAL REFUSAL WRITTEN |
| 2016-11-04 | FINAL REFUSAL E-MAILED |
| 2016-11-04 | NOTIFICATION OF FINAL REFUSAL EMAILED |
| 2016-11-17 | INTERNATIONAL REGISTRATION RENEWED |
| 2017-02-22 | EXAMINERS AMENDMENT -WRITTEN |
| 2017-02-22 | EXAMINERS AMENDMENT E-MAILED |
| 2017-02-22 | NOTIFICATION OF EXAMINERS AMENDMENT E-MAILED |
| 2017-02-22 | EXAMINER'S AMENDMENT ENTERED |
| 2017-02-24 | APPROVED FOR PUB - PRINCIPAL REGISTER |
| 2017-03-15 | NOTIFICATION OF NOTICE OF PUBLICATION E-MAILED |
| 2017-03-15 | NOTICE OF START OF OPPOSITION PERIOD CREATED, TO BE SENT TO IB |
| 2017-03-15 | NOTIFICATION OF POSSIBLE OPPOSITION SENT TO IB |
| 2017-04-04 | PUBLISHED FOR OPPOSITION |
| 2017-04-04 | OFFICIAL GAZETTE PUBLICATION CONFIRMATION E-MAILED |
| 2017-06-20 | REGISTERED-PRINCIPAL REGISTER |
| 2017-09-20 | FINAL DISPOSITION NOTICE CREATED, TO BE SENT TO IB |
| 2017-09-27 | FINAL DISPOSITION PROCESSED |
| 2017-09-27 | FINAL DISPOSITION NOTICE SENT TO IB |
| 2017-10-06 | NOTIFICATION PROCESSED BY IB |
| 2017-11-10 | FINAL DECISION TRANSACTION PROCESSED BY IB |
| 2021-09-23 | CHANGE OF NAME/ADDRESS REC'D FROM IB |