EXIAR EXPORT INSURANCE AGENCY OF RUSSIA - Trademark Details
Status: 709 - Registration cancelled because registrant did not file an acceptable declaration under Section 71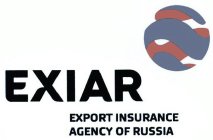 Registration Number
4437935
Word Mark
EXIAR EXPORT INSURANCE AGENCY OF RUSSIA
Status
709 - Registration cancelled because registrant did not file an acceptable declaration under Section 71
Registration Number
4437935
Registration Date
2013-11-26
Mark Drawing
3000 - Illustration: Drawing or design which also includes word(s)/ letter(s)/number(s) Typeset
Design Searches
261901 - Spheres.
Published for Opposition Date
2013-09-10
Law Office Assigned Location Code
L40
Employee Name
MACFARLANE, JAMES W
Statements
Indication of Colors claimed
The color(s) blue, red and black is/are claimed as a feature of the mark.
Desription of the Colors Claimed
The words "EXIAR export insurance agency of Russia" are in special characters and in black writing; the spherical image is made up of strips of blues and reds.
Disclaimer with Predetermined Text
"EXPORT INSURANCE AGENCY OF RUSSIA"
Description of Mark
The mark consists of the wording "EXIAR EXPORT INSURANCE AGENCY OF RUSSIA" in a stylized black font next to a stylized sphere comprised of wavy blue and red bands.
Goods and Services
commercial insurance underwriting, namely, insurance of commercial operations, export credit insurance, investment insurance; financial management; credit financing, namely, financing services, including provision of credit for foreign business transactions including export credits; financial guarantees; granting state financial guarantees for export credits; business credit insurance for protection against political risk and all other risks; financial affairs, namely, financial trust operations, financial planning, financial consultation, financial research, financial management, financial investment brokerage, arranging of financial investment; monetary affairs, namely, monetary exchange operations, banking, acquisition and transfer of monetary claims, monetary strategy consultation and research; real estate affairs, namely, real estate agencies, real estate brokerage, real estate management, and the purchase and sale of real estate for others; banking affairs, including hire purchase financing and clearing, namely, banking; financial analysis and research services; financial evaluation services; providing advice on finance, real estate, and insurance; providing information on finance; financial research services; resource management, namely, financial portfolio management; providing financial information and consultancy; securities transactions, namely, brokerage of securities; financial management of securities for others; financial affairs, namely, assisting others with completing financial transactions in connection with precious metals and precious stones; executing, namely, processing, payments for securities transactions; mutual fund investment services; securities brokerage; electronic transfer of funds; safe deposit box services
Translation of Words in Mark
The English translation of the foreign word(s) in the mark is: Export insurance agency of Russia.
Classification Information
International Class
036
- Insurance; financial affairs; monetary affairs; real estate affairs. - Insurance; financial affairs; monetary affairs; real estate affairs.
US Class Codes
100, 101, 102
Class Status Code
F - Section 71 - Cancelled
Class Status Date
2021-02-26
Correspondences
Address
Please log in with your Justia account to see this address.
International Registrations
International Registration Number
1136083
International Registration Date
2012-07-28
International Publication Date
2012-11-29
International Renewal Date
2022-07-28
Auto Protection Date
2014-05-22
International Status
001 - Request for extension of protection established
International Status Date
2012-11-22
Trademark Events
| | |
| --- | --- |
| Event Date | Event Description |
| 2012-11-22 | SN ASSIGNED FOR SECT 66A APPL FROM IB |
| 2012-11-23 | LIMITATION FROM ORIGINAL APPLICATION ENTERED |
| 2012-11-28 | NEW APPLICATION OFFICE SUPPLIED DATA ENTERED IN TRAM |
| 2012-11-28 | ASSIGNED TO EXAMINER |
| 2012-12-04 | APPLICATION FILING RECEIPT MAILED |
| 2012-12-05 | NON-FINAL ACTION WRITTEN |
| 2012-12-06 | NON-FINAL ACTION (IB REFUSAL) PREPARED FOR REVIEW |
| 2012-12-06 | REFUSAL PROCESSED BY MPU |
| 2012-12-06 | NON-FINAL ACTION MAILED - REFUSAL SENT TO IB |
| 2013-01-01 | REFUSAL PROCESSED BY IB |
| 2013-05-30 | TEAS RESPONSE TO OFFICE ACTION RECEIVED |
| 2013-06-04 | ASSIGNED TO LIE |
| 2013-06-11 | CORRESPONDENCE RECEIVED IN LAW OFFICE |
| 2013-06-11 | TEAS/EMAIL CORRESPONDENCE ENTERED |
| 2013-07-02 | FINAL REFUSAL WRITTEN |
| 2013-07-03 | FINAL REFUSAL MAILED |
| 2013-07-19 | TEAS REQUEST FOR RECONSIDERATION RECEIVED |
| 2013-07-19 | CORRESPONDENCE RECEIVED IN LAW OFFICE |
| 2013-07-19 | TEAS/EMAIL CORRESPONDENCE ENTERED |
| 2013-08-07 | APPROVED FOR PUB - PRINCIPAL REGISTER |
| 2013-08-08 | LAW OFFICE PUBLICATION REVIEW COMPLETED |
| 2013-08-21 | NOTICE OF PUBLICATION |
| 2013-08-28 | NOTICE OF START OF OPPOSITION PERIOD CREATED, TO BE SENT TO IB |
| 2013-08-28 | NOTIFICATION OF POSSIBLE OPPOSITION SENT TO IB |
| 2013-09-10 | PUBLISHED FOR OPPOSITION |
| 2013-09-15 | NOTIFICATION PROCESSED BY IB |
| 2013-11-26 | REGISTERED-PRINCIPAL REGISTER |
| 2014-02-26 | FINAL DISPOSITION NOTICE CREATED, TO BE SENT TO IB |
| 2014-02-27 | FINAL DISPOSITION PROCESSED |
| 2014-02-27 | FINAL DISPOSITION NOTICE SENT TO IB |
| 2014-04-03 | FINAL DECISION TRANSACTION PROCESSED BY IB |
| 2021-02-26 | CANCELLED SECTION 71 |
| 2021-10-26 | TOTAL INVALIDATION OF REG EXT PROTECTION CREATED |
| 2021-11-13 | GENERIC MADRID TRANSACTION CREATED |
| 2021-11-13 | GENERIC MADRID TRANSACTION SENT TO IB |
| 2022-01-09 | TOTAL INVALIDATION PROCESSED BY THE IB |