B3D - Trademark Details
Status: 709 - Registration cancelled because registrant did not file an acceptable declaration under Section 71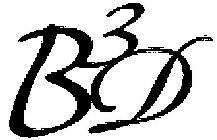 Registration Number
4430500
Status
709 - Registration cancelled because registrant did not file an acceptable declaration under Section 71
Registration Number
4430500
Registration Date
2013-11-12
Mark Drawing
5000 - Illustration: Drawing with word(s)/letter(s)/number(s) in Stylized form Typeset
Published for Opposition Date
2013-08-27
Law Office Assigned Location Code
M30
Employee Name
PARKS, KIMBERLY L
Statements
Indication of Colors claimed
Color is not claimed as a feature of the mark.
Description of Mark
The mark consists of the stylized lettering and numbering "B3D", with the "3" raised in superscript between the letters "B" and "D".
Goods and Services
Clothing, namely, pants and trousers, skirts, shirts, T-shirts, sweat pants, parkas, sweaters, jackets, coats, waterproof clothing in the nature of wetsuits and waterproof pants, underclothing, bathing suits, bathing trunks, bathing caps, beach clothes in the nature of beachwear, scarves, neckties, bandanas, socks, stockings, gloves, ear muffs, hats and caps, trousers for yoga, sweat pants for yoga; garters; sock suspenders; suspenders; waistbands; belts for clothing; footwear, namely, shoes, boots, sandals, slippers, rain shoes; masquerade costumes; sports jerseys; gymnastic shoes
Classification Information
International Class
025
- Clothing, footwear, headgear. - Clothing, footwear, headgear.
Class Status Code
F - Section 71 - Cancelled
Class Status Date
2020-06-11
Correspondences
Address
Please log in with your Justia account to see this address.
Prior Registrations
| | |
| --- | --- |
| Relationship Type | Reel Number |
| Prior Registration | 3238572 |
| Prior Registration | 3580583 |
International Registrations
International Registration Number
1134855
International Registration Date
2012-08-24
International Publication Date
2012-11-22
International Renewal Date
2022-08-24
Auto Protection Date
2014-05-15
International Status
001 - Request for extension of protection established
International Status Date
2012-11-16
Priority Claimed Date
2012-07-11
Trademark Events
| | |
| --- | --- |
| Event Date | Event Description |
| 2012-11-16 | SN ASSIGNED FOR SECT 66A APPL FROM IB |
| 2012-11-19 | LIMITATION FROM ORIGINAL APPLICATION ENTERED |
| 2012-11-28 | NEW APPLICATION OFFICE SUPPLIED DATA ENTERED IN TRAM |
| 2012-12-04 | APPLICATION FILING RECEIPT MAILED |
| 2012-12-18 | ASSIGNED TO EXAMINER |
| 2012-12-18 | NON-FINAL ACTION WRITTEN |
| 2012-12-19 | NON-FINAL ACTION (IB REFUSAL) PREPARED FOR REVIEW |
| 2012-12-19 | NON-FINAL ACTION (IB REFUSAL) WITHDRAWN FOR REVIEW |
| 2012-12-19 | NON-FINAL ACTION WRITTEN |
| 2012-12-20 | NON-FINAL ACTION (IB REFUSAL) PREPARED FOR REVIEW |
| 2012-12-20 | REFUSAL PROCESSED BY MPU |
| 2012-12-20 | NON-FINAL ACTION MAILED - REFUSAL SENT TO IB |
| 2013-01-08 | REFUSAL PROCESSED BY IB |
| 2013-02-01 | PAPER RECEIVED |
| 2013-02-05 | ASSIGNED TO LIE |
| 2013-02-12 | CORRESPONDENCE RECEIVED IN LAW OFFICE |
| 2013-02-12 | AMENDMENT FROM APPLICANT ENTERED |
| 2013-02-14 | PRIORITY ACTION WRITTEN |
| 2013-02-15 | PRIORITY ACTION MAILED |
| 2013-07-12 | PAPER RECEIVED |
| 2013-07-18 | CORRESPONDENCE RECEIVED IN LAW OFFICE |
| 2013-07-18 | AMENDMENT FROM APPLICANT ENTERED |
| 2013-07-23 | APPROVED FOR PUB - PRINCIPAL REGISTER |
| 2013-07-25 | LAW OFFICE PUBLICATION REVIEW COMPLETED |
| 2013-08-07 | NOTICE OF PUBLICATION |
| 2013-08-27 | PUBLISHED FOR OPPOSITION |
| 2013-11-12 | REGISTERED-PRINCIPAL REGISTER |
| 2014-02-12 | FINAL DISPOSITION NOTICE CREATED, TO BE SENT TO IB |
| 2014-02-14 | FINAL DISPOSITION PROCESSED |
| 2014-02-14 | FINAL DISPOSITION NOTICE SENT TO IB |
| 2014-03-06 | FINAL DECISION TRANSACTION PROCESSED BY IB |
| 2020-04-03 | REFUSAL PROCESSED BY IB |
| 2020-06-11 | CASE ASSIGNED TO POST REGISTRATION PARALEGAL |
| 2020-06-11 | CANCELLED SECTION 71 |
| 2021-02-11 | TOTAL INVALIDATION OF REG EXT PROTECTION CREATED |
| 2021-02-22 | GENERIC MADRID TRANSACTION CREATED |
| 2021-02-22 | GENERIC MADRID TRANSACTION SENT TO IB |
| 2021-04-11 | PARTIAL INVALIDATION PROCESSED BY THE IB |
| 2021-04-18 | FINAL DECISION TRANSACTION PROCESSED BY IB |
| 2021-07-30 | NEW REPRESENTATIVE AT IB RECEIVED |