CALIDA NATURALLY ME - Trademark Details
Status: 709 - Registration cancelled because registrant did not file an acceptable declaration under Section 71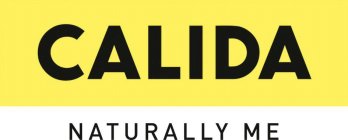 Registration Number
4374112
Word Mark
CALIDA NATURALLY ME
Status
709 - Registration cancelled because registrant did not file an acceptable declaration under Section 71
Registration Number
4374112
Registration Date
2013-07-30
Mark Drawing
3000 - Illustration: Drawing or design which also includes word(s)/ letter(s)/number(s) Typeset
Design Searches
261121 - Rectangles that are completely or partially shaded.
Published for Opposition Date
2013-05-14
Law Office Assigned Location Code
L80
Employee Name
POLZER, NATALIE M
Statements
Indication of Colors claimed
The color(s) yellow, white and black is/are claimed as a feature of the mark.
Description of Mark
The mark consists of the stylized wording "CALIDA NATURALLY ME" in black lettering. A yellow rectangle design appears behind the term "CALIDA" and the color white appears as background in the mark.
Goods and Services
Clothing, namely, shirts, pants, coats, dresses, underwear, slips, socks, sleepwear, bras, briefs, tops, bodysuits, lingerie, sweaters and nightwear; footwear; headgear, namely, hats and caps
Translation of Words in Mark
The English translation of "CALIDA" in the mark is hot, piquant.
Classification Information
International Class
025
- Clothing, footwear, headgear. - Clothing, footwear, headgear.
Class Status Code
F - Section 71 - Cancelled
Class Status Date
2021-02-26
Correspondences
Address
Please log in with your Justia account to see this address.
Prior Registrations
| | |
| --- | --- |
| Relationship Type | Reel Number |
| Prior Registration | 1477811 |
| Prior Registration | 2751155 |
| Prior Registration | 2751755 |
International Registrations
International Registration Number
1125370
International Registration Date
2012-07-06
International Publication Date
2012-09-06
International Renewal Date
2022-07-06
Auto Protection Date
2014-02-28
International Status
001 - Request for extension of protection established
International Status Date
2012-08-30
Priority Claimed Date
2012-04-25
Trademark Events
| | |
| --- | --- |
| Event Date | Event Description |
| 2012-08-30 | SN ASSIGNED FOR SECT 66A APPL FROM IB |
| 2012-08-31 | LIMITATION FROM ORIGINAL APPLICATION ENTERED |
| 2012-09-01 | NEW APPLICATION OFFICE SUPPLIED DATA ENTERED IN TRAM |
| 2012-09-05 | APPLICATION FILING RECEIPT MAILED |
| 2012-10-29 | ASSIGNED TO EXAMINER |
| 2012-11-05 | NON-FINAL ACTION WRITTEN |
| 2012-11-06 | NON-FINAL ACTION (IB REFUSAL) PREPARED FOR REVIEW |
| 2012-11-06 | REFUSAL PROCESSED BY MPU |
| 2012-11-06 | NON-FINAL ACTION MAILED - REFUSAL SENT TO IB |
| 2012-11-26 | REFUSAL PROCESSED BY IB |
| 2013-03-11 | TEAS RESPONSE TO OFFICE ACTION RECEIVED |
| 2013-03-11 | CORRESPONDENCE RECEIVED IN LAW OFFICE |
| 2013-03-12 | TEAS/EMAIL CORRESPONDENCE ENTERED |
| 2013-03-19 | EXAMINERS AMENDMENT -WRITTEN |
| 2013-03-19 | EXAMINERS AMENDMENT E-MAILED |
| 2013-03-19 | NOTIFICATION OF EXAMINERS AMENDMENT E-MAILED |
| 2013-03-19 | EXAMINER'S AMENDMENT ENTERED |
| 2013-03-19 | APPROVED FOR PUB - PRINCIPAL REGISTER |
| 2013-04-08 | ASSIGNED TO LIE |
| 2013-04-11 | LAW OFFICE PUBLICATION REVIEW COMPLETED |
| 2013-04-24 | NOTIFICATION OF NOTICE OF PUBLICATION E-MAILED |
| 2013-04-24 | NOTICE OF START OF OPPOSITION PERIOD CREATED, TO BE SENT TO IB |
| 2013-04-24 | NOTIFICATION OF POSSIBLE OPPOSITION SENT TO IB |
| 2013-05-14 | PUBLISHED FOR OPPOSITION |
| 2013-05-14 | OFFICIAL GAZETTE PUBLICATION CONFIRMATION E-MAILED |
| 2013-07-14 | NOTIFICATION PROCESSED BY IB |
| 2013-07-30 | REGISTERED-PRINCIPAL REGISTER |
| 2013-10-30 | FINAL DISPOSITION NOTICE CREATED, TO BE SENT TO IB |
| 2013-10-31 | FINAL DISPOSITION PROCESSED |
| 2013-11-01 | FINAL DISPOSITION NOTICE SENT TO IB |
| 2013-12-09 | FINAL DECISION TRANSACTION PROCESSED BY IB |
| 2014-05-08 | NEW REPRESENTATIVE AT IB RECEIVED |
| 2018-03-23 | NEW REPRESENTATIVE AT IB RECEIVED |
| 2018-07-30 | COURTESY REMINDER - SEC. 71 (6-YR) E-MAILED |
| 2019-05-14 | TEAS CHANGE OF CORRESPONDENCE RECEIVED |
| 2020-02-27 | NEW REPRESENTATIVE AT IB RECEIVED |
| 2020-04-30 | NEW REPRESENTATIVE AT IB RECEIVED |
| 2020-10-08 | TEAS CHANGE OF OWNER ADDRESS RECEIVED |
| 2020-10-08 | TEAS REVOKE/APP/CHANGE ADDR OF ATTY/DOM REP RECEIVED |
| 2020-10-08 | ATTORNEY/DOM.REP.REVOKED AND/OR APPOINTED |
| 2020-10-08 | TEAS CHANGE OF DOMESTIC REPRESENTATIVES ADDRESS |
| 2020-10-08 | TEAS CHANGE OF CORRESPONDENCE RECEIVED |
| 2020-10-08 | APPLICANT/CORRESPONDENCE CHANGES (NON-RESPONSIVE) ENTERED |
| 2021-02-26 | CANCELLED SECTION 71 |
| 2021-07-17 | NEW REPRESENTATIVE AT IB RECEIVED |
| 2021-08-06 | NEW REPRESENTATIVE AT IB RECEIVED |
| 2021-10-26 | TOTAL INVALIDATION OF REG EXT PROTECTION CREATED |
| 2021-12-22 | INVALIDATION PROCESSED |
| 2021-12-23 | TOTAL INVALIDATION OF REG EXT PROTECTION SENT TO IB |
| 2022-01-29 | TOTAL INVALIDATION PROCESSED BY THE IB |