CULTURE INDOOR - Trademark Details
Status: 709 - Registration cancelled because registrant did not file an acceptable declaration under Section 71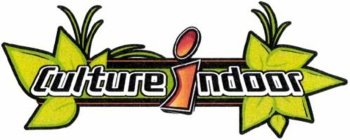 Registration Number
4307185
Status
709 - Registration cancelled because registrant did not file an acceptable declaration under Section 71
Registration Number
4307185
Registration Date
2013-03-26
Mark Drawing
3000 - Illustration: Drawing or design which also includes word(s)/ letter(s)/number(s) Typeset
Design Searches
050308, 050325, 051303, 051325, 071302 - More than one leaf, including scattered leaves, bunches of leaves not attached to branches. Other leaves. Grasses. Other plants including bales of hay or straw. Signs not attached to a support.
Published for Opposition Date
2013-01-08
Law Office Assigned Location Code
L80
Employee Name
LAPTER, ALAIN J
Statements
Indication of Colors claimed
The color(s) green, orange, black and white is/are claimed as a feature of the mark.
Description of Mark
The mark consists of the wording "CULTURE INDOOR" with the lettering "CULTURE INDOOR" in black with a white outline, and with the letter "I" in stylized form with an orange interior, a black inner border, white middle border and black outer edge, the wording on top of a design element consisting of leaves and stems of grass on both sides, the leaves and grass being in green with a black border, and a design of a multi-colored bar between the leaves with the inner bar in green, the middle bars on the top and bottom in black and the outer bars on the top and bottom in orange, and with a black outline.
Goods and Services
Chemicals used in industry and science, namely, food supplements for agricultural products and plants, plant growth nutrients, plant nutrition preparations, preparations for fortifying plants, plant growth regulating preparations; chemical preparations for use in agriculture and horticulture, namely, chemical preparations for the treatment of plants and seeds; manure for agriculture, enzyme substrates for soil-free and traditional growing
Goods and Services
Scientific, weighing and measuring apparatus and instruments, namely, precision balances, microscopes, leak detectors for use in the reservoirs and containers of hydroponic plant growing apparatus, motion detectors, smoke detectors, temperature and humidity sensors, timers, lux meters, namely, meters for checking the level of luminance, electric pH testers for testing and monitoring the nutrient levels of solution, thermometers, measuring cups, thermostats, air circulators; apparatus for conducting, switching, transforming, accumulating, regulating or controlling electricity, namely, batteries, electrical conductivity testers, namely, electrical conductivity meters, electric cables, electrical plugs, lighting ballasts with thermal protection, magnetic ballast, electronic ballast, electric switches, Electric power converters
Goods and Services
Apparatus for lighting, namely, cultivation lamps and parts thereof, namely, high pressure sodium (HPS), metal halide, plasma, light emitting diode (LED), neon lamps and light bulbs, light reflectors, sockets for electric lights and lamp bases; apparatus for heating, namely, gas heaters for agricultural and horticultural use, electric radiators for agricultural and horticultural use, electric heating fans, electric space heaters, Electric floor heating systems, namely, cables, electric mats and sensors for floor heating systems sold as a unit, carbon dioxide generators, namely, generators used to enhance carbon dioxide levels in order to promote plant growth in greenhouses or other enclosed spaces, grow cabinets in the nature of a closed environment with lights, exhaust system, aeroponic misting chamber and automated control system; apparatus for steam generation, namely, steam generators, steam valves; apparatus for ventilating, namely, ventilating fans for agricultural and horticultural use, ventilation shafts, extractor fans, suction fans, air ionizers for agricultural, horticultural and household purposes, industrial air filter machines, air filters for cleaning air for agricultural, horticultural and domestic use; apparatus for water supply, namely, water reservoir tanks, Hydroponics grow box and growing chambers in the nature of a closed environment equipped with lights, an exhaust system, growing container, odor control system, ventilation hoods, automated irrigation systems comprised of a flood and drain system comprised of dual pumps, an adjustable drain, water sensor, water aerator and reservoirs, nutrient solution, seeds, fertilizers and substrates sold as unit and structural parts therefor, Water treatment equipment, namely, reverse osmosis units, Irrigation spray nozzles, nozzles operated by ultrasound to create a mist of water to humidify plants, ebb and flow tables, namely, parts of hydroponic systems sold individually or as part of the kit, comprised of the tray with growing medium, reservoir and a timed water pump to enable the growing medium to be regularly flushed with nutrients and air
Goods and Services
Agricultural, horticultural and forestry products, neither prepared nor processed, namely, natural and live plants, flowers and seeds in the nature of grains, foodstuffs for animals, dried plants for decorative purposes
Goods and Services
Advertising services, business management, business administration, providing office functions, distribution of advertising materials, namely, leaflets, prospectuses, printed matter, and samples, arranging newspaper subscriptions for others, business management and organization consultancy, bookkeeping, document reproduction, employment agencies, computerized file management, organization of exhibitions for commercial or advertising purposes, on-line advertising on a computer network, rental of advertising time on communication media, publishing advertisement texts, rental of advertising space, dissemination of advertising matter, public relations
Classification Information
Correspondences
Name
Jeannine A Rittenhouse
Address
Please log in with your Justia account to see this address.
International Registrations
International Registration Number
1107425
International Registration Date
2012-01-09
International Publication Date
2012-03-15
International Renewal Date
2022-01-09
Auto Protection Date
2013-09-08
International Status
001 - Request for extension of protection established
International Status Date
2012-03-13
Priority Claimed Date
2011-08-02
Trademark Events
| | |
| --- | --- |
| Event Date | Event Description |
| 2012-03-13 | SN ASSIGNED FOR SECT 66A APPL FROM IB |
| 2012-03-14 | NEW APPLICATION OFFICE SUPPLIED DATA ENTERED IN TRAM |
| 2012-03-20 | APPLICATION FILING RECEIPT MAILED |
| 2012-04-16 | ASSIGNED TO EXAMINER |
| 2012-04-19 | NON-FINAL ACTION WRITTEN |
| 2012-04-20 | NON-FINAL ACTION (IB REFUSAL) PREPARED FOR REVIEW |
| 2012-04-26 | REFUSAL PROCESSED BY MPU |
| 2012-04-26 | NON-FINAL ACTION MAILED - REFUSAL SENT TO IB |
| 2012-05-12 | REFUSAL PROCESSED BY IB |
| 2012-10-24 | TEAS RESPONSE TO OFFICE ACTION RECEIVED |
| 2012-10-24 | CORRESPONDENCE RECEIVED IN LAW OFFICE |
| 2012-10-24 | TEAS/EMAIL CORRESPONDENCE ENTERED |
| 2012-10-29 | FINAL REFUSAL WRITTEN |
| 2012-10-29 | FINAL REFUSAL E-MAILED |
| 2012-10-29 | NOTIFICATION OF FINAL REFUSAL EMAILED |
| 2012-11-15 | EXAMINERS AMENDMENT -WRITTEN |
| 2012-11-15 | EXAMINERS AMENDMENT E-MAILED |
| 2012-11-15 | NOTIFICATION OF EXAMINERS AMENDMENT E-MAILED |
| 2012-11-15 | EXAMINER'S AMENDMENT ENTERED |
| 2012-11-15 | APPROVED FOR PUB - PRINCIPAL REGISTER |
| 2012-11-30 | ASSIGNED TO LIE |
| 2012-11-30 | LAW OFFICE PUBLICATION REVIEW COMPLETED |
| 2012-12-19 | NOTIFICATION OF NOTICE OF PUBLICATION E-MAILED |
| 2012-12-19 | NOTICE OF START OF OPPOSITION PERIOD CREATED, TO BE SENT TO IB |
| 2012-12-19 | NOTIFICATION OF POSSIBLE OPPOSITION SENT TO IB |
| 2013-01-08 | PUBLISHED FOR OPPOSITION |
| 2013-01-08 | OFFICIAL GAZETTE PUBLICATION CONFIRMATION E-MAILED |
| 2013-01-14 | NOTIFICATION PROCESSED BY IB |
| 2013-03-26 | REGISTERED-PRINCIPAL REGISTER |
| 2013-06-26 | FINAL DISPOSITION NOTICE CREATED, TO BE SENT TO IB |
| 2013-12-02 | FINAL DISPOSITION PROCESSED |
| 2013-12-02 | FINAL DISPOSITION NOTICE SENT TO IB |
| 2014-01-05 | FINAL DECISION TRANSACTION PROCESSED BY IB |
| 2018-03-26 | COURTESY REMINDER - SEC. 71 (6-YR) E-MAILED |
| 2019-11-01 | CANCELLED SECTION 71 |
| 2020-07-01 | TOTAL INVALIDATION OF REG EXT PROTECTION CREATED |
| 2020-08-06 | INVALIDATION PROCESSED |
| 2020-08-06 | TOTAL INVALIDATION OF REG EXT PROTECTION SENT TO IB |
| 2020-08-29 | TOTAL INVALIDATION PROCESSED BY THE IB |