BEST BRIDE - Trademark Details
Status: 402 - Ir Cancelled--Case Abandoned/Cancelled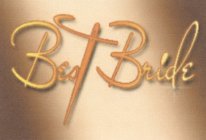 Status
402 - Ir Cancelled--Case Abandoned/Cancelled
Mark Drawing
5000 - Illustration: Drawing with word(s)/letter(s)/number(s) in Stylized form Typeset
Law Office Assigned Location Code
M80
Employee Name
EVANKO, PATRICIA MALES
Statements
Indication of Colors claimed
The color(s) yellow, dark yellow, beige, brown and orange is/are claimed as a feature of the mark.
Description of Mark
The mark consists of the wording BEST BRIDE in shades of yellow and orange with an orange outline and the letter.
Goods and Services
Wimples; bandanas neckerchiefs; corselets; corsets underclothing; girdles; body linen garments; slips undergarments; underwear; sweat-absorbent underclothing underwear; anti-sweat underwear; smocks; stuff jackets clothing; boas necklets; teddies undergarments; half-boots; breeches for wear; trousers; football shoes; brassieres; collars clothing; shoulder wraps; detachable collars; shirt yokes; veils clothing; galoshes; neckties; ascots; leggings; gaiters; boot uppers; vests; singlets; sports jerseys; hosiery; heels; pants; hoods clothing; hat frames skeletons; pocket squares; pockets for clothing; collar protectors; cap peaks; tights; combinations clothing; wet suits for water-skiing; bodices lingerie; suits; bathing suits; swimsuits; masquerade costumes; jackets clothing; fishing vests; liveries; camisoles; tee-shirts; cuffs; wristbands clothing; chemisettes shirt fronts; jumpers shirt fronts; mantillas; coats; sleep masks; mittens; miters hats; mitres hats; muffs clothing; footmuffs, not electrically heated; heelpieces for boots and shoes; bibs, not of paper; fur stoles; ear muffs clothing; socks; bath sandals; bath slippers; beach shoes; boots for sports; ski boots; sports shoes; footwear; uniforms; clothing; fittings of metal for shoes and boots; iron fittings for shoes; maniples; topcoats; overcoats; parkas; babies' diapers of textile; babies' napkins of textile; pelerines; gloves clothing; pajamas; bathing trunks; scarfs; frocks; waterproof clothing; headbands clothing; garters; sock suspenders; stocking suspenders; ready-made linings parts of clothing; dress shields; soles for footwear; braces for clothing suspenders; lace boots; belts clothing; money belts clothing; layettes clothing; pullovers; heelpieces for stockings; welts for boots and shoes; chasubles; shirts; wooden shoes; sandals; boots; saris; sweaters; footwear uppers; inner soles; togas; underpants; gymnastic shoes; slippers; shoes; turbans; berets; caps headwear; hats; headgear for wear; top hats; aprons clothing; bath robes; dressing gowns; tips for footwear; shower caps; stockings; sweat-absorbent stockings; shawls; paper hats clothing; skull caps; bathing caps; sashes for wear; studs for football boots shoes; babies' pants; gaiter straps; trouser straps; pelisses; esparto shoes or sandals; skirts; petticoats; drawers underclothing, visors, beach clothes, namely, bathing suits and cover-ups; fur clothing, namely, fur coats and fur hats; paper clothing, namely, dresses, blouses, shirts, and hats; outerclothing, namely, jackets, coats, gloves, hats and scarves; ready-made clothing, namely, dresses, skirts, tops and blouses; motorists' clothing, namely, gloves, jackest and hats; cyclists' clothing, namely, shorts, pants, shirts, jackets and shoes, clothing for gymnastics, namely, leotards and tights; gabardine clothing, namely, pants, skirts, jackets, coats, and hats; jerseys; clothing of imitations of leather, namely, coats, jackets, pants, and hats; clothing of leather, namely, coats, jackets, pants, and hats; knitwear clothing, namely, sweaters, skirts, hats, and scarves; bathing suits; waterproof clothing, namely, rain jackets and rain slickers, non-slipping devices for boots and shoes, namely, non-slip soles
Goods and Services
Arranging subscriptions to telecommunication services for others; import-export agencies; commercial information agencies; advertising agencies; publicity agencies; rental of advertising space; auditing; employment agencies; computerized file management; accounting; book-keeping; invoicing; demonstration of goods; opinion polling; marketing studies; business information; commercial information and advice for consumers; business investigations; business research; marketing research; personnel recruitment; business management and organization consultancy; advisory services for business management; personnel management consultancy; business organization consultancy; business management consultancy; professional business consultancy; layout services for advertising purposes; business management of performing artists; news clipping services; updating of advertising material; word processing; secretarial services; shorthand; organization of exhibitions for commercial or advertising purposes; arranging newspaper subscriptions for others; organization of trade fairs for commercial or advertising purposes; shop window dressing; business appraisals; evaluation of standing timber; evaluation of wool; grading of wool; payroll preparation; sponsorship search; business management assistance; commercial or industrial management assistance; presentation of goods on communication media, for retail purposes; economic forecasting; auctioneering; sales promotion for others; office machines and equipment rental; rental of advertising time on communication media; publicity material rental; rental of vending machines; rental of photocopying machines; publication of publicity texts; typing; radio advertising; radio commercials; bill-posting; outdoor advertising; distribution of samples; direct mail advertising; dissemination of advertising matter; writing of publicity texts; advertising; publicity; on-line advertising on a computer network; advertising by mail order; television advertising; television commercials; document reproduction; compilation of statistics; compilation of information into computer databases; business inquiries; systemization of information into computer databases; tax preparation; drawing up of statements of accounts; publicity columns preparation; psychological testing for the selection of personnel; business management of hotels; commercial administration of the licensing of the goods and services of others; administrative processing of purchase orders; public relations; modelling for advertising or sales promotion; relocation services for businesses; price comparison services; procurement services for others purchasing goods and services for other businesses; outsourcing services business assistance; telephone answering for unavailable subscribers; photocopying; efficiency experts; business data analysis featuring cost-price analysis, transcription of messages, data search in computer files for others, namely, business, marketing and sales information, production of radio commercials and production of television commercials
Classification Information
International Class
025
- Clothing, footwear, headgear. - Clothing, footwear, headgear.
Class Status Code
H - Section 70 - Cancelled
Class Status Date
2021-04-21
International Class
035
- Advertising; business management; business administration; office functions. - Advertising; business management; business administration; office functions.
US Class Codes
100, 101, 102
Class Status Code
H - Section 70 - Cancelled
Class Status Date
2021-04-21
Correspondences
Address
Please log in with your Justia account to see this address.
International Registrations
International Registration Number
1088893
International Registration Date
2011-04-21
International Publication Date
2011-09-22
International Renewal Date
2021-04-21
Auto Protection Date
2013-03-15
International Status
102 - Death of IR (Dead as a Result of Non-Renewal, Renunciation or Cancellation by Holder of International Registration)
International Status Date
2021-04-21
Trademark Events
| | |
| --- | --- |
| Event Date | Event Description |
| 2011-09-15 | SN ASSIGNED FOR SECT 66A APPL FROM IB |
| 2011-09-16 | NEW APPLICATION OFFICE SUPPLIED DATA ENTERED IN TRAM |
| 2011-09-16 | ASSIGNED TO EXAMINER |
| 2011-09-20 | APPLICATION FILING RECEIPT MAILED |
| 2011-09-25 | NON-FINAL ACTION WRITTEN |
| 2011-09-26 | NON-FINAL ACTION (IB REFUSAL) PREPARED FOR REVIEW |
| 2011-09-26 | REFUSAL PROCESSED BY MPU |
| 2011-09-26 | NON-FINAL ACTION MAILED - REFUSAL SENT TO IB |
| 2011-10-18 | REFUSAL PROCESSED BY IB |
| 2012-03-26 | TEAS RESPONSE TO OFFICE ACTION RECEIVED |
| 2012-03-26 | CORRESPONDENCE RECEIVED IN LAW OFFICE |
| 2012-03-26 | TEAS/EMAIL CORRESPONDENCE ENTERED |
| 2012-04-13 | FINAL REFUSAL WRITTEN |
| 2012-04-13 | FINAL REFUSAL E-MAILED |
| 2012-04-13 | NOTIFICATION OF FINAL REFUSAL EMAILED |
| 2012-11-13 | ABANDONMENT - FAILURE TO RESPOND OR LATE RESPONSE |
| 2012-11-13 | ABANDONMENT NOTICE MAILED - FAILURE TO RESPOND |
| 2013-02-20 | NOTIFICATION OF POSSIBLE OPPOSITION CREATED, TO BE SENT TO IB |
| 2013-02-20 | NOTIFICATION OF POSSIBLE OPPOSITION SENT TO IB |
| 2013-03-10 | NOTIFICATION OF POSSIBLE OPPOSITION - PROCESSED BY IB |
| 2013-11-13 | FINAL DISPOSITION NOTICE CREATED, TO BE SENT TO IB |
| 2013-11-13 | FINAL DISPOSITION NOTICE SENT TO IB |
| 2013-12-01 | FINAL DECISION TRANSACTION PROCESSED BY IB |
| 2021-11-14 | DEATH OF INTERNATIONAL REGISTRATION |
| 2021-11-15 | NOTIFICATION OF EFFECT OF CANCELLATION OF INTL REG E-MAILED |