REPLY - Trademark Details
Status: 707 - A partial Section 71 declaration has been accepted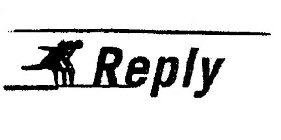 Registration Number
4239696
Status
707 - A partial Section 71 declaration has been accepted
Registration Number
4239696
Registration Date
2012-11-13
Mark Drawing
3000 - Illustration: Drawing or design which also includes word(s)/ letter(s)/number(s) Typeset
Design Searches
020102, 020701, 020905, 261713 - Shadows or silhouettes of men. Groups of males. Running. Letters or words underlined and/or overlined by one or more strokes or lines.
Published for Opposition Date
2012-08-28
Law Office Assigned Location Code
L70
Employee Name
SNYDER, NELSON B
Statements
Indication of Colors claimed
Color is not claimed as a feature of the mark.
Description of Mark
The mark consists of the word "Reply" to the right of a stylized design of three men placed side by side and partially overlapping each other in the act of running. A horizontal line runs above the word and design. A second horizontal line underlines the design and the first two letters of the word "Reply".
Goods and Services
Computer programs for use in designing, installing and executing mainframe and client/server application programs, for integrating the financial, manufacturing and sales functions of a business, and for managing customer service and support functions of a business, computer software for use in designing, installing and executing mainframe and client/server application programs, for integrating the financial, manufacturing and sales functions of a business, and for managing customer service and support functions of a business; computers
Goods and Services
Paper, cardboard and goods made from paper and cardboard, namely, boxes of paper or cardboard; printed instructional and teaching materials in the field of business management, information technology, and computerized information processing, user manuals in the field of business management, information technology, and computerized information processing, brochures about business management, information technology, and computerized information processing, printed visual in the nature of information graphics and promotional materials illustrative material, namely, illustrations
Goods and Services
Advertising, not in the real estate field; business management, business advice and consultancy relating to franchising, business process management and consultancy in the field of e-business
Goods and Services
[ Telecommunication services, namely, wireless telephone services; communication and transmission of data, messages and images by computer and computer systems, communication by electronic computer terminals, providing multiple user access to data on the internet in the field of electronic marketplace; all of the foregoing excluding the real estate field ]
Goods and Services
Educational services, namely, providing courses and seminars in business management, data processing and telecommunications
Goods and Services
Design and development of computer programs, consultancy relating to computers, integration of computer systems and networks, and advisory and consultancy services relating thereto; telecommunications engineering, rental of computer software
Classification Information
Current Trademark Owners
Party Type
30 - Original Registrant
Legal Entity Type
09 - Joint Stock Company
Trademark Owner History
Party Type
30 - Original Registrant
Legal Entity Type
09 - Joint Stock Company
Party Type
20 - Owner at Publication
Legal Entity Type
09 - Joint Stock Company
Party Type
10 - Original Applicant
Legal Entity Type
09 - Joint Stock Company
International Registrations
International Registration Number
1086268
International Registration Date
2011-03-29
International Publication Date
2011-09-01
International Renewal Date
2031-03-29
Auto Protection Date
2013-02-25
International Status
001 - Request for extension of protection established
International Status Date
2011-08-25
Trademark Events
| | |
| --- | --- |
| Event Date | Event Description |
| 2011-08-25 | SN ASSIGNED FOR SECT 66A APPL FROM IB |
| 2011-08-26 | NEW APPLICATION OFFICE SUPPLIED DATA ENTERED IN TRAM |
| 2011-08-26 | ASSIGNED TO EXAMINER |
| 2011-08-27 | NON-FINAL ACTION WRITTEN |
| 2011-08-28 | NON-FINAL ACTION (IB REFUSAL) PREPARED FOR REVIEW |
| 2011-08-29 | REFUSAL PROCESSED BY MPU |
| 2011-08-29 | NON-FINAL ACTION MAILED - REFUSAL SENT TO IB |
| 2011-08-30 | APPLICATION FILING RECEIPT MAILED |
| 2011-09-18 | REFUSAL PROCESSED BY IB |
| 2012-02-29 | TEAS RESPONSE TO OFFICE ACTION RECEIVED |
| 2012-03-16 | ASSIGNED TO LIE |
| 2012-03-21 | CORRESPONDENCE RECEIVED IN LAW OFFICE |
| 2012-03-21 | TEAS/EMAIL CORRESPONDENCE ENTERED |
| 2012-04-11 | FINAL REFUSAL WRITTEN |
| 2012-04-11 | FINAL REFUSAL E-MAILED |
| 2012-04-11 | NOTIFICATION OF FINAL REFUSAL EMAILED |
| 2012-05-29 | TEAS CHANGE OF CORRESPONDENCE RECEIVED |
| 2012-06-21 | TEAS REQUEST FOR RECONSIDERATION RECEIVED |
| 2012-06-21 | TEAS CHANGE OF CORRESPONDENCE RECEIVED |
| 2012-06-28 | CORRESPONDENCE RECEIVED IN LAW OFFICE |
| 2012-06-28 | TEAS/EMAIL CORRESPONDENCE ENTERED |
| 2012-07-19 | APPROVED FOR PUB - PRINCIPAL REGISTER |
| 2012-07-23 | LAW OFFICE PUBLICATION REVIEW COMPLETED |
| 2012-08-08 | NOTIFICATION OF NOTICE OF PUBLICATION E-MAILED |
| 2012-08-08 | NOTICE OF START OF OPPOSITION PERIOD CREATED, TO BE SENT TO IB |
| 2012-08-08 | NOTIFICATION OF POSSIBLE OPPOSITION SENT TO IB |
| 2012-08-28 | PUBLISHED FOR OPPOSITION |
| 2012-08-28 | OFFICIAL GAZETTE PUBLICATION CONFIRMATION E-MAILED |
| 2012-09-30 | NOTIFICATION PROCESSED BY IB |
| 2012-11-13 | REGISTERED-PRINCIPAL REGISTER |
| 2013-02-13 | FINAL DISPOSITION NOTICE CREATED, TO BE SENT TO IB |
| 2013-02-13 | FINAL DISPOSITION PROCESSED |
| 2013-02-13 | FINAL DISPOSITION NOTICE SENT TO IB |
| 2013-03-04 | FINAL DECISION TRANSACTION PROCESSED BY IB |
| 2017-11-13 | COURTESY REMINDER - SEC. 71 (6-YR) E-MAILED |
| 2018-11-12 | TEAS SECTION 71 RECEIVED |
| 2019-01-09 | CASE ASSIGNED TO POST REGISTRATION PARALEGAL |
| 2019-01-10 | POST REGISTRATION ACTION MAILED - SEC.71 |
| 2019-07-08 | TEAS RESPONSE TO OFFICE ACTION-POST REG RECEIVED |
| 2020-09-03 | REGISTERED - PARTIAL SEC 71 ACCEPTED |
| 2020-09-03 | NOTICE OF ACCEPTANCE OF SEC. 71 - E-MAILED |
| 2021-04-15 | INTERNATIONAL REGISTRATION RENEWED |
| 2021-05-03 | PARTIAL INVALIDATION OF REG EXT PROTECTION CREATED |
| 2021-05-04 | INVALIDATION PROCESSED |
| 2021-05-04 | PARTIAL INVALIDATION OF REG EXT PROTECTION SENT TO IB |
| 2021-06-06 | PARTIAL INVALIDATION PROCESSED BY THE IB |
| 2021-11-13 | COURTESY REMINDER - SEC. 71 (10-YR) E-MAILED |