BAR.B.Q. TONIGHT - Trademark Details
Status: 404 - U.S. registration cancelled because International Registration cancelled in whole or in part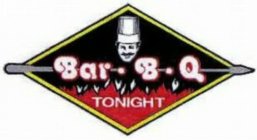 Registration Number
4120165
Word Mark
BAR.B.Q. TONIGHT
Status
404 - U.S. registration cancelled because International Registration cancelled in whole or in part
Registration Number
4120165
Registration Date
2012-04-03
Mark Drawing
3000 - Illustration: Drawing or design which also includes word(s)/ letter(s)/number(s) Typeset
Design Searches
011503, 020101, 090506, 110325, 260721 - Flames. Heads, portraits, busts of men not in profile. Chef's hat. Other non-electric cooking and serving ware, including woks. Diamonds that are completely or partially shaded.
Published for Opposition Date
2012-01-17
Law Office Assigned Location Code
L20
Employee Name
SMIGA, HOWARD
Statements
Indication of Colors claimed
The color(s) red, grey, yellow, black & white is/are claimed as a feature of the mark.
Disclaimer with Predetermined Text
"BAR-B-Q"
Description of Mark
The mark consists of a black background surrounded by a yellow diamond shaped outline. The lower portion of the diamond features flames in red and white as well as the word "TONIGHT" in white. The spear located across the middle of the diamond is grey in color and features the words, "BAR-B-Q" in white letters outlined in red. The Chef design is white with black flames.
Goods and Services
CAFES; CAFETERIAS; RESTAURANTS, BUFFET RESTAURANTS, SELF-SERVICE RESTAURANTS; RESTAURANT SERVICES; TAKE-OUT FOOD SERVICES; CATERING SERVICES; BISTROS; SNACK-BAR AND COFFEE SHOP SERVICES; PREPARATION OF FOOD AND DRINK
Classification Information
International Class
043
- Services for providing food and drink; temporary accommodation. - Services for providing food and drink; temporary accommodation.
Class Status Code
F - Section 71 - Cancelled
Class Status Date
2018-11-09
Correspondences
Address
Please log in with your Justia account to see this address.
International Registrations
International Registration Number
1077587
International Registration Date
2011-03-22
International Publication Date
2011-06-23
International Renewal Date
2021-03-22
Auto Protection Date
2012-12-16
International Status
102 - Death of IR (Dead as a Result of Non-Renewal, Renunciation or Cancellation by Holder of International Registration)
International Status Date
2021-03-23
Priority Claimed Date
2010-11-26
Trademark Events
| | |
| --- | --- |
| Event Date | Event Description |
| 2011-06-16 | SN ASSIGNED FOR SECT 66A APPL FROM IB |
| 2011-06-17 | NEW APPLICATION OFFICE SUPPLIED DATA ENTERED IN TRAM |
| 2011-06-20 | ASSIGNED TO EXAMINER |
| 2011-06-20 | NON-FINAL ACTION WRITTEN |
| 2011-06-21 | APPLICATION FILING RECEIPT MAILED |
| 2011-06-21 | NON-FINAL ACTION (IB REFUSAL) PREPARED FOR REVIEW |
| 2011-06-21 | REFUSAL PROCESSED BY MPU |
| 2011-06-21 | NON-FINAL ACTION MAILED - REFUSAL SENT TO IB |
| 2011-07-13 | REFUSAL PROCESSED BY IB |
| 2011-11-10 | PAPER RECEIVED |
| 2011-11-30 | ASSIGNED TO LIE |
| 2011-12-08 | CORRESPONDENCE RECEIVED IN LAW OFFICE |
| 2011-12-08 | AMENDMENT FROM APPLICANT ENTERED |
| 2011-12-08 | APPROVED FOR PUB - PRINCIPAL REGISTER |
| 2011-12-10 | LAW OFFICE PUBLICATION REVIEW COMPLETED |
| 2011-12-28 | NOTICE OF PUBLICATION |
| 2011-12-28 | NOTICE OF START OF OPPOSITION PERIOD CREATED, TO BE SENT TO IB |
| 2011-12-28 | NOTIFICATION OF POSSIBLE OPPOSITION SENT TO IB |
| 2012-01-17 | PUBLISHED FOR OPPOSITION |
| 2012-04-03 | REGISTERED-PRINCIPAL REGISTER |
| 2012-07-03 | FINAL DISPOSITION NOTICE CREATED, TO BE SENT TO IB |
| 2012-07-03 | FINAL DISPOSITION PROCESSED |
| 2012-07-03 | FINAL DISPOSITION NOTICE SENT TO IB |
| 2012-07-22 | FINAL DECISION TRANSACTION PROCESSED BY IB |
| 2012-10-31 | NOTIFICATION PROCESSED BY IB |
| 2016-10-04 | CANCELLATION INSTITUTED NO. 999999 |
| 2018-06-19 | CANCELLATION DENIED NO. 999999 |
| 2018-06-19 | CANCELLATION TERMINATED NO. 999999 |
| 2018-06-19 | TTAB RELEASE CASE TO TRADEMARKS |
| 2018-11-09 | CANCELLED SECTION 71 |
| 2019-07-09 | TOTAL INVALIDATION OF REG EXT PROTECTION CREATED |
| 2019-08-06 | INVALIDATION PROCESSED |
| 2019-08-06 | TOTAL INVALIDATION OF REG EXT PROTECTION SENT TO IB |
| 2019-11-29 | NEW REPRESENTATIVE AT IB RECEIVED |
| 2019-11-30 | TOTAL INVALIDATION PROCESSED BY THE IB |
| 2021-03-27 | NEW REPRESENTATIVE AT IB RECEIVED |
| 2021-10-10 | DEATH OF INTERNATIONAL REGISTRATION |
| 2021-10-10 | NOTIFICATION OF EFFECT OF CANCELLATION OF INTL REG MAILED |