KUNGS - Trademark Details
Status: 404 - U.S. registration cancelled because International Registration cancelled in whole or in part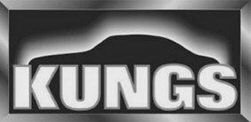 Registration Number
4152226
Status
404 - U.S. registration cancelled because International Registration cancelled in whole or in part
Registration Number
4152226
Registration Date
2012-06-05
Mark Drawing
3000 - Illustration: Drawing or design which also includes word(s)/ letter(s)/number(s) Typeset
Design Searches
180501, 261121 - Automobiles. Rectangles that are completely or partially shaded.
Published for Opposition Date
2012-03-20
Law Office Assigned Location Code
L70
Employee Name
HOFFMAN, DAVID AARON
Statements
Indication of Colors claimed
Color is not claimed as a feature of the mark.
Description of Mark
The mark consists of the wording "KUNGS" superimposed over the design of a car silhouette, all within a framed rectangular carrier.
Goods and Services
Cleaning, polishing, scouring and abrasive preparations; soaps; perfumery, essential oils, cosmetics, hair lotions; dentifrices
Goods and Services
Hand-operated hand tools and implements, namely, ice scrapers, snow shovels; cutlery; razors
Goods and Services
Apparatus for locomotion by land, air or water, namely, bicycle covers, tow bar ball covers, tyre bags
Goods and Services
Furniture, mirrors, picture frames; goods of wood, cork, reed, cane, wicker, horn, bone, ivory, whalebone, shell, amber, mother-of-pearl, meerschaum and substitutes for all these materials, or of plastics, namely, containers for storage
Goods and Services
Containers for household use; combs and cleaning sponges; brushes, namely, brushes for washing, cleaning, scouring and polishing of cars and vehicles; brush-making materials; articles for cleaning purposes, namely, brushes, sponges, squeegees and mitts, snow brushes, lint rollers; steelwool; unworked or semi-worked glass
Translation of Words in Mark
The wording "KUNGS" has no meaning in a foreign language.
Classification Information
Correspondences
Name
Christine B. Redfield
Address
Please log in with your Justia account to see this address.
International Registrations
International Registration Number
1072170
International Registration Date
2011-03-23
International Publication Date
2011-04-28
International Renewal Date
2021-03-23
Auto Protection Date
2012-10-21
International Status
102 - Death of IR (Dead as a Result of Non-Renewal, Renunciation or Cancellation by Holder of International Registration)
International Status Date
2021-03-23
Trademark Events
| | |
| --- | --- |
| Event Date | Event Description |
| 2011-04-21 | SN ASSIGNED FOR SECT 66A APPL FROM IB |
| 2011-04-22 | NEW APPLICATION OFFICE SUPPLIED DATA ENTERED IN TRAM |
| 2011-04-26 | APPLICATION FILING RECEIPT MAILED |
| 2011-06-21 | ASSIGNED TO EXAMINER |
| 2011-06-24 | NON-FINAL ACTION WRITTEN |
| 2011-06-25 | NON-FINAL ACTION (IB REFUSAL) PREPARED FOR REVIEW |
| 2011-06-28 | REFUSAL PROCESSED BY MPU |
| 2011-06-28 | NON-FINAL ACTION MAILED - REFUSAL SENT TO IB |
| 2011-07-20 | REFUSAL PROCESSED BY IB |
| 2011-12-27 | TEAS RESPONSE TO OFFICE ACTION RECEIVED |
| 2011-12-27 | CORRESPONDENCE RECEIVED IN LAW OFFICE |
| 2011-12-27 | TEAS/EMAIL CORRESPONDENCE ENTERED |
| 2012-01-25 | EXAMINERS AMENDMENT -WRITTEN |
| 2012-01-25 | EXAMINERS AMENDMENT E-MAILED |
| 2012-01-25 | NOTIFICATION OF EXAMINERS AMENDMENT E-MAILED |
| 2012-01-25 | EXAMINER'S AMENDMENT ENTERED |
| 2012-01-27 | APPROVED FOR PUB - PRINCIPAL REGISTER |
| 2012-02-13 | ASSIGNED TO LIE |
| 2012-02-14 | LAW OFFICE PUBLICATION REVIEW COMPLETED |
| 2012-02-29 | NOTIFICATION OF NOTICE OF PUBLICATION E-MAILED |
| 2012-03-20 | PUBLISHED FOR OPPOSITION |
| 2012-03-20 | OFFICIAL GAZETTE PUBLICATION CONFIRMATION E-MAILED |
| 2012-06-05 | REGISTERED-PRINCIPAL REGISTER |
| 2012-09-05 | FINAL DISPOSITION NOTICE CREATED, TO BE SENT TO IB |
| 2012-10-23 | FINAL DISPOSITION PROCESSED |
| 2012-10-23 | FINAL DISPOSITION NOTICE SENT TO IB |
| 2012-11-14 | FINAL DECISION TRANSACTION PROCESSED BY IB |
| 2017-05-19 | NEW REPRESENTATIVE AT IB RECEIVED |
| 2017-06-05 | COURTESY REMINDER - SEC. 71 (6-YR) E-MAILED |
| 2019-01-11 | CANCELLED SECTION 71 |
| 2019-09-11 | TOTAL INVALIDATION OF REG EXT PROTECTION CREATED |
| 2019-09-23 | INVALIDATION PROCESSED |
| 2019-09-23 | TOTAL INVALIDATION OF REG EXT PROTECTION SENT TO IB |
| 2019-10-18 | TOTAL INVALIDATION PROCESSED BY THE IB |
| 2021-10-23 | DEATH OF INTERNATIONAL REGISTRATION |
| 2021-10-23 | NOTIFICATION OF EFFECT OF CANCELLATION OF INTL REG E-MAILED |