RHINO STORAGE - Trademark Details
Status: 606 - Abandoned - No Statement Of Use Filed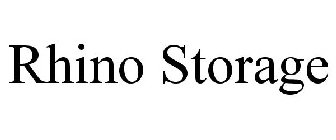 Status
606 - Abandoned - No Statement Of Use Filed
Mark Drawing
4000 - Standard character mark Typeset
Published for Opposition Date
2008-01-29
Law Office Assigned Location Code
M80
Employee Name
SAPPENFIELD, ANN ELIZA
Statements
Disclaimer with Predetermined Text
"STORAGE"
Goods and Services
Applying protective polyurethane coating on a wide range of commercial, industrial and consumer products, including furniture
Classification Information
International Class
40
- Treatment of materials. - Treatment of materials.
US Class Codes
100, 103, 106
Class Status Code
6 - Active
Class Status Date
2006-03-15
Correspondences
Address
Please log in with your Justia account to see this address.
Prior Registrations
| | |
| --- | --- |
| Relationship Type | Reel Number |
| Prior Registration | 1612373 |
| Prior Registration | 2288606 |
| Prior Registration | 2752078 |
| Continuity Parent | 78832653 |
Trademark Events
| | |
| --- | --- |
| Event Date | Event Description |
| 2006-03-15 | NEW APPLICATION ENTERED IN TRAM |
| 2006-06-24 | ASSIGNED TO EXAMINER |
| 2006-06-25 | NON-FINAL ACTION WRITTEN |
| 2006-06-26 | NON-FINAL ACTION MAILED |
| 2006-12-22 | PAPER RECEIVED |
| 2007-01-24 | ASSIGNED TO LIE |
| 2007-01-24 | CORRESPONDENCE RECEIVED IN LAW OFFICE |
| 2007-01-24 | AMENDMENT FROM APPLICANT ENTERED |
| 2007-02-22 | SUSPENSION LETTER WRITTEN |
| 2007-02-22 | LETTER OF SUSPENSION E-MAILED |
| 2007-03-06 | PAPER RECEIVED |
| 2007-03-15 | CORRESPONDENCE RECEIVED IN LAW OFFICE |
| 2007-03-15 | AMENDMENT FROM APPLICANT ENTERED |
| 2007-04-16 | FINAL REFUSAL WRITTEN |
| 2007-04-16 | FINAL REFUSAL E-MAILED |
| 2007-10-12 | PAPER RECEIVED |
| 2007-10-15 | TEAS REQUEST FOR RECONSIDERATION RECEIVED |
| 2007-10-15 | CORRESPONDENCE RECEIVED IN LAW OFFICE |
| 2007-10-16 | TEAS/EMAIL CORRESPONDENCE ENTERED |
| 2007-10-19 | PAPER RECEIVED |
| 2007-10-24 | APPLICANT/CORRESPONDENCE CHANGES (NON-RESPONSIVE) ENTERED |
| 2007-10-24 | APPLICANT/CORRESPONDENCE CHANGES (NON-RESPONSIVE) ENTERED |
| 2007-10-24 | EX PARTE APPEAL-INSTITUTED |
| 2007-10-19 | DIVISIONAL REQUEST RECEIVED |
| 2007-10-25 | DIVISIONAL PROCESSING COMPLETE |
| 2007-11-10 | APPROVED FOR PUB - PRINCIPAL REGISTER |
| 2007-12-20 | ASSIGNED TO LIE |
| 2007-12-21 | LAW OFFICE PUBLICATION REVIEW COMPLETED |
| 2008-01-09 | NOTICE OF PUBLICATION |
| 2008-01-29 | PUBLISHED FOR OPPOSITION |
| 2008-04-22 | NOA MAILED - SOU REQUIRED FROM APPLICANT |
| 2008-11-24 | ABANDONMENT - NO USE STATEMENT FILED |
| 2008-11-24 | ABANDONMENT NOTICE MAILED - NO USE STATEMENT FILED |
| 2008-12-09 | TEAS PETITION TO REVIVE RECEIVED |
| 2008-12-09 | PETITION TO REVIVE-GRANTED |
| 2008-12-09 | EXTENSION RECEIVED WITH TEAS PETITION |
| 2008-12-09 | TEAS CHANGE OF CORRESPONDENCE RECEIVED |
| 2008-12-31 | CASE ASSIGNED TO INTENT TO USE PARALEGAL |
| 2008-10-22 | EXTENSION 1 FILED |
| 2008-12-31 | EXTENSION 1 GRANTED |
| 2009-04-20 | TEAS EXTENSION RECEIVED |
| 2009-04-20 | EXTENSION 2 FILED |
| 2009-04-20 | EXTENSION 2 GRANTED |
| 2009-10-22 | TEAS EXTENSION RECEIVED |
| 2009-10-22 | EXTENSION 3 FILED |
| 2009-10-23 | EXTENSION 3 GRANTED |
| 2010-04-20 | TEAS EXTENSION RECEIVED |
| 2010-04-20 | EXTENSION 4 FILED |
| 2010-04-21 | EXTENSION 4 GRANTED |
| 2010-04-22 | NOTICE OF APPROVAL OF EXTENSION REQUEST E-MAILED |
| 2010-06-20 | TEAS CHANGE OF CORRESPONDENCE RECEIVED |
| 2010-10-14 | TEAS EXTENSION RECEIVED |
| 2010-10-14 | EXTENSION 5 FILED |
| 2010-10-16 | EXTENSION 5 GRANTED |
| 2010-10-19 | NOTICE OF APPROVAL OF EXTENSION REQUEST E-MAILED |
| 2011-05-23 | ABANDONMENT - NO USE STATEMENT FILED |
| 2011-05-23 | ABANDONMENT NOTICE MAILED - NO USE STATEMENT FILED |