Image Trademark with Serial Number 78931880
Status: 710 - Cancelled - Section 8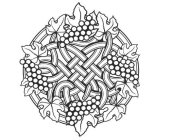 Registration Number
3218116
Status
710 - Cancelled - Section 8
Registration Number
3218116
Registration Date
2007-03-13
Mark Drawing
2000 - Illustration: Drawing or design without any word(s)/letter(s)/ number(s) Typeset
Design Searches
050104, 050303, 050308, 050902, 250125, 260102, 260118 - Climbing bushes and plants, including ivy and vines. Maple leaf. More than one leaf, including scattered leaves, bunches of leaves not attached to branches. Grapes (alone or in bunches). Other framework and ornamental borders. Plain single line circles. Three or more concentric circles.
Published for Opposition Date
2006-12-26
Law Office Assigned Location Code
M70
Employee Name
MARTIN, JENNIFER MCGAR
Statements
Description of Mark
The mark consists of bunches of grapes and design.
Goods and Services
Alcoholic beverages, namely wine and wine-based beverages
Classification Information
International Class
033
- Alcoholic beverages (except beers). - Alcoholic beverages (except beers).
Class Status Code
2 - Sec. 8 - Entire Registration
Class Status Date
2013-10-18
First Use Anywhere Date
2004-00-00
First Use In Commerce Date
2004-00-00
Correspondences
Address
Please log in with your Justia account to see this address.
Prior Registrations
| | |
| --- | --- |
| Relationship Type | Reel Number |
| Prior Registration | 3112764 |
Trademark Events
| | |
| --- | --- |
| Event Date | Event Description |
| 2006-07-21 | NEW APPLICATION ENTERED IN TRAM |
| 2006-07-22 | NOTICE OF DESIGN SEARCH CODE MAILED |
| 2006-10-18 | ASSIGNED TO EXAMINER |
| 2006-10-23 | EXAMINERS AMENDMENT -WRITTEN |
| 2006-10-23 | EXAMINERS AMENDMENT E-MAILED |
| 2006-10-23 | EXAMINER'S AMENDMENT ENTERED |
| 2006-10-23 | APPROVED FOR PUB - PRINCIPAL REGISTER |
| 2006-10-27 | ASSIGNED TO LIE |
| 2006-11-02 | LAW OFFICE PUBLICATION REVIEW COMPLETED |
| 2006-12-06 | NOTICE OF PUBLICATION |
| 2006-12-26 | PUBLISHED FOR OPPOSITION |
| 2007-03-13 | REGISTERED-PRINCIPAL REGISTER |
| 2007-11-20 | TEAS REVOKE/APPOINT ATTORNEY RECEIVED |
| 2007-11-20 | ATTORNEY REVOKED AND/OR APPOINTED |
| 2008-07-16 | AUTOMATIC UPDATE OF ASSIGNMENT OF OWNERSHIP |
| 2011-02-16 | AUTOMATIC UPDATE OF ASSIGNMENT OF OWNERSHIP |
| 2011-08-23 | TEAS REVOKE/APPOINT ATTORNEY RECEIVED |
| 2011-08-23 | ATTORNEY REVOKED AND/OR APPOINTED |
| 2013-10-18 | CANCELLED SEC. 8 (6-YR) |