APPLETON ESTATE MASTER BLENDERS' LEGACY JAMAICA RUM SINCE 1749 CREATORS OF FINE RUMS DISTILLED BLENDED AND BOTTLED IN JAMAICA ESTATE DISTILLED - Trademark Details
Status: 710 - Cancelled - Section 8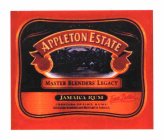 Registration Number
3659444
Word Mark
APPLETON ESTATE MASTER BLENDERS' LEGACY JAMAICA RUM SINCE 1749 CREATORS OF FINE RUMS DISTILLED BLENDED AND BOTTLED IN JAMAICA ESTATE DISTILLED
Status
710 - Cancelled - Section 8
Registration Number
3659444
Registration Date
2009-07-21
Mark Drawing
3000 - Illustration: Drawing or design which also includes word(s)/ letter(s)/number(s) Typeset
Design Searches
050103, 060302, 200310, 240701, 240907, 261107, 261120, 261121, 261125, 261713 - Palm trees. Islands, reefs. Bottle label. Coins. Banners. Rectangles with a decorative border, including scalloped, ruffled and zig-zag edges. Rectangles inside another rectangle. Rectangles that are completely or partially shaded. Rectangles with one or more curved sides. Letters or words underlined and/or overlined by one or more strokes or lines.
Published for Opposition Date
2008-02-19
Law Office Assigned Location Code
L40
Employee Name
PILARO, MARK F
Statements
Indication of Colors claimed
The color(s) red, purple, blue, white. gold and black is/are claimed as a feature of the mark.
Disclaimer with Predetermined Text
"JAMAICA RUM", "SINCE 1749", "CREATORS OF FINE RUMS", "DISTILLED BLENDED AND BOTTLED IN JAMAICA", AND "DISTILLED"
Description of Mark
The mark comprises a rectangle outline in the color gold with a dark purple background in the top three quarters of the rectangle and gold background in the bottom quarter. There is a banner in the top quarter of the rectangle in the color red with the wording "APPLETON ESTATE" in the color white across the banner. immediately below the banner of the left side is a seal with a head facing left with the wording Republique Francais and Quality Medals Awarded "1983-1984". Immediately below the banner on the right side is a seal with a picture of a large angel in a flowing gown blowing a trumpet and a naked cherub carrying a rectangular object above his head and the wording Quality Medals Awarded "1983-1984". Below the banner is a scene in the color blue containing palm trees, a horse drawn cart, two houses and a field. Below the scene is a smaller banner with a gold background and the wording "MASTER BLENDERS' LEGACY" written across the banner in purple. Below this banner is a rectangular box with a black background with the wording "JAMAICA RUM" in the color white.
Classification Information
International Class
033
- Alcoholic beverages (except beers). - Alcoholic beverages (except beers).
Class Status Code
2 - Sec. 8 - Entire Registration
Class Status Date
2016-02-26
First Use Anywhere Date
2007-09-00
First Use In Commerce Date
2007-09-00
Correspondences
Name
J. Allison Strickland
Address
Please log in with your Justia account to see this address.
Prior Registrations
| | |
| --- | --- |
| Relationship Type | Reel Number |
| Prior Registration | 1359581 |
| Prior Registration | 1888779 |
| Prior Registration | 2655852 |
Trademark Events
| | |
| --- | --- |
| Event Date | Event Description |
| 2006-04-14 | NEW APPLICATION ENTERED IN TRAM |
| 2006-04-20 | NOTICE OF DESIGN SEARCH CODE MAILED |
| 2006-09-19 | ASSIGNED TO EXAMINER |
| 2006-09-28 | NON-FINAL ACTION WRITTEN |
| 2006-09-28 | NON-FINAL ACTION MAILED |
| 2007-04-26 | ABANDONMENT - FAILURE TO RESPOND OR LATE RESPONSE |
| 2007-04-26 | ABANDONMENT NOTICE MAILED - FAILURE TO RESPOND |
| 2007-06-14 | PAPER RECEIVED |
| 2007-06-14 | PETITION TO REVIVE-RECEIVED |
| 2007-07-09 | PETITION GRANTED - RESPONSE RECEIVED |
| 2007-11-16 | ASSIGNED TO LIE |
| 2007-11-16 | CORRESPONDENCE RECEIVED IN LAW OFFICE |
| 2007-11-16 | AMENDMENT FROM APPLICANT ENTERED |
| 2007-11-23 | ASSIGNED TO EXAMINER |
| 2007-11-27 | ASSIGNED TO LIE |
| 2007-12-17 | REPORT UNRESPONSIVE AMENDMENT - COMPLETED |
| 2007-12-18 | NOTICE OF UNRESPONSIVE AMENDMENT - MAILED |
| 2007-12-26 | PAPER RECEIVED |
| 2008-01-03 | CORRESPONDENCE RECEIVED IN LAW OFFICE |
| 2008-01-03 | AMENDMENT FROM APPLICANT ENTERED |
| 2008-01-10 | APPROVED FOR PUB - PRINCIPAL REGISTER |
| 2008-01-14 | LAW OFFICE PUBLICATION REVIEW COMPLETED |
| 2008-01-30 | NOTICE OF PUBLICATION |
| 2008-02-19 | PUBLISHED FOR OPPOSITION |
| 2008-02-29 | TEAS REVOKE/APPOINT ATTORNEY RECEIVED |
| 2008-02-29 | ATTORNEY REVOKED AND/OR APPOINTED |
| 2008-05-13 | NOA MAILED - SOU REQUIRED FROM APPLICANT |
| 2008-10-08 | TEAS EXTENSION RECEIVED |
| 2008-10-08 | EXTENSION 1 FILED |
| 2008-10-08 | EXTENSION 1 GRANTED |
| 2009-05-11 | TEAS STATEMENT OF USE RECEIVED |
| 2009-05-28 | CASE ASSIGNED TO INTENT TO USE PARALEGAL |
| 2009-05-11 | USE AMENDMENT FILED |
| 2009-05-28 | STATEMENT OF USE PROCESSING COMPLETE |
| 2009-06-08 | ALLOWED PRINCIPAL REGISTER - SOU ACCEPTED |
| 2009-06-12 | LAW OFFICE REGISTRATION REVIEW COMPLETED |
| 2009-07-21 | REGISTERED-PRINCIPAL REGISTER |
| 2016-02-26 | CANCELLED SEC. 8 (6-YR) |