ARAHOVA - Trademark Details
Status: 606 - Abandoned - No Statement Of Use Filed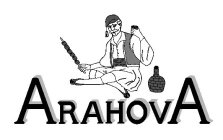 Status
606 - Abandoned - No Statement Of Use Filed
Mark Drawing
3000 - Illustration: Drawing or design which also includes word(s)/ letter(s)/number(s) Typeset
Design Searches
020116, 020131, 020901, 020904, 081125, 110301, 190902 - Other men wearing folk or historical costumes. Stylized men, including men depicted in caricature form. Eating or drinking. Sitting or kneeling. Other meat or fish products. Glasses without stems including paper or plastic beverage containers. Bottles, jars or flasks with bulging, protruding or rounded sides.
Published for Opposition Date
2007-05-15
Law Office Assigned Location Code
M20
Employee Name
ROBERTSON, DEIRDRE G
Statements
Description of Mark
The mark consists of a stylized design depicting a man with a brochette in his right hand and a glass in his left hand with a jug adjacent to the design and the word ARAHOVA set beneath the design. Applicant responds that gray is not considered a color or feature of the mark.
Goods and Services
Food products, namely, souvlaki meat, gyro meat, chicken, brochettes, mousaka, dolmades, bean dolmades and taramosalata spread
Goods and Services
Prepared food items, namely, souvlaki sandwiches, gyro sandwiches, pastitsio and tzatziki sauce
Goods and Services
Restaurant franchising and wholesale distributorships featuring food items and packaging food articles to the order and specifications of others
Goods and Services
Leasing of real property, namely, restaurant facilities
Goods and Services
Food processing
Goods and Services
Restaurant services
Classification Information
Correspondences
Address
Please log in with your Justia account to see this address.
Trademark Events
| | |
| --- | --- |
| Event Date | Event Description |
| 2006-03-21 | NEW APPLICATION ENTERED IN TRAM |
| 2006-03-22 | NOTICE OF DESIGN SEARCH CODE MAILED |
| 2006-08-30 | ASSIGNED TO EXAMINER |
| 2006-09-13 | NON-FINAL ACTION WRITTEN |
| 2006-09-13 | NON-FINAL ACTION E-MAILED |
| 2006-11-16 | PAPER RECEIVED |
| 2006-12-14 | ASSIGNED TO LIE |
| 2006-11-16 | CORRESPONDENCE RECEIVED IN LAW OFFICE |
| 2007-01-10 | AMENDMENT FROM APPLICANT ENTERED |
| 2007-01-17 | APPROVED FOR PUB - PRINCIPAL REGISTER |
| 2007-01-30 | LAW OFFICE PUBLICATION REVIEW COMPLETED |
| 2007-02-20 | WITHDRAWN FROM PUB - OG REVIEW QUERY |
| 2007-02-20 | PREVIOUS ALLOWANCE COUNT WITHDRAWN |
| 2007-02-21 | EXAMINERS AMENDMENT -WRITTEN |
| 2007-02-21 | EXAMINERS AMENDMENT E-MAILED |
| 2007-02-21 | EXAMINER'S AMENDMENT ENTERED |
| 2007-02-21 | APPROVED FOR PUB - PRINCIPAL REGISTER |
| 2007-02-21 | LAW OFFICE PUBLICATION REVIEW COMPLETED |
| 2007-03-08 | WITHDRAWN FROM PUB - OG REVIEW QUERY |
| 2007-03-16 | PREVIOUS ALLOWANCE COUNT WITHDRAWN |
| 2007-03-16 | EXAMINERS AMENDMENT -WRITTEN |
| 2007-03-16 | EXAMINERS AMENDMENT E-MAILED |
| 2007-03-16 | EXAMINER'S AMENDMENT ENTERED |
| 2007-03-16 | APPROVED FOR PUB - PRINCIPAL REGISTER |
| 2007-03-19 | LAW OFFICE PUBLICATION REVIEW COMPLETED |
| 2007-04-25 | NOTICE OF PUBLICATION |
| 2007-05-15 | PUBLISHED FOR OPPOSITION |
| 2007-08-07 | NOA MAILED - SOU REQUIRED FROM APPLICANT |
| 2008-01-15 | TEAS EXTENSION RECEIVED |
| 2008-01-15 | EXTENSION 1 FILED |
| 2008-02-04 | EXTENSION 1 GRANTED |
| 2008-07-25 | ASSIGNED TO EXAMINER |
| 2008-10-08 | ABANDONMENT - NO USE STATEMENT FILED |
| 2008-10-08 | ABANDONMENT NOTICE MAILED - NO USE STATEMENT FILED |