THE TRAVEL AUTHORITY - Trademark Details
Status: 710 - Cancelled - Section 8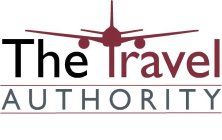 Registration Number
3144807
Word Mark
THE TRAVEL AUTHORITY
Status
710 - Cancelled - Section 8
Registration Number
3144807
Registration Date
2006-09-19
Mark Drawing
3000 - Illustration: Drawing or design which also includes word(s)/ letter(s)/number(s) Typeset
Design Searches
180901, 261713 - Airplanes, including gliders, propeller and jet-powered planes, ultra lights. Letters or words underlined and/or overlined by one or more strokes or lines.
Published for Opposition Date
2006-06-27
Law Office Assigned Location Code
M80
Employee Name
BLANDU, FLORENTINA
Statements
Indication of Colors claimed
The color(s) red and gray is/are claimed as a feature of the mark.
Desription of the Colors Claimed
The airplane silhouette and the word "Travel" are in the color red, and the word "Authority" is in the color gray.
Description of Mark
The mark consists of A silhouette of an airplane forming a "T" to spell Travel in the name "The Travel Authority." The words "The Travel" sit on top of a line which is on top of "Authority." "Authority" is also underlined.
Goods and Services
Travel agency services, namely making reservations and bookings for transportation
Classification Information
International Class
039
- Transport; packaging and storage of goods; travel arrangement. - Transport; packaging and storage of goods; travel arrangement.
Class Status Code
2 - Sec. 8 - Entire Registration
Class Status Date
2017-04-21
First Use Anywhere Date
2004-04-30
First Use In Commerce Date
2004-04-30
Correspondences
Address
Please log in with your Justia account to see this address.
Trademark Events
| | |
| --- | --- |
| Event Date | Event Description |
| 2005-06-24 | NEW APPLICATION ENTERED IN TRAM |
| 2006-01-11 | ASSIGNED TO EXAMINER |
| 2006-01-16 | NON-FINAL ACTION WRITTEN |
| 2006-01-16 | NON-FINAL ACTION E-MAILED |
| 2006-01-26 | TEAS RESPONSE TO OFFICE ACTION RECEIVED |
| 2006-01-26 | CORRESPONDENCE RECEIVED IN LAW OFFICE |
| 2006-02-09 | TEAS/EMAIL CORRESPONDENCE ENTERED |
| 2006-04-11 | APPROVED FOR PUB - PRINCIPAL REGISTER |
| 2006-05-05 | ASSIGNED TO LIE |
| 2006-05-05 | LAW OFFICE PUBLICATION REVIEW COMPLETED |
| 2006-06-07 | NOTICE OF PUBLICATION |
| 2006-06-27 | PUBLISHED FOR OPPOSITION |
| 2006-09-19 | REGISTERED-PRINCIPAL REGISTER |
| 2012-02-01 | AUTOMATIC UPDATE OF ASSIGNMENT OF OWNERSHIP |
| 2012-10-22 | TEAS SECTION 8 & 15 RECEIVED |
| 2012-11-10 | CASE ASSIGNED TO POST REGISTRATION PARALEGAL |
| 2012-11-10 | REGISTERED - SEC. 8 (6-YR) ACCEPTED & SEC. 15 ACK. |
| 2012-11-10 | NOTICE OF ACCEPTANCE OF SEC. 8 & 15 - MAILED |
| 2017-03-15 | TEAS CHANGE OF CORRESPONDENCE RECEIVED |
| 2017-04-21 | CANCELLED SEC. 8 (10-YR)/EXPIRED SECTION 9 |