THE PLANTATION SHOP - Trademark Details
Status: 710 - Cancelled - Section 8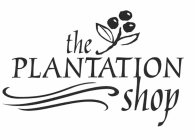 Registration Number
3203431
Word Mark
THE PLANTATION SHOP
Status
710 - Cancelled - Section 8
Registration Number
3203431
Registration Date
2007-01-30
Mark Drawing
3000 - Illustration: Drawing or design which also includes word(s)/ letter(s)/number(s) Typeset
Design Searches
050310, 050525, 050901, 261702 - Other branches with leaves, with or without fruit. Other flowers including daffodils and irises. Berries. Wavy line(s), band(s) or bar(s).
Published for Opposition Date
2006-11-14
Law Office Assigned Location Code
M10
Employee Name
PERKINS, ELLEN J
Statements
Disclaimer with Predetermined Text
"SHOP"
Goods and Services
Body lotion, hand lotion and scented room spray
Goods and Services
Pre-paid gift cards with magnetic encoding
Goods and Services
Jewelry
Goods and Services
Handbags, tote bags and evening bags
Goods and Services
Gourmet cookies, coffee, wafers, biscuits, snack nut mix consisting primarily of chocolate covered nuts and pralines, candy, toffee and cheese straws
Goods and Services
Retail store services and retail shop at home party services featuring antiques, furniture, home furnishing accessories and decor, art, children's clothing, jewelry, textiles, toys and gifts, and dining accessories
Classification Information
Correspondences
Address
Please log in with your Justia account to see this address.
Trademark Events
| | |
| --- | --- |
| Event Date | Event Description |
| 2005-01-12 | NEW APPLICATION ENTERED IN TRAM |
| 2005-08-02 | ASSIGNED TO EXAMINER |
| 2005-08-03 | NON-FINAL ACTION WRITTEN |
| 2005-08-03 | NON-FINAL ACTION E-MAILED |
| 2006-02-03 | TEAS RESPONSE TO OFFICE ACTION RECEIVED |
| 2006-02-03 | CORRESPONDENCE RECEIVED IN LAW OFFICE |
| 2006-02-09 | TEAS/EMAIL CORRESPONDENCE ENTERED |
| 2006-03-14 | FINAL REFUSAL WRITTEN |
| 2006-03-14 | FINAL REFUSAL E-MAILED |
| 2006-09-14 | TEAS RESPONSE TO OFFICE ACTION RECEIVED |
| 2006-09-14 | CORRESPONDENCE RECEIVED IN LAW OFFICE |
| 2006-09-14 | TEAS/EMAIL CORRESPONDENCE ENTERED |
| 2006-09-15 | APPROVED FOR PUB - PRINCIPAL REGISTER |
| 2006-09-25 | ASSIGNED TO LIE |
| 2006-09-27 | LAW OFFICE PUBLICATION REVIEW COMPLETED |
| 2006-10-25 | NOTICE OF PUBLICATION |
| 2006-11-14 | PUBLISHED FOR OPPOSITION |
| 2007-01-30 | REGISTERED-PRINCIPAL REGISTER |
| 2013-09-06 | CANCELLED SEC. 8 (6-YR) |