CERTIFIED IRA SERVICES PROFESSIONAL CISP - Trademark Details
Status: 602 - Abandoned-Failure To Respond Or Late Response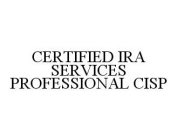 Word Mark
CERTIFIED IRA SERVICES PROFESSIONAL CISP
Status
602 - Abandoned-Failure To Respond Or Late Response
Mark Drawing
4000 - Standard character mark Typeset
Published for Opposition Date
2007-06-05
Law Office Assigned Location Code
L40
Employee Name
FINNEGAN, TIMOTHY J
Statements
Certification Mark Statement
The certification mark, as used by persons authorized by the certifier, certifies that the services provided are of a recognized standard of quality with regard to knowledge and competency for the IRA professional.
Disclaimer with Predetermined Text
"CERTIFIED IRA SERVICES PROFESSIONAL"
Goods and Services
Financial services
Classification Information
International Class
B
- Services Certification Mark. - Services Certification Mark.
Class Status Code
6 - Active
Class Status Date
2004-09-22
First Use Anywhere Date
2000-08-13
First Use In Commerce Date
2000-08-13
Correspondences
Address
Please log in with your Justia account to see this address.
Trademark Events
| | |
| --- | --- |
| Event Date | Event Description |
| 2004-09-22 | NEW APPLICATION ENTERED IN TRAM |
| 2005-04-17 | ASSIGNED TO EXAMINER |
| 2005-05-02 | NON-FINAL ACTION WRITTEN |
| 2005-05-02 | NON-FINAL ACTION E-MAILED |
| 2005-11-02 | PAPER RECEIVED |
| 2005-11-02 | CORRESPONDENCE RECEIVED IN LAW OFFICE |
| 2005-11-10 | AMENDMENT FROM APPLICANT ENTERED |
| 2005-12-01 | NON-FINAL ACTION WRITTEN |
| 2005-12-01 | NON-FINAL ACTION E-MAILED |
| 2006-06-01 | PAPER RECEIVED |
| 2006-06-01 | CORRESPONDENCE RECEIVED IN LAW OFFICE |
| 2006-06-09 | AMENDMENT FROM APPLICANT ENTERED |
| 2006-07-13 | FINAL REFUSAL WRITTEN |
| 2006-07-13 | FINAL REFUSAL E-MAILED |
| 2007-01-05 | PAPER RECEIVED |
| 2007-01-09 | EXPARTE APPEAL RECEIVED AT TTAB |
| 2007-01-09 | JURISDICTION RESTORED TO EXAMINING ATTORNEY |
| 2007-01-09 | EX PARTE APPEAL-INSTITUTED |
| 2007-03-13 | EXAMINERS AMENDMENT -WRITTEN |
| 2007-03-13 | EXAMINERS AMENDMENT E-MAILED |
| 2007-03-13 | EXAMINER'S AMENDMENT ENTERED |
| 2007-03-13 | APPROVED FOR PUB - PRINCIPAL REGISTER |
| 2007-04-04 | ASSIGNED TO LIE |
| 2007-04-04 | LAW OFFICE PUBLICATION REVIEW COMPLETED |
| 2007-05-16 | NOTICE OF PUBLICATION |
| 2007-05-23 | ASSIGNED TO EXAMINER |
| 2007-06-05 | PUBLISHED FOR OPPOSITION |
| 2007-08-28 | NOA MAILED - SOU REQUIRED FROM APPLICANT |
| 2008-02-27 | TEAS EXTENSION RECEIVED |
| 2008-02-27 | EXTENSION 1 FILED |
| 2008-03-18 | EXTENSION 1 GRANTED |
| 2008-06-08 | EXPARTE APPEAL TERMINATED |
| 2008-08-19 | TEAS EXTENSION RECEIVED |
| 2008-08-19 | EXTENSION 2 FILED |
| 2008-08-19 | EXTENSION 2 GRANTED |
| 2008-12-31 | TEAS EXTENSION RECEIVED |
| 2008-12-31 | EXTENSION 3 FILED |
| 2008-12-31 | EXTENSION 3 GRANTED |
| 2009-08-28 | TEAS STATEMENT OF USE RECEIVED |
| 2009-09-19 | CASE ASSIGNED TO INTENT TO USE PARALEGAL |
| 2009-08-28 | USE AMENDMENT FILED |
| 2009-09-19 | STATEMENT OF USE PROCESSING COMPLETE |
| 2009-10-13 | SU - NON-FINAL ACTION - WRITTEN |
| 2009-10-13 | NON-FINAL ACTION E-MAILED |
| 2009-10-13 | NOTIFICATION OF NON-FINAL ACTION E-MAILED |
| 2010-04-06 | TEAS REVOKE/APPOINT ATTORNEY RECEIVED |
| 2010-04-06 | ATTORNEY REVOKED AND/OR APPOINTED |
| 2010-05-11 | ABANDONMENT - FAILURE TO RESPOND OR LATE RESPONSE |
| 2010-05-11 | ABANDONMENT NOTICE MAILED - FAILURE TO RESPOND |