SODEXHO - Trademark Details
Status: 710 - Cancelled - Section 8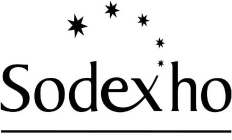 Registration Number
2937720
Status
710 - Cancelled - Section 8
Registration Number
2937720
Registration Date
2005-04-05
Mark Drawing
3000 - Illustration: Drawing or design which also includes word(s)/ letter(s)/number(s) Typeset
Design Searches
010105, 010110 - Stars with seven or more points. Three or more stars.
Published for Opposition Date
2005-01-11
Law Office Assigned Location Code
M70
Employee Name
BROWN, BARBARA TROFFKI
Statements
Goods and Services
[Retail services by direct solicitation by sales agents and telephone ordering services featuring medical equipment and consultation in the field of medical equipment purchase]
Goods and Services
Installation, maintenance and repair services of medical equipment
Goods and Services
[Training of medical equipment users]
Goods and Services
[Rental of medical equipment and consultation relating to medical equipment refurbishment or upgrades]
Classification Information
Correspondences
Address
Please log in with your Justia account to see this address.
Prior Registrations
| | |
| --- | --- |
| Relationship Type | Reel Number |
| Prior Registration | 2318133 |
| Prior Registration | 2549592 |
Trademark Events
| | |
| --- | --- |
| Event Date | Event Description |
| 2003-08-06 | TEAS VOLUNTARY AMENDMENT RECEIVED |
| 2003-09-07 | CASE FILE IN TICRS |
| 2003-08-06 | CORRESPONDENCE RECEIVED IN LAW OFFICE |
| 2003-08-06 | APPLICANT AMENDMENT PRIOR TO EXAMINATION - ENTERED |
| 2004-01-28 | ASSIGNED TO EXAMINER |
| 2004-02-06 | NON-FINAL ACTION E-MAILED |
| 2004-06-28 | TEAS RESPONSE TO OFFICE ACTION RECEIVED |
| 2004-06-28 | CORRESPONDENCE RECEIVED IN LAW OFFICE |
| 2004-06-28 | AMENDMENT FROM APPLICANT ENTERED |
| 2004-07-11 | APPROVED FOR PUB - PRINCIPAL REGISTER |
| 2004-09-10 | PREVIOUS ALLOWANCE COUNT WITHDRAWN |
| 2004-09-22 | EXAMINERS AMENDMENT AND/OR PRIORITY ACTION - COMPLETED |
| 2004-09-22 | EXAMINER'S AMENDMENT AND/OR PRIORITY ACTION E-MAILED |
| 2004-10-06 | TEAS RESPONSE TO OFFICE ACTION RECEIVED |
| 2004-10-06 | CORRESPONDENCE RECEIVED IN LAW OFFICE |
| 2004-10-21 | TEAS/EMAIL CORRESPONDENCE ENTERED |
| 2004-10-21 | APPROVED FOR PUB - PRINCIPAL REGISTER |
| 2004-11-04 | ASSIGNED TO LIE |
| 2004-11-04 | LAW OFFICE PUBLICATION REVIEW COMPLETED |
| 2004-12-22 | NOTICE OF PUBLICATION |
| 2005-01-11 | PUBLISHED FOR OPPOSITION |
| 2005-04-05 | REGISTERED-PRINCIPAL REGISTER |
| 2008-10-01 | AUTOMATIC UPDATE OF ASSIGNMENT OF OWNERSHIP |
| 2011-02-25 | TEAS SECTION 8 & 15 RECEIVED |
| 2011-03-14 | CASE ASSIGNED TO POST REGISTRATION PARALEGAL |
| 2011-02-25 | REGISTERED - SEC. 8 (6-YR) & SEC. 15 FILED |
| 2011-03-14 | REGISTERED - PARTIAL SEC. 8 (6-YR) ACCEPTED & SEC. 15 ACK. |
| 2015-11-06 | CANCELLED SEC. 8 (10-YR)/EXPIRED SECTION 9 |