RAILION - Trademark Details
Status: 606 - Abandoned - No Statement Of Use Filed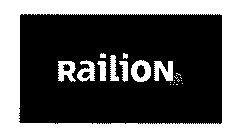 Status
606 - Abandoned - No Statement Of Use Filed
Mark Drawing
3000 - Illustration: Drawing or design which also includes word(s)/ letter(s)/number(s) Typeset
Design Searches
260921 - Squares that are completely or partially shaded.
Published for Opposition Date
2005-04-26
Law Office Assigned Location Code
L60
Employee Name
RUPP, TERESA M
Statements
Description of Mark
The mark consists of the word "RAILION" in small case white letters centered within a red rectangle, with a blue square to the right of and slightly below the "N".
Goods and Services
Scientific, nautical, surveying, electric, electronic, optical, weighing, measuring, signaling, checking, life-saving and teaching apparatus and instruments, namely, electronic-dynamic remote controls for signals, balancing apparatus, namely, scales, survey apparatus, namely, surveying chains, surveyors' levels, binoculars, electronic-dynamic remote controls for railway points, speed indicators for use in land vehicles, ammeters, acoustic sound alarms, fire alarms, speedometers for vehicles, radars, and fire-extinguishers; apparatus for recording, transmission or reproduction of sound or images, namely, audio cassette recorders, blank audio and video disks and cassettes, audio cassette players, CD players, video screens, video projectors, camcorders, video recorders, video cassette players, photographic and cinematographic cameras, and exposed photographic and cinematographic film; blank magnetic data carriers; recording discs; automatic vending machines; cash registers, calculating machines, data processing equipment, namely, data processors; and computers
Goods and Services
Apparatus for lighting, heating, steam generating, cooking, refrigerating, drying, ventilating, water supply and sanitary purposes, namely, electric lighting fixtures, air conditioners, electric, gas and microwave ovens for cooking, electric and gas stoves, refrigerators, dryers for the removal of water vapor, water pumps for spas, baths, water filtering units, and domestic and commercial water filtering and purifying units, all for use in rail vehicles
Goods and Services
Paper, cardboard and goods made from these materials, namely, paper towels, paper napkins, paper handkerchiefs, paper packaging bags, wrapping paper; printed matter, namely, pamphlets, brochures, journals, magazines, books, leaflets and prospectuses, all dealing with information about timetables, fares, travel and transportation; bookbinding material, namely, tape, wire; photographs; stationery; adhesives for stationery for household purposes; artists' materials, namely, fountain pens, ballpoint pens, pencils, paint brushes; typewriters and office requisites, namely, rubber stamps, stamp pad inks, letter openers, letter trays, letter files, desk pads, paper hole punches, paper staplers, paper clips adhesives for stationery or household purposes; instructional and teaching material in the form of printed materials concerning travel and transportation; globes, blackboards and chalk; plastic bags for packaging; printers' type; printing blocks
Goods and Services
Educational services, namely, providing of training by means of lectures, classes, seminars and workshops in the use of railroad vehicles, railroad equipment, transportation, touring and travel; entertainment, sporting and cultural activities of passengers or guests aboard trains and cruises, namely, organizing, arranging and providing motion picture film shows, theater, live musical groups, live concerts, sporting events and party planning aboard trains and cruises
Goods and Services
Restaurant and catering services, namely providing food and drink; providing temporary housing accommodations
Classification Information
Correspondences
Address
Please log in with your Justia account to see this address.
Prior Registrations
| | |
| --- | --- |
| Relationship Type | Reel Number |
| Prior Registration | 2436299 |
Trademark Events
| | |
| --- | --- |
| Event Date | Event Description |
| 2003-10-14 | ASSIGNED TO EXAMINER |
| 2003-10-14 | NON-FINAL ACTION E-MAILED |
| 2004-04-19 | PAPER RECEIVED |
| 2004-04-19 | CORRESPONDENCE RECEIVED IN LAW OFFICE |
| 2004-05-10 | APPROVED FOR PUB - PRINCIPAL REGISTER |
| 2004-07-08 | PREVIOUS ALLOWANCE COUNT WITHDRAWN |
| 2004-07-08 | NON-FINAL ACTION MAILED |
| 2004-07-26 | PAPER RECEIVED |
| 2004-08-12 | ASSIGNED TO LIE |
| 2004-07-26 | CORRESPONDENCE RECEIVED IN LAW OFFICE |
| 2004-08-12 | AMENDMENT FROM APPLICANT ENTERED |
| 2004-08-12 | APPROVED FOR PUB - PRINCIPAL REGISTER |
| 2004-08-26 | ASSIGNED TO LIE |
| 2004-08-27 | LAW OFFICE PUBLICATION REVIEW COMPLETED |
| 2004-10-18 | PREVIOUS ALLOWANCE COUNT WITHDRAWN |
| 2004-10-19 | NON-FINAL ACTION WRITTEN |
| 2004-10-19 | NON-FINAL ACTION E-MAILED |
| 2005-01-02 | ASSIGNED TO EXAMINER |
| 2005-01-24 | EXAMINERS AMENDMENT -WRITTEN |
| 2005-01-24 | EXAMINERS AMENDMENT E-MAILED |
| 2005-01-24 | APPROVED FOR PUB - PRINCIPAL REGISTER |
| 2005-01-28 | ASSIGNED TO LIE |
| 2005-02-07 | ASSIGNED TO LIE |
| 2005-02-08 | ASSIGNED TO LIE |
| 2005-02-08 | ASSIGNED TO LIE |
| 2005-02-08 | LAW OFFICE PUBLICATION REVIEW COMPLETED |
| 2005-04-06 | NOTICE OF PUBLICATION |
| 2005-04-26 | PUBLISHED FOR OPPOSITION |
| 2005-07-19 | NOA MAILED - SOU REQUIRED FROM APPLICANT |
| 2006-01-19 | TEAS EXTENSION RECEIVED |
| 2006-01-19 | EXTENSION 1 FILED |
| 2006-02-08 | EXTENSION 1 GRANTED |
| 2006-09-21 | ABANDONMENT - NO USE STATEMENT FILED |
| 2006-09-21 | ABANDONMENT NOTICE MAILED - NO USE STATEMENT FILED |