TNT - Trademark Details
Status: 606 - Abandoned - No Statement Of Use Filed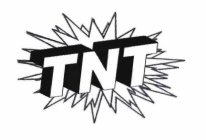 Status
606 - Abandoned - No Statement Of Use Filed
Mark Drawing
3000 - Illustration: Drawing or design which also includes word(s)/ letter(s)/number(s) Typeset
Design Searches
011504 - Sparks, sparkles, explosions.
Published for Opposition Date
2006-06-27
Law Office Assigned Location Code
L60
Employee Name
RICHARDS, LESLIE L
Statements
Indication of Colors claimed
Color is not claimed as a feature of the mark.
Goods and Services
Metal key chains
Goods and Services
Stickers; posters; pens; and calendars
Goods and Services
Duffel bags of all kinds
Goods and Services
Clothing, namely, shirts of all kinds, headwear of all kinds, outerwear, namely coats, jackets, and sport jackets, and neckties
Goods and Services
Ornamental novelty buttons and pins
Goods and Services
Toys, namely toy cars, toy airplanes, toy rockets, toy missiles, toy pistols, toy guns, toy action figures, flying discs, sand buckets, balls, yo-yos, spinning tops, play coins, playing cards, and toy flash lights; party favors in the nature of crackers, noisemakers, poppers and snappers
Classification Information
Correspondences
Address
Please log in with your Justia account to see this address.
Prior Registrations
| | |
| --- | --- |
| Relationship Type | Reel Number |
| Prior Registration | 1486863 |
Trademark Events
| | |
| --- | --- |
| Event Date | Event Description |
| 2003-08-09 | ASSIGNED TO EXAMINER |
| 2003-08-09 | LETTER OF SUSPENSION E-MAILED |
| 2003-10-09 | TEAS RESPONSE TO OFFICE ACTION RECEIVED |
| 2003-10-09 | CORRESPONDENCE RECEIVED IN LAW OFFICE |
| 2004-07-14 | REPORT COMPLETED SUSPENSION CHECK CASE STILL SUSPENDED |
| 2005-02-02 | REPORT COMPLETED SUSPENSION CHECK CASE STILL SUSPENDED |
| 2005-08-10 | REPORT COMPLETED SUSPENSION CHECK CASE STILL SUSPENDED |
| 2006-02-15 | LIE CHECKED SUSP - TO ATTY FOR ACTION |
| 2006-02-17 | APPROVED FOR PUB - PRINCIPAL REGISTER |
| 2006-02-24 | ASSIGNED TO LIE |
| 2006-03-16 | ASSIGNED TO LIE |
| 2006-03-16 | LAW OFFICE PUBLICATION REVIEW COMPLETED |
| 2006-06-07 | NOTICE OF PUBLICATION |
| 2006-06-27 | PUBLISHED FOR OPPOSITION |
| 2006-07-18 | OPPOSITION PAPERS RECEIVED AT TTAB |
| 2006-07-18 | OPPOSITION INSTITUTED NO. 999999 |
| 2006-08-14 | OPPOSITION DISMISSED NO. 999999 |
| 2006-08-14 | OPPOSITION TERMINATED NO. 999999 |
| 2006-09-11 | EXTENSION OF TIME TO OPPOSE PROCESS - TERMINATED |
| 2006-09-26 | NOA MAILED - SOU REQUIRED FROM APPLICANT |
| 2006-11-06 | PAPER RECEIVED |
| 2006-12-09 | APPLICANT/CORRESPONDENCE CHANGES (NON-RESPONSIVE) ENTERED |
| 2007-03-22 | TEAS EXTENSION RECEIVED |
| 2007-03-22 | EXTENSION 1 FILED |
| 2007-06-30 | EXTENSION 1 GRANTED |
| 2007-09-20 | TEAS EXTENSION RECEIVED |
| 2007-09-20 | EXTENSION 2 FILED |
| 2007-10-01 | EXTENSION 2 GRANTED |
| 2008-02-20 | TEAS EXTENSION RECEIVED |
| 2008-02-20 | EXTENSION 3 FILED |
| 2008-03-11 | EXTENSION 3 GRANTED |
| 2008-03-14 | ASSIGNED TO EXAMINER |
| 2008-10-27 | ABANDONMENT - NO USE STATEMENT FILED |
| 2008-10-27 | ABANDONMENT NOTICE MAILED - NO USE STATEMENT FILED |