A+ AT THE TOP OF OUR CLASS - Trademark Details
Status: 710 - Cancelled - Section 8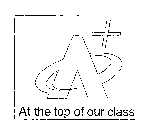 Registration Number
2924093
Word Mark
A+ AT THE TOP OF OUR CLASS
Status
710 - Cancelled - Section 8
Registration Number
2924093
Registration Date
2005-02-01
Mark Drawing
3000 - Illustration: Drawing or design which also includes word(s)/ letter(s)/number(s) Typeset
Design Searches
241706, 260302, 260303, 260317, 261102, 270301 - Plus symbol (+). Plain single line ovals. Incomplete ovals. Concentric ovals and ovals within ovals. Plain single line rectangles. Geometric figures forming letters or numerals, including punctuation.
Published for Opposition Date
2003-07-29
Law Office Assigned Location Code
M70
Employee Name
DALIER, LAURIEL
Statements
Goods and Services
Telecommunication services, namely local, long distance and international voice, text, facsimile, video, image, data and wireless transmission via satellite, terrestrial and undersea communication links; telephone telecommunications services provided via prepaid telephone calling cards; providing multiple user access to a global computer network
Classification Information
International Class
38
- Telecommunications. - Telecommunications.
US Class Codes
100, 101, 104
Class Status Code
2 - Sec. 8 - Entire Registration
Class Status Date
2011-09-02
First Use Anywhere Date
2004-10-08
First Use In Commerce Date
2004-10-08
Correspondences
Address
Please log in with your Justia account to see this address.
Trademark Events
| | |
| --- | --- |
| Event Date | Event Description |
| 2002-11-18 | ASSIGNED TO EXAMINER |
| 2002-11-30 | NON-FINAL ACTION E-MAILED |
| 2003-04-17 | PAPER RECEIVED |
| 2003-04-17 | CORRESPONDENCE RECEIVED IN LAW OFFICE |
| 2003-05-30 | APPROVED FOR PUB - PRINCIPAL REGISTER |
| 2003-07-09 | NOTICE OF PUBLICATION |
| 2003-07-29 | PUBLISHED FOR OPPOSITION |
| 2003-10-21 | NOA MAILED - SOU REQUIRED FROM APPLICANT |
| 2004-04-13 | TEAS EXTENSION RECEIVED |
| 2004-04-23 | CASE FILE IN TICRS |
| 2004-04-13 | EXTENSION 1 FILED |
| 2004-04-28 | EXTENSION 1 GRANTED |
| 2004-10-14 | TEAS STATEMENT OF USE RECEIVED |
| 2004-10-14 | USE AMENDMENT FILED |
| 2004-10-27 | STATEMENT OF USE PROCESSING COMPLETE |
| 2004-11-09 | ALLOWED PRINCIPAL REGISTER - SOU ACCEPTED |
| 2004-11-24 | ASSIGNED TO LIE |
| 2004-11-24 | LAW OFFICE REGISTRATION REVIEW COMPLETED |
| 2005-02-01 | REGISTERED-PRINCIPAL REGISTER |
| 2007-05-23 | ASSIGNMENT OF OWNERSHIP NOT UPDATED AUTOMATICALLY |
| 2007-05-23 | ASSIGNMENT OF OWNERSHIP NOT UPDATED AUTOMATICALLY |
| 2011-03-01 | TEAS CHANGE OF OWNER ADDRESS RECEIVED |
| 2011-03-01 | APPLICANT/CORRESPONDENCE CHANGES (NON-RESPONSIVE) ENTERED |
| 2011-03-01 | TEAS REVOKE/APPOINT ATTORNEY RECEIVED |
| 2011-03-01 | ATTORNEY REVOKED AND/OR APPOINTED |
| 2011-09-02 | CANCELLED SEC. 8 (6-YR) |