CITYPETS - Trademark Details
Status: 800 - Registered And Renewed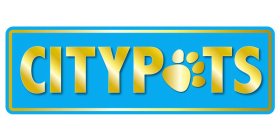 Registration Number
3994768
Status
800 - Registered And Renewed
Registration Number
3994768
Registration Date
2011-07-12
Mark Drawing
3000 - Illustration: Drawing or design which also includes word(s)/ letter(s)/number(s) Typeset
Design Searches
031301, 261120, 261121, 270303 - Paws, feet, pawprints, footprints. Rectangles inside another rectangle. Rectangles that are completely or partially shaded. Representations of animals or parts of animals forming letters or numerals, including punctuation.
Published for Opposition Date
2010-10-19
Law Office Assigned Location Code
L60
Employee Name
GOLD, BARBARA A
Statements
Indication of Colors claimed
The color(s) blue and yellow is/are claimed as a feature of the mark.
Description of Mark
The mark consists of the term, "CITYPETS" in yellow, with the design of a yellow animal paw representing the letter "e" in "pets," within a yellow round-sided rectangle design, within a shaded blue rectangle with rounded sides.
Goods and Services
Clothing for domestic pets; garments for domestic pets; domestic pet clothing
Goods and Services
[Beds for household pets; portable beds for household pets]
Goods and Services
Pet feeding bowls
Goods and Services
Pet toys
Classification Information
Current Trademark Owners
Party Type
30 - Original Registrant
Legal Entity Type
03 - Corporation
Trademark Owner History
Party Type
30 - Original Registrant
Legal Entity Type
03 - Corporation
Party Type
20 - Owner at Publication
Legal Entity Type
03 - Corporation
Party Type
10 - Original Applicant
Legal Entity Type
03 - Corporation
Correspondences
Name
Lindsay Cohen Schneider
Prior Registrations
| | |
| --- | --- |
| Relationship Type | Reel Number |
| Continuity Parent | 77865645 |
Trademark Events
| | |
| --- | --- |
| Event Date | Event Description |
| 2009-11-09 | NEW APPLICATION ENTERED IN TRAM |
| 2009-11-12 | NEW APPLICATION OFFICE SUPPLIED DATA ENTERED IN TRAM |
| 2009-11-13 | NOTICE OF DESIGN SEARCH CODE MAILED |
| 2010-01-17 | ASSIGNED TO EXAMINER |
| 2010-01-29 | NON-FINAL ACTION WRITTEN |
| 2010-01-29 | NON-FINAL ACTION E-MAILED |
| 2010-01-29 | NOTIFICATION OF NON-FINAL ACTION E-MAILED |
| 2010-07-15 | TEAS RESPONSE TO OFFICE ACTION RECEIVED |
| 2010-07-15 | CORRESPONDENCE RECEIVED IN LAW OFFICE |
| 2010-07-16 | TEAS/EMAIL CORRESPONDENCE ENTERED |
| 2010-08-27 | EXAMINERS AMENDMENT -WRITTEN |
| 2010-08-27 | EXAMINERS AMENDMENT E-MAILED |
| 2010-08-27 | NOTIFICATION OF EXAMINERS AMENDMENT E-MAILED |
| 2010-08-27 | EXAMINER'S AMENDMENT ENTERED |
| 2010-08-27 | APPROVED FOR PUB - PRINCIPAL REGISTER |
| 2010-09-09 | ASSIGNED TO LIE |
| 2010-09-10 | LAW OFFICE PUBLICATION REVIEW COMPLETED |
| 2010-10-19 | PUBLISHED FOR OPPOSITION |
| 2010-10-19 | OFFICIAL GAZETTE PUBLICATION CONFIRMATION E-MAILED |
| 2010-10-26 | TEAS REVOKE/APP/CHANGE ADDR OF ATTY/DOM REP RECEIVED |
| 2010-10-26 | ATTORNEY/DOM.REP.REVOKED AND/OR APPOINTED |
| 2010-12-14 | NOA E-MAILED - SOU REQUIRED FROM APPLICANT |
| 2011-05-09 | TEAS REQUEST TO DIVIDE RECEIVED |
| 2011-05-09 | TEAS STATEMENT OF USE RECEIVED |
| 2011-05-11 | CASE ASSIGNED TO INTENT TO USE PARALEGAL |
| 2011-05-12 | ITU OFFICE ACTION ISSUED FOR DIVISIONAL REQUEST |
| 2011-05-13 | TEAS RESPONSE TO OFFICE ACTION RECEIVED |
| 2011-05-13 | RESPONSE TO ITU OFFICE ACTION ENTERED |
| 2011-05-09 | DIVISIONAL REQUEST RECEIVED |
| 2011-05-23 | DIVISIONAL PROCESSING COMPLETE |
| 2011-05-09 | USE AMENDMENT FILED |
| 2011-05-23 | STATEMENT OF USE PROCESSING COMPLETE |
| 2011-05-24 | NOTICE OF DESIGN SEARCH CODE MAILED |
| 2011-06-02 | ALLOWED PRINCIPAL REGISTER - SOU ACCEPTED |
| 2011-06-09 | LAW OFFICE REGISTRATION REVIEW COMPLETED |
| 2011-06-10 | NOTICE OF ACCEPTANCE OF STATEMENT OF USE E-MAILED |
| 2011-07-12 | REGISTERED-PRINCIPAL REGISTER |
| 2016-09-06 | TEAS REVOKE/APP/CHANGE ADDR OF ATTY/DOM REP RECEIVED |
| 2016-09-06 | ATTORNEY/DOM.REP.REVOKED AND/OR APPOINTED |
| 2017-07-12 | TEAS CHANGE OF CORRESPONDENCE RECEIVED |
| 2017-07-12 | TEAS SECTION 8 & 15 RECEIVED |
| 2017-08-17 | CASE ASSIGNED TO POST REGISTRATION PARALEGAL |
| 2017-08-18 | POST REGISTRATION ACTION MAILED - SEC. 8 & 15 |
| 2017-08-29 | TEAS WITHDRAWAL OF ATTORNEY RECEIVED-FIRM RETAINS |
| 2017-08-29 | TEAS RESPONSE TO OFFICE ACTION-POST REG RECEIVED |
| 2017-08-30 | REGISTERED - SEC. 8 (6-YR) ACCEPTED & SEC. 15 ACK. |
| 2017-08-30 | NOTICE OF ACCEPTANCE OF SEC. 8 & 15 - MAILED |
| 2019-08-06 | TEAS REVOKE/APP/CHANGE ADDR OF ATTY/DOM REP RECEIVED |
| 2019-08-06 | ATTORNEY/DOM.REP.REVOKED AND/OR APPOINTED |
| 2020-07-12 | COURTESY REMINDER - SEC. 8 (10-YR)/SEC. 9 E-MAILED |
| 2021-07-12 | TEAS SECTION 8 & 9 RECEIVED |
| 2021-12-07 | CASE ASSIGNED TO POST REGISTRATION PARALEGAL |
| 2021-12-07 | REGISTERED - PARTIAL SEC. 8 (10-YR) ACCEPTED |
| 2021-12-07 | REGISTERED - SEC. 9 GRANTED/CHECK RECORD FOR SEC. 8 |
| 2021-12-07 | REGISTERED AND RENEWED (FIRST RENEWAL - 10 YRS) |
| 2021-12-07 | NOTICE OF ACCEPTANCE OF SEC. 8 - E-MAILED |
| 2021-12-07 | TEAS CHANGE OF OWNER ADDRESS RECEIVED |
| 2021-12-07 | TEAS REVOKE/APP/CHANGE ADDR OF ATTY/DOM REP RECEIVED |
| 2021-12-07 | ATTORNEY/DOM.REP.REVOKED AND/OR APPOINTED |
| 2021-12-07 | TEAS WITHDRAWAL AS DOMESTIC REPRESENTATIVE RECEIVED |
| 2021-12-07 | TEAS CHANGE OF CORRESPONDENCE RECEIVED |
| 2021-12-07 | APPLICANT/CORRESPONDENCE CHANGES (NON-RESPONSIVE) ENTERED |