100% ORGANIC COTTON - Trademark Details
Status: 710 - Cancelled - Section 8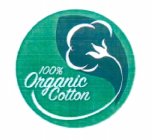 Registration Number
4075681
Word Mark
100% ORGANIC COTTON
Status
710 - Cancelled - Section 8
Registration Number
4075681
Registration Date
2011-12-27
Mark Drawing
3000 - Illustration: Drawing or design which also includes word(s)/ letter(s)/number(s) Typeset
Design Searches
051308, 260121 - Cotton plants. Circles that are totally or partially shaded.
Published for Opposition Date
2011-10-11
Law Office Assigned Location Code
L10
Employee Name
ABRAMS, JACQUELINE WIL
Statements
Indication of Colors claimed
The color(s) green and white is/are claimed as a feature of the mark.
Disclaimer with Predetermined Text
THE WORDS "100% ORGANIC COTTON"
Description of Mark
The mark consists of the stylized words "100% Organic Cotton" together with a stylized dark green and white cotton bud design enclosed within a lighter green circle.
Goods and Services
Apparel, namely, men's, lady's, boy's, and girl's tee shirts, underwear, hooded sweatshirts, and sweatpants, made in whole or part of 100% organic cotton
Pseudo Mark
100 PERCENT ORGANIC COTTON
Classification Information
International Class
025
- Clothing, footwear, headgear. - Clothing, footwear, headgear.
Class Status Code
2 - Sec. 8 - Entire Registration
Class Status Date
2018-08-03
First Use Anywhere Date
2007-08-22
First Use In Commerce Date
2008-04-01
Correspondences
Address
Please log in with your Justia account to see this address.
Trademark Events
| | |
| --- | --- |
| Event Date | Event Description |
| 2010-03-05 | NEW APPLICATION ENTERED IN TRAM |
| 2010-03-05 | NEW APPLICATION OFFICE SUPPLIED DATA ENTERED IN TRAM |
| 2010-03-06 | NOTICE OF DESIGN SEARCH CODE MAILED |
| 2010-06-04 | ASSIGNED TO EXAMINER |
| 2010-06-04 | NON-FINAL ACTION WRITTEN |
| 2010-06-04 | NON-FINAL ACTION E-MAILED |
| 2010-06-04 | NOTIFICATION OF NON-FINAL ACTION E-MAILED |
| 2010-12-03 | TEAS RESPONSE TO OFFICE ACTION RECEIVED |
| 2010-12-30 | ASSIGNED TO LIE |
| 2010-12-30 | CORRESPONDENCE RECEIVED IN LAW OFFICE |
| 2010-12-30 | TEAS/EMAIL CORRESPONDENCE ENTERED |
| 2011-01-06 | APPROVED FOR PUB - PRINCIPAL REGISTER |
| 2011-01-26 | LAW OFFICE PUBLICATION REVIEW COMPLETED |
| 2011-02-04 | WITHDRAWN FROM PUB - OG REVIEW QUERY |
| 2011-02-24 | PREVIOUS ALLOWANCE COUNT WITHDRAWN |
| 2011-03-04 | NON-FINAL ACTION WRITTEN |
| 2011-03-04 | NON-FINAL ACTION E-MAILED |
| 2011-03-04 | NOTIFICATION OF NON-FINAL ACTION E-MAILED |
| 2011-09-02 | TEAS RESPONSE TO OFFICE ACTION RECEIVED |
| 2011-09-02 | CORRESPONDENCE RECEIVED IN LAW OFFICE |
| 2011-09-02 | TEAS/EMAIL CORRESPONDENCE ENTERED |
| 2011-09-02 | APPROVED FOR PUB - PRINCIPAL REGISTER |
| 2011-09-07 | LAW OFFICE PUBLICATION REVIEW COMPLETED |
| 2011-10-11 | PUBLISHED FOR OPPOSITION |
| 2011-10-11 | OFFICIAL GAZETTE PUBLICATION CONFIRMATION E-MAILED |
| 2011-12-27 | REGISTERED-PRINCIPAL REGISTER |
| 2016-12-27 | COURTESY REMINDER - SEC. 8 (6-YR) E-MAILED |
| 2018-08-03 | CANCELLED SEC. 8 (6-YR) |