WHERE THE FUTURE IN HEALTHCARE IS NOW - Trademark Details
Status: 710 - Cancelled - Section 8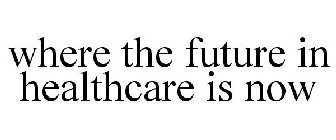 Registration Number
4403590
Word Mark
WHERE THE FUTURE IN HEALTHCARE IS NOW
Status
710 - Cancelled - Section 8
Registration Number
4403590
Registration Date
2013-09-17
Mark Drawing
4000 - Standard character mark Typeset
Published for Opposition Date
2010-10-26
Law Office Assigned Location Code
O20
Employee Name
HENRY, NAKIA D
Statements
Disclaimer with Predetermined Text
"HEALTHCARE"
Goods and Services
Providing web conferencing services to coordinate and conduct video appointments and e-mail consultations for patients, health care professionals, and transmission of codes, records, procedures
Goods and Services
Remote monitoring of data indicative of the medical health or condition of an individual or group of individuals in the nature of medical, health care and pharmaceutical codes, records, tests, procedures, techniques and results; facilitating and assisting with the process of prescribing medications online, namely, interactive medical monitoring and alert service for reminding clients of medical information, namely, medicinal dosage, allergic sensitivity, and prescription refills; providing medical, mental health, medicine, pharmaceutical and health care news and information via the Internet
Pseudo Mark
WHERE THE FUTURE IN HEALTH CARE IS NOW
Classification Information
International Class
038
- Telecommunications. - Telecommunications.
US Class Codes
100, 101, 104
Class Status Code
2 - Sec. 8 - Entire Registration
Class Status Date
2020-06-05
First Use Anywhere Date
2013-03-28
First Use In Commerce Date
2013-03-28
Correspondences
Address
Please log in with your Justia account to see this address.
Trademark Events
| | |
| --- | --- |
| Event Date | Event Description |
| 2009-12-03 | NEW APPLICATION ENTERED IN TRAM |
| 2009-12-04 | NEW APPLICATION OFFICE SUPPLIED DATA ENTERED IN TRAM |
| 2009-12-05 | NOTICE OF PSEUDO MARK MAILED |
| 2010-03-03 | ASSIGNED TO EXAMINER |
| 2010-03-13 | NON-FINAL ACTION WRITTEN |
| 2010-03-13 | NON-FINAL ACTION E-MAILED |
| 2010-03-13 | NOTIFICATION OF NON-FINAL ACTION E-MAILED |
| 2010-09-13 | EXAMINERS AMENDMENT -WRITTEN |
| 2010-09-13 | EXAMINERS AMENDMENT E-MAILED |
| 2010-09-13 | NOTIFICATION OF EXAMINERS AMENDMENT E-MAILED |
| 2010-09-13 | EXAMINER'S AMENDMENT ENTERED |
| 2010-09-13 | APPROVED FOR PUB - PRINCIPAL REGISTER |
| 2010-09-20 | ASSIGNED TO LIE |
| 2010-09-20 | LAW OFFICE PUBLICATION REVIEW COMPLETED |
| 2010-10-26 | PUBLISHED FOR OPPOSITION |
| 2010-10-26 | OFFICIAL GAZETTE PUBLICATION CONFIRMATION E-MAILED |
| 2010-12-21 | NOA E-MAILED - SOU REQUIRED FROM APPLICANT |
| 2011-06-21 | TEAS EXTENSION RECEIVED |
| 2011-06-21 | EXTENSION 1 FILED |
| 2011-06-21 | EXTENSION 1 GRANTED |
| 2011-06-23 | NOTICE OF APPROVAL OF EXTENSION REQUEST E-MAILED |
| 2011-12-19 | TEAS EXTENSION RECEIVED |
| 2012-01-19 | CASE ASSIGNED TO INTENT TO USE PARALEGAL |
| 2011-12-19 | EXTENSION 2 FILED |
| 2012-01-19 | EXTENSION 2 GRANTED |
| 2012-01-20 | NOTICE OF APPROVAL OF EXTENSION REQUEST E-MAILED |
| 2012-06-21 | TEAS EXTENSION RECEIVED |
| 2012-06-21 | EXTENSION 3 FILED |
| 2012-08-01 | EXTENSION 3 GRANTED |
| 2012-08-02 | NOTICE OF APPROVAL OF EXTENSION REQUEST E-MAILED |
| 2012-12-21 | TEAS EXTENSION RECEIVED |
| 2012-12-21 | EXTENSION 4 FILED |
| 2012-12-27 | EXTENSION 4 GRANTED |
| 2012-12-28 | NOTICE OF APPROVAL OF EXTENSION REQUEST E-MAILED |
| 2013-06-21 | TEAS STATEMENT OF USE RECEIVED |
| 2013-06-21 | USE AMENDMENT FILED |
| 2013-07-06 | STATEMENT OF USE PROCESSING COMPLETE |
| 2013-08-05 | ALLOWED PRINCIPAL REGISTER - SOU ACCEPTED |
| 2013-08-09 | LAW OFFICE REGISTRATION REVIEW COMPLETED |
| 2013-08-10 | NOTICE OF ACCEPTANCE OF STATEMENT OF USE E-MAILED |
| 2013-09-17 | REGISTERED-PRINCIPAL REGISTER |
| 2018-09-17 | COURTESY REMINDER - SEC. 8 (6-YR) E-MAILED |
| 2020-06-05 | CANCELLED SEC. 8 (6-YR) |