LICENSED DPA COUNTERMEASURES - Trademark Details
Status: 701 - Section 8-Accepted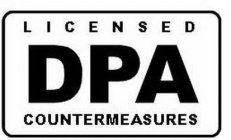 Registration Number
4269935
Word Mark
LICENSED DPA COUNTERMEASURES
Status
701 - Section 8-Accepted
Registration Number
4269935
Registration Date
2013-01-01
Mark Drawing
3000 - Illustration: Drawing or design which also includes word(s)/ letter(s)/number(s) Typeset
Design Searches
261102 - Plain single line rectangles.
Law Office Assigned Location Code
L80
Employee Name
REINHART, MEGHAN M
Statements
Indication of Colors claimed
Color is not claimed as a feature of the mark.
Certification Mark Statement
The certification mark, as used by authorized entities, certifies conformance with the technical requirements established by the certifier concerning electronic device security.
Description of Mark
The mark consists of the word "LICENSED" written in a small font, followed by the letters "DPA" written in a large font underneath the word "LICENSED", and then followed by the word "COUNTERMEASURES" in a small font underneath the letters "DPA", all set within a thin, round-edged rectangle.
Goods and Services
computer hardware; blank smart cards; encoded smart cards containing programming used to secure transactions; smart card readers; SIM cards; SIM card readers; memory cards; memory card readers; set-top boxes; electronic payment terminals; self-service terminals; integrated circuits; microprocessors; central processing units; integrated circuit modules; printer cartridges; downloadable electronic publications in the nature of manuals, data sheets and white papers in the field of electronic device security
Classification Information
International Class
A
- Goods Certification Mark. - Goods Certification Mark.
Class Status Code
6 - Active
Class Status Date
2009-11-03
First Use Anywhere Date
2010-01-00
First Use In Commerce Date
2010-01-00
Current Trademark Owners
Party Type
30 - Original Registrant
Legal Entity Type
03 - Corporation
Trademark Owner History
Party Type
30 - Original Registrant
Legal Entity Type
03 - Corporation
Party Type
10 - Original Applicant
Legal Entity Type
03 - Corporation
Trademark Events
| | |
| --- | --- |
| Event Date | Event Description |
| 2009-11-03 | NEW APPLICATION ENTERED IN TRAM |
| 2009-11-03 | NEW APPLICATION OFFICE SUPPLIED DATA ENTERED IN TRAM |
| 2009-11-04 | NOTICE OF DESIGN SEARCH CODE MAILED |
| 2010-02-04 | ASSIGNED TO EXAMINER |
| 2010-02-04 | NON-FINAL ACTION WRITTEN |
| 2010-02-04 | NON-FINAL ACTION E-MAILED |
| 2010-02-04 | NOTIFICATION OF NON-FINAL ACTION E-MAILED |
| 2010-05-03 | ASSIGNED TO EXAMINER |
| 2010-08-04 | TEAS RESPONSE TO OFFICE ACTION RECEIVED |
| 2010-08-20 | ASSIGNED TO LIE |
| 2010-08-20 | CORRESPONDENCE RECEIVED IN LAW OFFICE |
| 2010-08-20 | TEAS/EMAIL CORRESPONDENCE ENTERED |
| 2010-09-16 | FINAL REFUSAL WRITTEN |
| 2010-09-16 | FINAL REFUSAL E-MAILED |
| 2010-09-16 | NOTIFICATION OF FINAL REFUSAL EMAILED |
| 2011-03-16 | TEAS AMENDMENT OF USE RECEIVED |
| 2011-03-16 | TEAS REQUEST FOR RECONSIDERATION RECEIVED |
| 2011-03-16 | CORRESPONDENCE RECEIVED IN LAW OFFICE |
| 2011-03-17 | TEAS/EMAIL CORRESPONDENCE ENTERED |
| 2011-04-11 | NON-FINAL ACTION WRITTEN |
| 2011-04-11 | NON-FINAL ACTION E-MAILED |
| 2011-04-11 | NOTIFICATION OF NON-FINAL ACTION E-MAILED |
| 2011-04-13 | USE AMENDMENT FILED |
| 2011-04-13 | AMENDMENT TO USE PROCESSING COMPLETE |
| 2011-04-13 | USE AMENDMENT ACCEPTED |
| 2011-04-14 | NOTICE OF ACCEPTANCE OF AMENDMENT TO ALLEGE USE E-MAILED |
| 2011-10-05 | TEAS RESPONSE TO OFFICE ACTION RECEIVED |
| 2011-10-12 | CORRESPONDENCE RECEIVED IN LAW OFFICE |
| 2011-10-12 | TEAS/EMAIL CORRESPONDENCE ENTERED |
| 2011-11-03 | NON-FINAL ACTION WRITTEN |
| 2011-11-03 | NON-FINAL ACTION E-MAILED |
| 2011-11-03 | NOTIFICATION OF NON-FINAL ACTION E-MAILED |
| 2012-05-03 | TEAS RESPONSE TO OFFICE ACTION RECEIVED |
| 2012-05-03 | CORRESPONDENCE RECEIVED IN LAW OFFICE |
| 2012-05-04 | TEAS/EMAIL CORRESPONDENCE ENTERED |
| 2012-05-25 | NON-FINAL ACTION WRITTEN |
| 2012-05-25 | NON-FINAL ACTION E-MAILED |
| 2012-05-25 | NOTIFICATION OF NON-FINAL ACTION E-MAILED |
| 2012-11-26 | TEAS RESPONSE TO OFFICE ACTION RECEIVED |
| 2012-11-26 | CORRESPONDENCE RECEIVED IN LAW OFFICE |
| 2012-11-27 | TEAS/EMAIL CORRESPONDENCE ENTERED |
| 2012-11-28 | APPROVED FOR REGISTRATION SUPPLEMENTAL REGISTER |
| 2012-11-29 | LAW OFFICE PUBLICATION REVIEW COMPLETED |
| 2013-01-01 | REGISTERED-SUPPLEMENTAL REGISTER |
| 2013-09-28 | TEAS CHANGE OF OWNER ADDRESS RECEIVED |
| 2013-09-28 | APPLICANT/CORRESPONDENCE CHANGES (NON-RESPONSIVE) ENTERED |
| 2018-01-01 | COURTESY REMINDER - SEC. 8 (6-YR) E-MAILED |
| 2019-06-28 | TEAS SECTION 8 RECEIVED |
| 2019-06-28 | TEAS CHANGE OF CORRESPONDENCE RECEIVED |
| 2019-07-03 | CASE ASSIGNED TO POST REGISTRATION PARALEGAL |
| 2019-07-11 | CASE ASSIGNED TO POST REGISTRATION PARALEGAL |
| 2019-07-11 | POST REGISTRATION ACTION MAILED - SEC. 8 |
| 2020-01-06 | TEAS REVOKE/APP/CHANGE ADDR OF ATTY/DOM REP RECEIVED |
| 2020-01-06 | ATTORNEY/DOM.REP.REVOKED AND/OR APPOINTED |
| 2020-01-07 | TEAS RESPONSE TO OFFICE ACTION-POST REG RECEIVED |
| 2020-01-10 | REGISTERED - SEC. 8 (6-YR) ACCEPTED |
| 2020-01-10 | NOTICE OF ACCEPTANCE OF SEC. 8 - E-MAILED |
| 2020-12-21 | TEAS CHANGE OF OWNER ADDRESS RECEIVED |
| 2020-12-21 | TEAS REVOKE/APP/CHANGE ADDR OF ATTY/DOM REP RECEIVED |
| 2020-12-21 | ATTORNEY/DOM.REP.REVOKED AND/OR APPOINTED |
| 2020-12-21 | TEAS CHANGE OF CORRESPONDENCE RECEIVED |
| 2020-12-21 | APPLICANT/CORRESPONDENCE CHANGES (NON-RESPONSIVE) ENTERED |
| 2021-03-26 | TEAS REVOKE/APP/CHANGE ADDR OF ATTY/DOM REP RECEIVED |
| 2021-03-26 | ATTORNEY/DOM.REP.REVOKED AND/OR APPOINTED |
| 2021-03-26 | TEAS WITHDRAWAL OF ATTORNEY RECEIVED-FIRM RETAINS |
| 2021-03-26 | TEAS CHANGE OF CORRESPONDENCE RECEIVED |
| 2022-01-01 | COURTESY REMINDER - SEC. 8 (10-YR)/SEC. 9 E-MAILED |