VMI VILLEMILLE ROBUSTO HAND MADE CIGARS - Trademark Details
Status: 601 - Abandoned - Express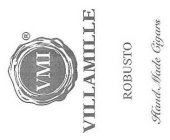 Word Mark
VMI VILLEMILLE ROBUSTO HAND MADE CIGARS
Status
601 - Abandoned - Express
Mark Drawing
3000 - Illustration: Drawing or design which also includes word(s)/ letter(s)/number(s) Typeset
Design Searches
240501, 260121, 260128 - Circular or elliptical seals. Circles that are totally or partially shaded. Miscellaneous circular designs with an irregular circumference.
Law Office Assigned Location Code
L90
Employee Name
CROSS, TRACY L
Statements
Indication of Colors claimed
Color is not claimed as a feature of the mark.
Description of Mark
The mark consists of 24.05.01 circular seal ; literal element VMI within circular seal; 26.01.07 circle with decorative border; literal element VILLEMILLE outside and below circular seal .
Classification Information
International Class
034
- Tobacco; smokers' articles; matches. - Tobacco; smokers' articles; matches.
US Class Codes
002, 008, 009, 017
Class Status Code
6 - Active
Class Status Date
2009-10-19
Correspondences
Address
Please log in with your Justia account to see this address.
Trademark Events
| | |
| --- | --- |
| Event Date | Event Description |
| 2009-10-19 | NEW APPLICATION ENTERED IN TRAM |
| 2009-10-19 | NEW APPLICATION OFFICE SUPPLIED DATA ENTERED IN TRAM |
| 2009-10-20 | NOTICE OF DESIGN SEARCH CODE MAILED |
| 2009-11-11 | AUTOMATIC UPDATE OF ASSIGNMENT OF OWNERSHIP |
| 2009-11-18 | AUTOMATIC UPDATE OF ASSIGNMENT OF OWNERSHIP |
| 2009-12-04 | ASSIGNED TO EXAMINER |
| 2009-12-13 | NON-FINAL ACTION WRITTEN |
| 2009-12-13 | NON-FINAL ACTION E-MAILED |
| 2009-12-13 | NOTIFICATION OF NON-FINAL ACTION E-MAILED |
| 2010-06-01 | TEAS EXPRESS ABANDONMENT RECEIVED |
| 2010-06-02 | ABANDONMENT - EXPRESS MAILED |
| 2010-06-02 | ABANDONMENT NOTICE MAILED - EXPRESS ABANDONMENT |
| 2018-05-02 | TEAS REVOKE/APP/CHANGE ADDR OF ATTY/DOM REP RECEIVED |
| 2018-05-02 | ATTORNEY/DOM.REP.REVOKED AND/OR APPOINTED |