Image Trademark with Serial Number 77708194
Status: 800 - Registered And Renewed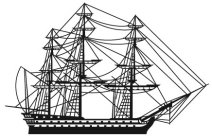 Registration Number
3830178
Status
800 - Registered And Renewed
Registration Number
3830178
Registration Date
2010-08-10
Mark Drawing
2000 - Illustration: Drawing or design without any word(s)/letter(s)/ number(s) Typeset
Design Searches
180704 - Ships with two or three masts, including brigs, clippers and schooners.
Published for Opposition Date
2010-05-25
Law Office Assigned Location Code
L70
Employee Name
HOFFMAN, DAVID AARON
Statements
Indication of Colors claimed
Color is not claimed as a feature of the mark.
Description of Mark
The mark consists of a ship with 3 masts.
Goods and Services
Downloadable electronic publications in the nature of newsletters, reports, guides, charts, worksheets, forms, instructional materials, educational materials, presentations, bulletins, pamphlets, and booklets in the fields of finance, saving, investing, investments, investment brokerage, and asset management [; computer software for use in electronic trading of securities and portfolio management in the fields of finance, saving, investing, investments, investment brokerage, and asset management; computer software for use by financial services providers to prepare documents relating to the dissemination of information; computer software for use by financial services providers to conduct surveys and to assemble and manage information relating to retirement plans; computer software for managing the distribution of information about retirement plans to employees; computer software for producing printed informational materials and records in the field of retirement plans; computer software for use by businesses to manage employee compensation planning; computer software for managing investment portfolios; computer software for maintaining, managing and reporting financial information; computer software for use by financial services providers to obtain investment transaction and account information; computer software for initiating, processing and tracking financial transactions; computer software for use by investment fund administrators to enter securities trading orders, to receive confirmation of such orders, and to obtain price information, balance information and other data about funds and accounts; computer software for use in obtaining access to, and enhancing the user's experience of, an internet web site which provides news, information, transaction capability and online financial services; computer software for use by retirement plan sponsors to transmit and receive account information and other information by means of an online connection; computer software for use by financial investment advisors in portfolio allocation, sector analysis, portfolio modeling and portfolio rebalancing]
Goods and Services
Publications and printed matter, namely, newsletters, reports, books, guides, charts, worksheets, forms, instructional materials, educational materials, presentations, bulletins, pamphlets, booklets, posters, and leaflets in the fields of finance, saving, investing, investments, investment brokerage, and asset management [ ; computer software user's manuals for computer software used in the fields of finance, saving, investing, investments, investment brokerage, and asset management]
Goods and Services
Providing an interactive website that provides commercial financial transaction data, transaction capability, account management, financial reporting, accounting features and related reference information; [ providing reports of payroll related tax information to governmental agencies and to employers; accounting and bookkeeping services;] providing business information to financial services providers by means of an internet web site in the field of business marketing; [ business consulting services in the field of employee compensation;] consulting services in the field of marketing financial services; market research services rendered to financial services providers; marketing services rendered to members of the financial services industry, namely, creating and designing promotional materials for use by financial services providers and assisting financial services providers to develop their own marketing plans and to implement their own direct mail campaigns, advertising campaigns and public relations campaigns; business marketing and direct mail consulting services in the financial field; [providing facilities for business meetings; ]promoting public awareness of the need for investment planning; [ business outsourcing services; ] business outsourcing and back-office support services, namely, bookkeeping and administration of operational support services for investment advisors; financial records management; database management of data records containing customer and business information; data processing services; business management services, namely, client account information management services [; marketing consultation services; development of marketing strategies and concepts for use by investment advisors in brochures, advertisements, web sites and presentations; tax consultation]
Goods and Services
Full line of investment services; house mark for providing a full range of services in the investment and financial fields, namely, mutual fund investment services, exchange-traded funds investment services, investment and insurance brokerage, investment management, asset management, investment advice and advisory services, securities lending, financial, investment, and actuarial consultation, financial and investment research, banking, administration of college savings plans, charitable fund raising, donor-advised investment of funds for charitable purposes, administration of charitable giving programs offering a variety of financial investment options, retirement planning, and annuities investment; providing information in the financial and investment fields; providing information in the financial and investment fields through electronic means; providing an interactive website and online computer database in the fields of investing, finance, saving, financial planning, financial news, financial information, analysis in the fields of investing, finance, and financial planning, financial portfolio management, financial decision making, investment research, monitoring investment value and performance of investments, analyzing investment performance, evaluating asset allocation, risk tolerance, financial alternative plans and investment time frames; administration of employee benefit plans, defined benefit plans, defined contribution plans and employee pension plans concerning insurance and finance; financial planning and investment advisory services; [ financial, insurance and actuarial consulting services; debit card services; ]check processing, checkwriting and bill payment services; assisting others with the completion of financial transactions for mutual funds, exchange-traded funds, stocks, bonds, securities and equities; cash management services; electronic funds transfer and payment services; providing information by phone and by online means in the fields of investment account information and financial research; research in the fields of finance, saving, investing, investments, investment brokerage, and asset management; donor advised investment of funds for charitable purposes; [ charitable fund raising services;] automated securities trade execution services; financial administration and investment management services rendered to non-profit organizations; financial services rendered primarily to states, municipalities and tax exempt organizations, namely, providing financial news and information and investment account information by means of the internet; [ life insurance and annuity services; ] financial risk management services; estate planning, trust management and financial administration of retirement plans
Goods and Services
Educational services, namely, workshops, classes, seminars and conferences in the fields of investing, finance, saving, business, financial planning, portfolio management, retirement planning, money management, investment strategy, and asset allocation and the distribution of course materials in connection therewith; providing webcasts in the fields of investing, finance, saving, business, financial planning, portfolio management, retirement planning, money management, investment strategy, and asset allocation; providing podcasts in the fields of investing, finance, saving, business, financial planning, portfolio management, retirement planning, money management, investment strategy, and asset allocation; providing online publications in the nature of newsletters, reports, guides, charts, worksheets, forms, instructional materials, educational materials, presentations, bulletins, pamphlets, and booklets in the fields of finance, saving, investing, investments, investment brokerage, and asset management; providing online seminars and workshops in the fields of investing, finance, saving, business, financial planning, portfolio management, retirement planning, money management, investment strategy, and asset allocation; providing information in the field of financial education to financial services providers by means of an internet web site; development and dissemination of educational materials for others in the field of financial services and investing [; entertainment and educational services in the nature of periodic television programs concerning financial topics]
Classification Information
Current Trademark Owners
Party Type
30 - Original Registrant
Legal Entity Type
03 - Corporation
Trademark Owner History
Party Type
30 - Original Registrant
Legal Entity Type
03 - Corporation
Party Type
20 - Owner at Publication
Legal Entity Type
03 - Corporation
Party Type
10 - Original Applicant
Legal Entity Type
03 - Corporation
Madrid International Filings
Original Filing Date USPTO
2009-04-14
International Registration Number
1013190
International Registration Date
2009-04-14
International Status Code
498
International Renewal Date
2029-04-14
Madrid History Events
Date
Code
Description
2019-03-15
PEXNX
SUBSEQUENT DESIGNATION PROCESSED BY IB
2010-11-18
CBNAR
CEASING OF EFFECT REVIEWED - NO ACTION REQUIRED BY OFFICE
2018-12-20
SDSNT
SUBSEQUENT DESIGNATION SENT TO IB
2019-06-20
RENWL
INTERNATIONAL REGISTRATION RENEWED
2019-09-19
PEXNX
SUBSEQUENT DESIGNATION PROCESSED BY IB
2019-07-11
SDRCV
SUBSEQUENT DESIGNATION RECEIVED
2019-07-11
SDSNT
SUBSEQUENT DESIGNATION SENT TO IB
2009-04-14
NEWAP
NEW APPLICATION FOR IR RECEIVED
2009-04-15
MCERT
MANUALLY CERTIFIED
2009-04-15
APPST
IR CERTIFIED AND SENT TO IB
2009-05-01
IRREG
IRREGULARITY NOTICE RECEIVED FROM IB
2009-06-23
IRRCV
IRREGULARITY RESPONSE RECEIVED FROM APPLICANT
2009-06-24
IRRAC
RESPONSE TO IRREGULARITY REVIEWED AND ACCEPTED
2009-06-24
IRSNT
IRREGULARITY RESPONSE SENT TO IB
2009-10-09
CREAT
APPLICATION FOR IR REGISTERED BY IB
2019-08-05
IRREQ
IRREGULARITY NOTICE RECEIVED FROM IB (RESPONSE REQUIRED)
2010-11-10
CBPCP
PARTIAL CEASING OF EFFECT TO BE PROCESSED
2019-02-01
SDRCV
SUBSEQUENT DESIGNATION RECEIVED
2019-02-01
PEXNX
SUBSEQUENT DESIGNATION PROCESSED BY IB
2019-02-01
SDSNT
SUBSEQUENT DESIGNATION SENT TO IB
2018-12-19
SDRCV
SUBSEQUENT DESIGNATION RECEIVED
Trademark Events
| | |
| --- | --- |
| Event Date | Event Description |
| 2009-04-10 | NEW APPLICATION ENTERED IN TRAM |
| 2009-04-10 | NEW APPLICATION OFFICE SUPPLIED DATA ENTERED IN TRAM |
| 2009-04-11 | NOTICE OF DESIGN SEARCH CODE MAILED |
| 2009-05-12 | ASSIGNED TO EXAMINER |
| 2009-05-27 | NON-FINAL ACTION WRITTEN |
| 2009-05-27 | NON-FINAL ACTION E-MAILED |
| 2009-05-27 | NOTIFICATION OF NON-FINAL ACTION E-MAILED |
| 2009-11-25 | TEAS RESPONSE TO OFFICE ACTION RECEIVED |
| 2009-11-25 | CORRESPONDENCE RECEIVED IN LAW OFFICE |
| 2009-11-25 | TEAS/EMAIL CORRESPONDENCE ENTERED |
| 2009-11-25 | TEAS CHANGE OF CORRESPONDENCE RECEIVED |
| 2009-12-15 | EXAMINERS AMENDMENT -WRITTEN |
| 2009-12-15 | EXAMINERS AMENDMENT E-MAILED |
| 2009-12-15 | NOTIFICATION OF EXAMINERS AMENDMENT E-MAILED |
| 2009-12-15 | EXAMINER'S AMENDMENT ENTERED |
| 2009-12-16 | APPROVED FOR PUB - PRINCIPAL REGISTER |
| 2010-01-05 | ASSIGNED TO EXAMINER |
| 2010-01-06 | ASSIGNED TO LIE |
| 2010-01-06 | LAW OFFICE PUBLICATION REVIEW COMPLETED |
| 2010-01-15 | WITHDRAWN FROM PUB - OG REVIEW QUERY |
| 2010-01-21 | ASSIGNED TO EXAMINER |
| 2010-01-21 | PREVIOUS ALLOWANCE COUNT WITHDRAWN |
| 2010-01-21 | ASSIGNED TO EXAMINER |
| 2010-02-06 | NON-FINAL ACTION WRITTEN |
| 2010-02-06 | NON-FINAL ACTION E-MAILED |
| 2010-02-06 | NOTIFICATION OF NON-FINAL ACTION E-MAILED |
| 2010-03-29 | TEAS RESPONSE TO OFFICE ACTION RECEIVED |
| 2010-03-29 | CORRESPONDENCE RECEIVED IN LAW OFFICE |
| 2010-03-30 | TEAS/EMAIL CORRESPONDENCE ENTERED |
| 2010-04-07 | APPROVED FOR PUB - PRINCIPAL REGISTER |
| 2010-04-21 | ASSIGNED TO LIE |
| 2010-04-21 | LAW OFFICE PUBLICATION REVIEW COMPLETED |
| 2010-05-25 | PUBLISHED FOR OPPOSITION |
| 2010-05-25 | OFFICIAL GAZETTE PUBLICATION CONFIRMATION E-MAILED |
| 2010-08-10 | REGISTERED-PRINCIPAL REGISTER |
| 2015-08-10 | COURTESY REMINDER - SEC. 8 (6-YR) E-MAILED |
| 2016-06-21 | TEAS CHANGE OF CORRESPONDENCE RECEIVED |
| 2016-06-21 | TEAS SECTION 8 & 15 RECEIVED |
| 2016-09-01 | CASE ASSIGNED TO POST REGISTRATION PARALEGAL |
| 2016-09-01 | POST REGISTRATION ACTION MAILED - SEC. 8 & 15 |
| 2017-03-01 | TEAS RESPONSE TO OFFICE ACTION-POST REG RECEIVED |
| 2017-03-02 | POST REGISTRATION ACTION MAILED NO RESPONSE REQUIRED |
| 2017-03-02 | REGISTERED - PARTIAL SEC. 8 (6-YR) ACCEPTED & SEC. 15 ACK. |
| 2017-03-02 | NOTICE OF ACCEPTANCE OF SEC. 8 & 15 - E-MAILED |
| 2017-04-10 | POST REGISTRATION ACTION MAILED - SEC. 8 |
| 2017-09-18 | TEAS PETITION TO DIRECTOR RECEIVED |
| 2017-12-13 | ASSIGNED TO PETITION STAFF |
| 2018-01-12 | TEAS REVOKE/APP/CHANGE ADDR OF ATTY/DOM REP RECEIVED |
| 2018-01-12 | ATTORNEY/DOM.REP.REVOKED AND/OR APPOINTED |
| 2018-01-11 | COMMUNICATION RECEIVED FROM PETITIONER |
| 2018-01-18 | PETITION TO DIRECTOR - GRANTED |
| 2018-01-19 | REGISTERED - SEC. 8 (6-YR) ACCEPTED |
| 2018-01-19 | NOTICE OF ACCEPTANCE OF SEC. 8 - E-MAILED |
| 2018-09-07 | TEAS CHANGE OF CORRESPONDENCE RECEIVED |
| 2019-08-10 | COURTESY REMINDER - SEC. 8 (10-YR)/SEC. 9 E-MAILED |
| 2020-08-06 | TEAS SECTION 8 & 9 RECEIVED |
| 2020-09-16 | CASE ASSIGNED TO POST REGISTRATION PARALEGAL |
| 2020-09-19 | REGISTERED - SEC. 8 (10-YR) ACCEPTED/SEC. 9 GRANTED |
| 2020-09-19 | REGISTERED AND RENEWED (FIRST RENEWAL - 10 YRS) |
| 2020-09-19 | NOTICE OF ACCEPTANCE OF SEC. 8 & 9 - E-MAILED |