TOW N STOW - Trademark Details
Status: 710 - Cancelled - Section 8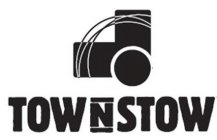 Registration Number
3923685
Status
710 - Cancelled - Section 8
Registration Number
3923685
Registration Date
2011-02-22
Mark Drawing
3000 - Illustration: Drawing or design which also includes word(s)/ letter(s)/number(s) Typeset
Design Searches
260121, 261113, 261116, 261121, 261709, 261713 - Circles that are totally or partially shaded. Two rectangles. Rectangles touching or intersecting. Rectangles that are completely or partially shaded. Curved line(s), band(s) or bar(s). Letters or words underlined and/or overlined by one or more strokes or lines.
Published for Opposition Date
2010-03-02
Law Office Assigned Location Code
L10
Employee Name
CLARK, ROBERT C
Statements
Indication of Colors claimed
Color is not claimed as a feature of the mark.
Disclaimer with Predetermined Text
"TOW N STOW"
Description of Mark
The mark consists of two solid rectangles intersecting at a right angle with a solid circle overlaying the intersection of the two rectangles and three arcs bisecting the ends of each rectangle with the words "TOW N STOW" underneath the design.
Goods and Services
Utility trailer comprising trailer body, wheels, axle and parts therefor, which converts to a storage unit
Classification Information
International Class
012
- Vehicles; apparatus for locomotion by land, air or water. - Vehicles; apparatus for locomotion by land, air or water.
US Class Codes
019, 021, 023, 031, 035, 044
Class Status Code
2 - Sec. 8 - Entire Registration
Class Status Date
2017-09-29
First Use Anywhere Date
2009-06-23
First Use In Commerce Date
2009-06-23
Correspondences
Address
Please log in with your Justia account to see this address.
Trademark Events
| | |
| --- | --- |
| Event Date | Event Description |
| 2009-04-07 | NEW APPLICATION ENTERED IN TRAM |
| 2009-04-07 | NEW APPLICATION OFFICE SUPPLIED DATA ENTERED IN TRAM |
| 2009-04-08 | NOTICE OF DESIGN SEARCH CODE AND PSEUDO MARK MAILED |
| 2009-06-22 | ASSIGNED TO EXAMINER |
| 2009-06-25 | NON-FINAL ACTION WRITTEN |
| 2009-06-25 | NON-FINAL ACTION MAILED |
| 2009-12-21 | TEAS RESPONSE TO OFFICE ACTION RECEIVED |
| 2009-12-21 | CORRESPONDENCE RECEIVED IN LAW OFFICE |
| 2009-12-22 | TEAS/EMAIL CORRESPONDENCE ENTERED |
| 2010-01-05 | APPROVED FOR PUB - PRINCIPAL REGISTER |
| 2010-01-28 | ASSIGNED TO LIE |
| 2010-01-28 | LAW OFFICE PUBLICATION REVIEW COMPLETED |
| 2010-02-10 | NOTICE OF PUBLICATION |
| 2010-03-02 | PUBLISHED FOR OPPOSITION |
| 2010-05-25 | NOA MAILED - SOU REQUIRED FROM APPLICANT |
| 2010-11-24 | TEAS STATEMENT OF USE RECEIVED |
| 2010-12-14 | CASE ASSIGNED TO INTENT TO USE PARALEGAL |
| 2010-11-24 | USE AMENDMENT FILED |
| 2010-12-14 | STATEMENT OF USE PROCESSING COMPLETE |
| 2010-12-21 | ALLOWED PRINCIPAL REGISTER - SOU ACCEPTED |
| 2011-01-18 | ASSIGNED TO LIE |
| 2011-01-20 | LAW OFFICE REGISTRATION REVIEW COMPLETED |
| 2011-01-21 | NOTICE OF ACCEPTANCE OF STATEMENT OF USE MAILED |
| 2011-02-22 | REGISTERED-PRINCIPAL REGISTER |
| 2017-09-29 | CANCELLED SEC. 8 (6-YR) |