WASHINGTON U IN ST. LOUIS - Trademark Details
Status: 710 - Cancelled - Section 8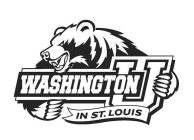 Registration Number
3672405
Word Mark
WASHINGTON U IN ST. LOUIS
Status
710 - Cancelled - Section 8
Registration Number
3672405
Registration Date
2009-08-25
Mark Drawing
3000 - Illustration: Drawing or design which also includes word(s)/ letter(s)/number(s) Typeset
Design Searches
030114, 240907 - Other bears (including polar bears or grizzly bears but not including teddy bears in 210111). Banners.
Published for Opposition Date
2009-06-09
Law Office Assigned Location Code
M10
Employee Name
SONNEBORN, TRICIA L
Statements
Indication of Colors claimed
Color is not claimed as a feature of the mark.
Description of Mark
The mark consists of a depiction of a bear and the stylized words "WASHINGTON U IN ST. LOUIS".
Goods and Services
clothing, namely, fleece jackets, caps, hats, t-shirts, sweatshirts, hooded sweatshirts, long-sleeved t-shirts [, and flip flops]
Pseudo Mark
WASHINGTON UNIVERSITY IN ST. LOUIS
Section 2(f) Limitation Statement
as to "IN ST. LOUIS"
Classification Information
International Class
025
- Clothing, footwear, headgear. - Clothing, footwear, headgear.
Class Status Code
2 - Sec. 8 - Entire Registration
Class Status Date
2020-03-27
First Use Anywhere Date
2007-05-00
First Use In Commerce Date
2007-05-00
Correspondences
Address
Please log in with your Justia account to see this address.
Prior Registrations
| | |
| --- | --- |
| Relationship Type | Reel Number |
| Prior Registration | 1549544 |
| Prior Registration | 2869224 |
| Prior Registration | 2966198 |
Trademark Events
| | |
| --- | --- |
| Event Date | Event Description |
| 2009-02-06 | NEW APPLICATION ENTERED IN TRAM |
| 2009-02-06 | NEW APPLICATION OFFICE SUPPLIED DATA ENTERED IN TRAM |
| 2009-02-07 | NOTICE OF DESIGN SEARCH CODE MAILED |
| 2009-04-21 | ASSIGNED TO EXAMINER |
| 2009-04-30 | EXAMINERS AMENDMENT -WRITTEN |
| 2009-04-30 | EXAMINERS AMENDMENT E-MAILED |
| 2009-04-30 | NOTIFICATION OF EXAMINERS AMENDMENT E-MAILED |
| 2009-04-30 | EXAMINER'S AMENDMENT ENTERED |
| 2009-05-05 | APPROVED FOR PUB - PRINCIPAL REGISTER |
| 2009-05-05 | ASSIGNED TO LIE |
| 2009-05-05 | LAW OFFICE PUBLICATION REVIEW COMPLETED |
| 2009-05-20 | NOTICE OF PUBLICATION |
| 2009-06-09 | PUBLISHED FOR OPPOSITION |
| 2009-08-25 | REGISTERED-PRINCIPAL REGISTER |
| 2015-08-25 | TEAS SECTION 8 & 15 RECEIVED |
| 2015-09-30 | CASE ASSIGNED TO POST REGISTRATION PARALEGAL |
| 2015-09-30 | REGISTERED - SEC. 8 (6-YR) ACCEPTED & SEC. 15 ACK. |
| 2015-09-30 | NOTICE OF ACCEPTANCE OF SEC. 8 & 15 - E-MAILED |
| 2018-08-25 | COURTESY REMINDER - SEC. 8 (10-YR)/SEC. 9 E-MAILED |
| 2019-02-01 | TEAS CHANGE OF CORRESPONDENCE RECEIVED |
| 2020-03-27 | CANCELLED SEC. 8 (10-YR)/EXPIRED SECTION 9 |