KRUG CLOS D'AMBONNAY - Trademark Details
Status: 602 - Abandoned-Failure To Respond Or Late Response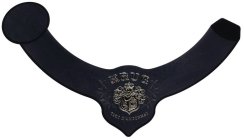 Word Mark
KRUG CLOS D'AMBONNAY
Status
602 - Abandoned-Failure To Respond Or Late Response
Mark Drawing
3000 - Illustration: Drawing or design which also includes word(s)/ letter(s)/number(s) Typeset
Design Searches
050104, 051525, 200310, 240102, 241101, 261701, 261705 - Climbing bushes and plants, including ivy and vines. Other decorations made of plants. Bottle label. Shields or crests with figurative elements contained therein or superimposed thereon. Crowns closed at the top. Straight line(s), band(s) or bar(s). Horizontal line(s), band(s) or bar(s).
Law Office Assigned Location Code
L80
Employee Name
DAWE III, WILLIAM H
Statements
Indication of Colors claimed
The color(s) black and gold is/are claimed as a feature of the mark.
Disclaimer with Predetermined Text
"CLOS"
Description of Mark
The mark consists of a wrap-around bottle label with a shield shape on the front and an oval on the back connected by a band. Inside the shield shape is a coat of arms consisting of a shield with a branch and leaf design on the left side and a "K" on a striped background on the right side. Mounted above the shield is a crowned helmet. Stylized branches and leaves arise from the sides of the helmet, running down the sides of the shield. There are also branches and leaves on the left and right sides of the overall coat of arms design. Above the coat of arms design is the stylized wording "KRUG". Below the coat of arms design are the words "CLOS D'AMBONNAY". The coat-of-arms design, the branches and leaves, and the words "KRUG" and "CLOS D'AMBONNAY" are gold. The label is black, and the black background of the label shows through from behind the lettering and the coat of arms design.
Goods and Services
Alcoholic beverages except beers; wines; French wines, namely, Champagne; sparkling wines
Translation of Words in Mark
The foreign wording in the mark translates into English as enclosed field, orchard, or vineyard.
Classification Information
International Class
33
- Alcoholic beverages (except beers). - Alcoholic beverages (except beers).
Class Status Code
6 - Active
Class Status Date
2008-11-28
First Use Anywhere Date
2007-11-15
First Use In Commerce Date
2007-11-15
Correspondences
Address
Please log in with your Justia account to see this address.
Prior Registrations
| | |
| --- | --- |
| Relationship Type | Reel Number |
| Prior Registration | 1228687 |
| Prior Registration | 1331186 |
Trademark Events
| | |
| --- | --- |
| Event Date | Event Description |
| 2008-11-28 | NEW APPLICATION ENTERED IN TRAM |
| 2008-11-29 | NOTICE OF DESIGN SEARCH CODE MAILED |
| 2009-02-23 | ASSIGNED TO EXAMINER |
| 2009-02-26 | NON-FINAL ACTION WRITTEN |
| 2009-02-27 | NON-FINAL ACTION MAILED |
| 2009-08-27 | TEAS RESPONSE TO OFFICE ACTION RECEIVED |
| 2009-09-02 | ASSIGNED TO LIE |
| 2009-09-02 | CORRESPONDENCE RECEIVED IN LAW OFFICE |
| 2009-09-02 | TEAS/EMAIL CORRESPONDENCE ENTERED |
| 2009-09-23 | NON-FINAL ACTION WRITTEN |
| 2009-09-24 | NON-FINAL ACTION MAILED |
| 2010-03-24 | TEAS RESPONSE TO OFFICE ACTION RECEIVED |
| 2010-03-25 | CORRESPONDENCE RECEIVED IN LAW OFFICE |
| 2010-03-25 | TEAS/EMAIL CORRESPONDENCE ENTERED |
| 2010-04-19 | NON-FINAL ACTION WRITTEN |
| 2010-04-20 | NON-FINAL ACTION MAILED |
| 2010-06-16 | AUTOMATIC UPDATE OF ASSIGNMENT OF OWNERSHIP |
| 2010-10-07 | TEAS AMENDMENT OF USE RECEIVED |
| 2010-10-08 | USE AMENDMENT FILED |
| 2010-10-08 | AMENDMENT TO USE PROCESSING COMPLETE |
| 2010-10-12 | USE AMENDMENT ACCEPTED |
| 2010-10-13 | NOTICE OF ACCEPTANCE OF AMENDMENT TO ALLEGE USE MAILED |
| 2010-10-20 | TEAS RESPONSE TO OFFICE ACTION RECEIVED |
| 2010-10-20 | CORRESPONDENCE RECEIVED IN LAW OFFICE |
| 2010-10-20 | TEAS/EMAIL CORRESPONDENCE ENTERED |
| 2010-11-19 | NON-FINAL ACTION WRITTEN |
| 2010-11-19 | NON-FINAL ACTION MAILED |
| 2011-06-20 | ABANDONMENT - FAILURE TO RESPOND OR LATE RESPONSE |
| 2011-06-20 | ABANDONMENT NOTICE MAILED - FAILURE TO RESPOND |